Taron Egerton Talks 'Kingsman 2,' Promises An "International Story" And Other Spy-Ish Things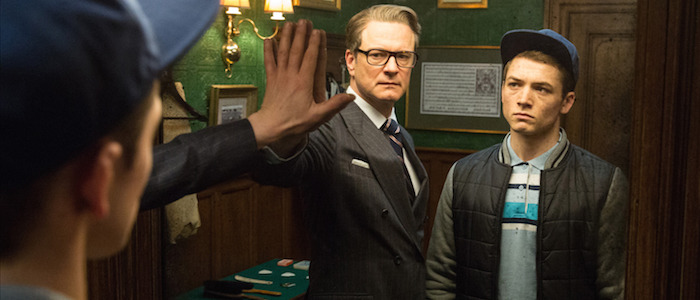 Kingsman: The Secret Service was one of the more pleasant surprises of 2014, a darkly comedic riff on spy movie archetypes that took a swing at every single possible target and still managed to become a surprise box office smash. We've known that a sequel was in the works for some time now, but now star Taron Egerton has spoken about the next film from the Sundance Film Festival, where his new movie, Eddie the Eagle, played as a secret screening. And if you thought the first Kingsman was gnarly and offensive and insane while being predominately set in a single country, he's got news for you: part two is going international.
Speaking with Collider, the insanely charismatic Egerton revealed the scope of the new film while teasing a new villain, praising the new screenplay, and mentioning a summer start-date. Not bad for a guy who says he can't say too much on the subject:
"With Kingsman, we're shooting in the summer at present. There's a script, it's brilliant. Obviously there's only so much I can say but what I can say is that we shot [the first] one all in the U.K., that won't be the case with the next one. It's a far more international story, we're going to some incredible places, and we have a villain to rival Samuel L. Jackson—this new one is so brilliantly written I wish I could play it. It's amazing."
You can watch footage of the Egerton's statement below, which also features his Eddie the Eagle co-star, Hugh Jackman, sitting there and presumably thinking "Ah, yes. I, too, remember when I was young and when starring in hit franchises was new and exciting and oh-my-god I miss carbohydrates so much."
Right now, Egerton is the only confirmed cast member returning for Kingsman 2, but he'll probably be joined by a batch of mostly new actors. After all, the first film was a total bloodbath that ended with most of the big names in the cast, along with a not-insignificant portion of the world's population, incredibly dead. Is it too much to ask for Mark Strong's gadget-master Merlin to make a return? And should we hope for an action scene as perverse and shocking as that brutal church massacre that we still can't believe was actually approved by a major movie studio?
Kingsman 2 is currently set for a June 16, 2017 release date. Director/co-writer Matthew Vaughn and co-writer Jane Goldman are set to return.