WTF: Joseph Fiennes Set To Play Michael Jackson In British TV Special Set After 9/11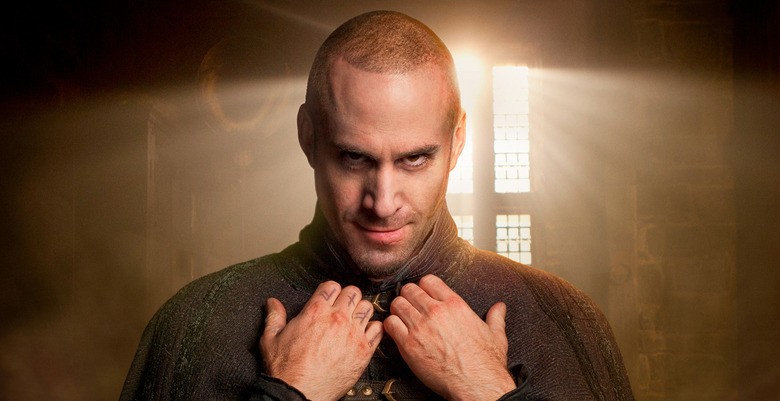 UPDATE: We have been informed that this project isn't a full TV movie but rather a half-hour comedy special for British television. However, that doesn't make this sound any better. Our original story follows.
There's a lot of controversy surrounding the lack of diversity among the Academy Award nominees this year, so much that The Academy is going to be making some changes to how membership and voting works. You would think that would be enough for filmmakers to start making better casting choices that allow for more diversity, but a certain production outfit across the pond doesn't seem to care as evidenced by a recent casting decision.
A new report reveals that Shakespeare in Love and American Horror Story star Joseph Fiennes, a white actor, will be playing African American pop star Michael Jackson in a decidedly weird movie that takes place after the terrorist attacks of 9/11. Find out more below.
The Guardian reports Fiennes would play the King of Pop in a film that will follow an alleged road trip taken by Jackson and his famous friends Elizabeth Taylor and Marlon Brando from New York to Ohio in an effort to get home. The trip's existence was originally reported and later debunked by Vanity Fair in 2011, and now it will become a TV thanks to Sky Arts in the United Kingdom.
According to the story, Jackson had invited Brando and Taylor to his concert at Madison Square Garden on September 10th. The next day when the terrorist attacks destroyed the Twin Towers in New York City, forcing a ban on air travel, the three supposedly rented a car and attempted to drive back to California, but only made it as far as Ohio. Forget how ridiculous the story sounds to begin with, would one of these three really rent a car and drive themselves across the country?
And if you think this is all just a bogus story, Fiennes confirmed the casting to WENN, saying:
"I got the script the other day. It's a challenge. It's a comedy. It doesn't poke mean fun but it's a story, possibly urban legend, whereby Michael, Marlon Brando, and Liz Taylor were all together the day before 9/11 doing a concert. Airspace was shut down and they couldn't get out and Michael had the bright idea to go to hire a car and drive. So the three of them got in a car and drove 500 miles to Los Angeles. It took them a while because they had to stop at a lot of Burger Kings for Marlon; but they got out! It's a lovely thing about Michael's relationship with Liz Taylor and Marlon Brando. It's a fun, light-hearted tongue in cheek road trip of what celebrity of that kind is like. But also it's rather beautiful and poignant about their relationships as well."
The project has already sparked uproar, not because of how ridiculous and potentially untrue the story is, but because it's Joseph Fiennes playing Michael Jackson. However, this is quite the unique situation. While Michael Jackson was born an African American with dark sin, we all know that in his later years, due to an ailment called vitiligo, he lost the pigment in his skin and didn't look anything like he did during the early days in his career. But people are still upset that this role is being given to a white actor, and you can't blame them.
Honestly, there's no reason that a black actor can't be given the role and merely given make-up to look as pale as Jackson did in his later years. Unlike a white actor putting on make-up to play a black actor, which is greatly frowned upon unless it's being done for satire as in Tropic Thunder, this would be a black actor putting on make-up to play a black man who just happens to lack dark skin color.
In addition to Fiennes, Grease star Stockard Channing would play Elizabeth Taylor and Brian Cox wold play Marlon Brando. It's a shame that the casting of Michael Jackson is so ridiculous, because having Channing and Cox on board as Taylor and Brando is pretty inspired casting.
It remains to be seen if the uproar will cause any changes to the cast for this now controversial project, but the studio keeping Joseph Fiennes in the role will likely result in more viewers, just because of inherent curiosity. We'll have to wait and see if this project actually comes together in its current form or not.
What do you make of this news?