'The Angry Birds Movie' Trailer: Jason Sudeikis Has A Serious Anger Management Problem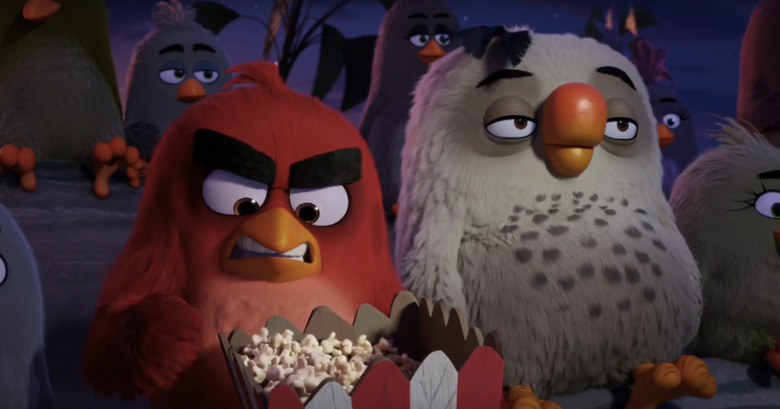 Even though the movie is called The Angry Birds Movie, based on the popular mobile game of the same name, it looks like there's really only one angry bird here. Red, a bushy-eyebrowed bird with a temper problem, is voiced by Jason Sudeikis. While his anger seems to be giving him some grief in everyday life, his short fuse also seems to be the only thing that allows him to see that the recently arrived green pigs are out to steal their eggs. And if you've been waiting to see some birds in a slingshot in this movie, the new Angry Birds Movie trailer should do the trick.
Here's the new Angry Birds Movie trailer straight from Sony Pictures:
This looks surprisingly weird for a kids movie based on a super popular mobile game, especially that gross ending involving Chuck (Josh Gad) and Bomb (Danny McBride) learning what really lies in the Mighty Eagle's lake of wisdom. That entire sequence is giving me a Ren & Stimpy vibe that I wasn't expecting from this movie, which could be a good thing.
We also get to hear Keegan-Michael Key's character for the first time in the movie. He's just one of many impressive voice talents that this movie rounded up, likely in an effort to make sure that adults were interested in the movie as well, or at least able to enjoy it a bit more than they otherwise might. There's actually a chance that this movie might actually be good. It probably won't be as surprisingly good as The LEGO Movie, but hopefully it'll be entertaining.
The Angry Birds Movie slingshots into theaters May 20. The voice cast also includes Maya Rudolph, Kate McKinnon, Tony Hale, Keegan-Michael Key, and Peter Dinklage. Clay Kaytis and Fergal Reilly directed. If you want to see more from the movie, you can watch the first trailer right here.
The movie takes us to an island populated entirely by happy, flightless birds – or almost entirely. In this paradise, Red (Jason Sudeikis – We're the Millers, Horrible Bosses), a bird with a temper problem, speedy Chuck (Josh Gad in his first animated role since Frozen), and the volatile Bomb (Danny McBride – This is the End, Eastbound and Down) have always been outsiders. But when the island is visited by mysterious green piggies, it's up to these unlikely outcasts to figure out what the pigs are up to.