Exclusive 'Triple 9' Character Poster: Woody Harrelson Offers Some Sage Advice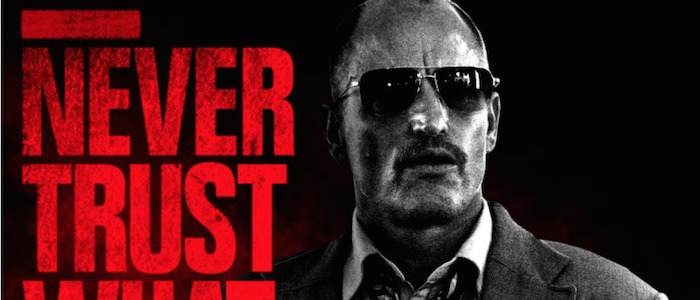 Every year brings us a new batch of gritty cop dramas, but 2016 brings us a gritty cop drama from director John Hillcoat, the superb filmmaker responsible The Proposition, The Road, and Lawless. Triple 9, looks to fall in line with his previous work: an ensemble of stellar actors in a morally bleak world enact horrific acts of violence on one another. We can't wait.
We are pleased to debut a new Triple 9 character poster featuring the great Woody Harrelson and a piece of advice that probably applies to every character in any Hillcoat production.
The poster depicts Harrelson as Sergeant Detective Jeffrey Allen, a seasoned police detective who finds himself roped into in a plot involving dirty cops, bank heists, the Russian mafia, and whole bunch of murder. We know from True Detective that Harrelson can play a tough, veteran cop, but now we know he can also rock the sunglasses and mustache combo, which is vital for any actor hoping to look like he belongs in law enforcement.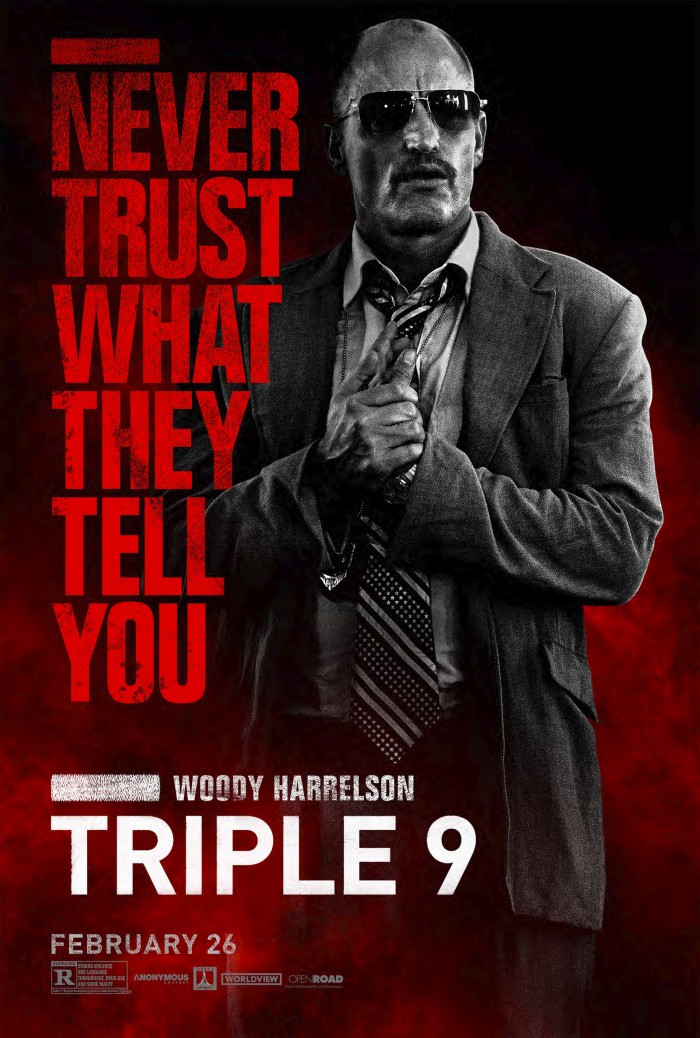 We don't know much about Harrelson's character quite yet, but he does share a last name with Casey Affleck's Chris Allen, so we can safely assume a familial relation. And since it's his voice over that opens the trailer, it certainly seems like he's the world-weary moral compass in a film filled with violent characters.
While that first trailer paints a pretty clear picture of the film's plot and the central conflict, it's the red band trailer that will probably convince anyone sitting on the fence whether or not this a movie for them. Like Hillcoat's previous work, Triple 9 looks bleak and relentless – this is an intense action movie from a filmmaker who has made it very clear in the past that he doesn't think too highly of human begins. His cynicism was at home in the desolate Australian outback and in the post-apocalypse, so of course it's a solid fit for the mean streets of Atlanta.
It wouldn't be a Hillcoat joint unless you feel like you need a shower when the credits roll. In a good way, of course.
Here's the official synopsis for the film, which also stars Chiwetel Ejiofor, Kate Winslet, Aaron Paul, Norman Reedus, Anthony Mackie, and Gal Gadot:
In TRIPLE 9, a crew of dirty cops is blackmailed by the Russian mob to execute a virtually impossible heist. The only way to pull it off is to manufacture a 999, police code for "officer down". Their plan is turned upside down when the unsuspecting rookie they set up to die foils the attack, triggering a breakneck, action-packed finale filled with double-crosses, greed and revenge.
Triple 9 opens in theaters on February 26, 2016.