Character Actor And 'The Godfather' Star Abe Vigoda Dead At 94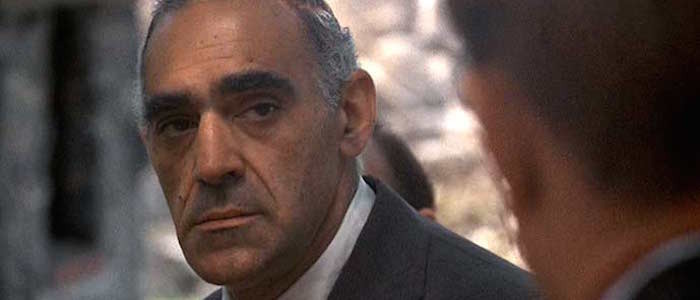 Abe Vigoda, the character actor best known for playing Salvatore Tessio in Francis Ford Coppola's The Godfather and Detective Phil Fish on television's Barney Miller, has passed away at the age of 94. No specific cause of death was cited, with his daughter, Carol Vigoda Fuchs, telling the Associated Press that he died of old age.
Born on February 24, 1921 in New York City, the bushy-browed Vigoda, with his distinctive, sunken eyes, would eventually become a regular fixture on both the big and small screens. However, his big break didn't arrive until 1972, when he was cast as the traitorous capo Tessio in The Godfather. In a film filled with familiar faces and recognizable character actors, Vigoda leaves a lasting impression. His final scene in the film, where he walks into an ambush and quickly realizes that he is about to be executed by his former friends, is quietly heartbreaking.
"Tell Mike it was only business," he asks of Robert Duvall's Tom Hagen, "I always liked him."
Despite dying in the first film, Vigoda would also appear in The Godfather Part II during a flashback sequence.
Now a member of the ensemble in one of the most popular movies ever made, Vigoda continued to work throughout the '70s. However, his most popular role arrived in 1974, when he was cast as Detective Phil Fish on Barney Miller. Vigoda played the cynical, weary, always on the verge of retirement Fish on 61 episodes of the series, but the character was popular enough to also star in his own spin-off, Fish, which ran from 1977 through 1978.
Vigoda worked steadily throughout the '80s and '90s, appearing on television shows like Tales From the Darkside and films like Joe Versus the Volcano. As a working actor, he didn't always appear in the best projects (additional credits include MacGuyver and Good Burger), but he was always a welcome presence, lending life to any scene. He even played Tessio three more times, lending his voice to several video games based on The Godfather.
After People magazine falsely reported his death in 1982, Vigoda's "alive or dead" status became a running gag, and the actor happily played along. In fact, he would joke about still being alive on various talk shows and in interviews, often participating in sketches built around the fact that he was, contrary to popular belief, still drawing breath. Take this David Letterman segment from 1988:
Although that gag should be less funny now that Vigoda has passed away, it's not. In fact, it only makes him all the more impressive. That he was always so willing to laugh at himself only endeared him further to audiences all over the world. He will be missed.