'Star Wars: The Force Awakens': Which Stormtroopers Were Voiced By Kevin Smith & Nigel Goodrich?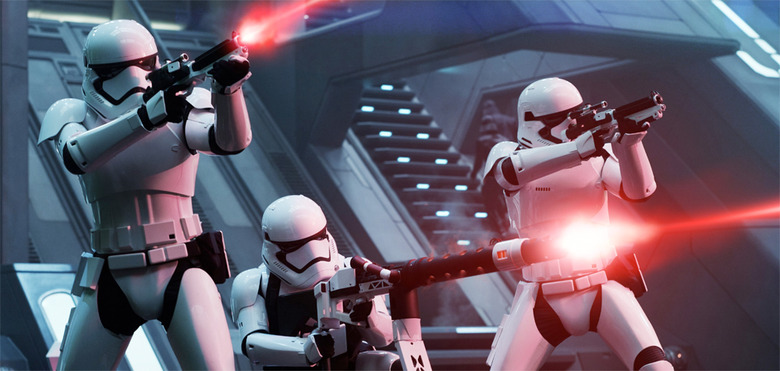 Not long after Star Wars: The Force Awakens, we rounded up some of the easter eggs and secret cameos that can be seen and heard in the movie. And now that the movie has been out for over a month, some more tidbits from behind the scenes are surfacing. This time we've got a rundown of the voices of the various Stormtroopers, scavengers on Jakku, aliens in Maz Kanata's castle and more. And this includes learning which Stormtroopers were voiced by filmmaker Kevin Smith and Radiohead's Nigel Goodrich.
StarWars.com has released an entire rundown of the voices that were lent to a ton of background characters, and they've done it all in chronological order. If you want the whole list, you can go over there to check it out. We specifically wanted to point out which of The Force Awakens Stormtroopers voices were done by Kevin Smith and Nigel Goodrich since we previously heard about their involvement in the movie but had no specifics.
Kevin Smith's voice cameo comes during the First Order assault at Maz Kanata's castle. As soon as the Resistance fighters can be seen approaching from the water, a Stormtrooper says, "We have incoming at 28.6! Move!" That's Kevin Smith.
Meanwhile, Nigel Goodrich is one of the more memorable Stormtroopers later in the movie. When Han Solo, Chewbacca, Finn and Rey and sneaking around Starkiller Base, they encounter a Stormtrooper when an their elevator door opens. That Stormtrooper yells "Hey!" before getting blasted in the chest so hard by Chewbacca's bowcaster that has armor shatters. That's Nigel Goodrich.
Some of you might be wondering who lent their voice to the now popular Stormtrooper being called TR-8R, due to his single line shouting, "Traitor!" before taking on Finn wielding a lightsaber and getting blasted into oblivion by Han Solo. Well, it's David Acord, who isn't a famous voice actor, but he worked as a sound designer on Star Wars: The Force Awakens as well as several other Star Wars projects.
There are plenty of other additional voices that were listed in the credits for The Force Awakens, including Star Wars Rebels showrunner Dave Filoni and plenty of other post-production crew members. You can see the full list right here, and the post also teases that there may some other actor cameos that will be revealed in the future. That could include confirmation of Daniel Craig as a Stormtrooper in The Force Awakens, but we'll have to wait and see.