The 'What We Do In The Shadows' Werewolf Spin-Off Has A Great, Pun-Tastic Title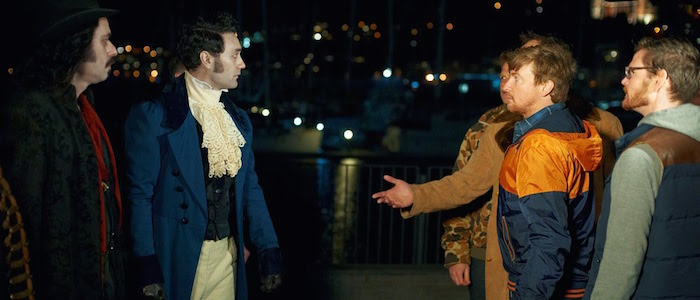 At some point, we're just going to have to rebrand this whole /Film thing as Taika Waititi fan site. We haven't been shy about out love for What We Do in the Shadows and we've sunk our teeth into every morsel of Thor: Ragnarok news that has come our way. We even just ran a positive review of his new movie, Hunt For the Wilderpeople, which just played at the Sundance Film Festival. It's safe to say that he's one of our current favorite directors.
And now he's shed some more moonlight on the spin-off to What We Do in the Shadows, which will focus on the pack of werewolves who rear their furry heads a few times in the original movie. And it has a title so good that we're going to force you to hit the jump to actually read it.
Speaking with Crave Online from Sundance, Waititi revealed a title that is so deliciously clever that it deserves a thousand GIFs of Charles Foster Kane defiantly applauding:
"It's going to be called We're Wolves, like 'We are wolves.' We're Wolves."
Look, I'm a sucker for a great pun and a comedy about werewolves called We're Wolves is top-notch, Grade-A punsmanship. It's perfect. Waititi also revealed that he and What We Do in the Shadows co-director/co-writer/co-star Jermaine Clement are working on the story right now, but the movie won't materialize until after he's done with Thor: Ragnarok. Hopefully, a low-budget faux documentary about werewolves living in the greater Wellington area can survive its maker being thrust into the Hollywood superhero machine.
As you hopefully know (and if you don't, you have some homework), What We Do in the Shadows follows a group of modern vampires as they attempt to live and hunt in modern day New Zealand. The film is consistently hilariously, but the group's encounter with a local pack of werewolves is a highlight in a movie filled with nothing but highlights. "Werewolves not swearwolves" is just a phrase we use now.
It's also reassuring to hear Waititi discuss another small project despite having a gigantic comic book movie on his plate. In addition to We're Wolves, Waititi told Crave that he's working on a World War II comedy "about a kid in the Hitler Youth." In other words, he's apparently attempting to stretch his creative muscles in every possible direction. Here's our own Angie Han on Hunt For the Wilderpeople:
Wilderpeople feels like a throwback to '80s adventure films in some ways, but it mostly just feels like a new childhood classic. It has all the makings of one: it's got wonder and adventure and loads of humor, and ultimately winds up on the side of optimism — but it also has moments of genuine tragedy and danger. It's not tough to imagine kids falling this movie today and feeling nostalgic about it 10 or 20 years down the line, the way Millennials and Gen Xers today wax rhapsodic about The Goonies. Unlike a lot of those movies, though, it's one the parents won't mind either.
With Thor: Ragnarok arriving on November 3, 2017, we're going to go ahead and hope to see We're Wolves a year or two later.