'Independence Day: Resurgence' Image Reveals An Alternate Universe Where Jeff Goldblum Conquered The Moon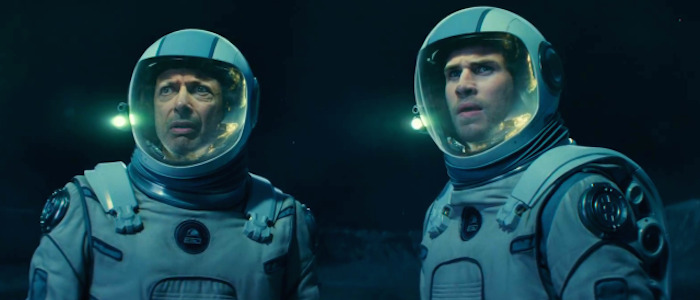 One of the most interesting aspects of Independence Day: Resurgence is how this sequel is making it very clear that the original film wasn't just made in 1996 – it took place in 1996. The new film takes place in 2016, twenty years after the release of Independence Day for real audiences and twenty years after that gigantic alien invasion that killed millions of people for the characters in the film. However, their 2016 is not our 2016. It's different world altogether, an alternate science fiction timeline that saw world history go in a very different direction than our own. A lot of crazy stuff happened.
Like Jeff Goldblum's David Levinson helping found a moon base in 2009, which was revealed in a fun new image.
Last month, the faux-historical website War of 1996 launched, recounting the major events of human history that occurred between 1996 and 2016 in this divergent timeline where humanity narrowly avoided utter annihilation. The site is actually a ton of fun, full of of weird science fiction ideas and intriguing details (like how Will Smith's Steven Hiller was killed while test-piloting a new anti-alien fighter craft) that will surely be covered in that prequel comic book series that's coming out. Meanwhile, the Independence Day Twitter feed has been regularly sharing images from "the past," treating momentous science fiction moments as no-big-deal, "Throwback Thursday" fodder.
And this one is especially fun:
2009: ESD Moon Base opens as Levinson presides over the ribbon cutting ceremony. #IDR https://t.co/2ZeNE1phyv pic.twitter.com/IVNn9hugvG

— Independence Day (@IndependenceDay) January 22, 2016
It seems that Jeff Goldblum's Levinson, who began Independence Day as an underachieving cable company employee and ended it as the heroic savior of mankind who defeated the alien mothership by giving it a computer virus (that's never not going to sound silly, huh?) went on to help found a full-fledged human installation on the Moon. They even shipped gigantic novelty scissors to the opening ceremony! You know your space program is thriving when you can afford to send gigantic novelty scissors to the moon.
Independence Day remains a big hunk of cheese, but it's also an honestly made, well-crafted hunk of cheese that doesn't have a cynical bone in its body. All of this viral marketing suggests that the new movie will be very much in that spirit – maybe a little hokey, but weirdly optimistic about what people can achieve when they work together. Director Roland Emmerich's last major "everything blows up" movie, 2012, was a work of profound cynicism and cruelty that relished in the death of the planet and its people. It'll be nice to see this maestro of cinematic destruction find his lighter touch again.Independence Day: Resurgence opens on June 24, 2016. You can check out the trailer right here.