'Yoga Hosers' Clip: Kevin Smith's Latest Sundance Flick Looks Like Canadian 'Clerks'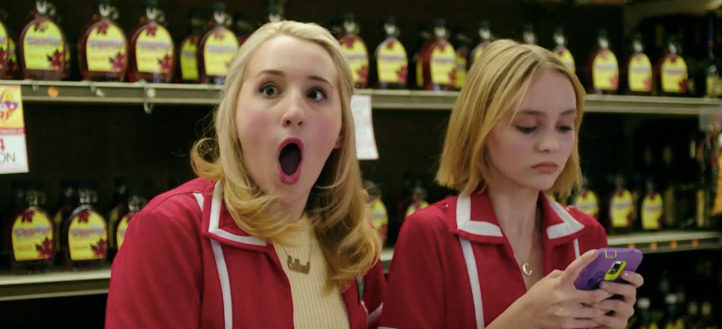 This weekend brings the premiere of Kevin Smith's latest indie effort, the horror comedy Yoga Hosers, at the 2016 Sundance Film Festival. There isn't a trailer for the film just yet, but the writer/director who launched his career at the indie film fest decided to tease what's waiting for all of us catching flicks in the mountains with the first Yoga Hosers clip.
Harley Quinn Smith (the filmmaker's daughter) and Lily-Rose Depp (daughter of Johnny Depp, who also stars in the film) take the leads in the movie, and here we get to see that they're not too far removed from a couple of characters that Smith's fans should be very familiar with.
Here's the first Yoga Hosers clip straight from Kevin Smith on YouTube:
There's undoubtedly a Clerks vibe from this clip, just with some Canadian flare and Scott Pilgrim vs the World visual style. And much like Clerks is a quintessential 90s film, this clip gives off the same kind of vibe for the millennial generation. However, this movie isn't just a couple of dead end twentysomethings stuck working behind a counter and talking about Star Wars the whole movie.
The acting leaves something to be desired, but if there's supposed to be a Clerks quality to this movie, let's not forget that Brian O'Halloran and Jeff Anderson weren't exactly the best actors either. It seems like both the young Smith and Depp are exaggerating their delivery to fit in with the movie's heightened reality. Hopefully the movie has some fun to offer.
If you want to know more about Yoga Hosers, here's the official synopsis:
Colleen and Colleen are BFFs AF. Manitoba is where they go to school together, do yoga together, play in a band together, and work together at a boring convenience store. Life is whatevs, but also on fleek. That's kinda what being 15 and a half is all about. #RealTalk
So when two older guys invite the Colleens to a senior party, the girls are determined to go no matter what—even if that "what" is a terrible, secret evil that threatens to destroy everything decent and polite about Canada. Can Colleen and Colleen save the day and go viral? Will those senior boys prove squad-worthy? And what was that about a convenience store? I swear it sounded familiar...
Yoga Hosers is playing the Sundance Film Festival but doesn't have an official release date yet.