Kevin Smith To Become A Real Blunt Man In New 'Hollyweed' Comedy Series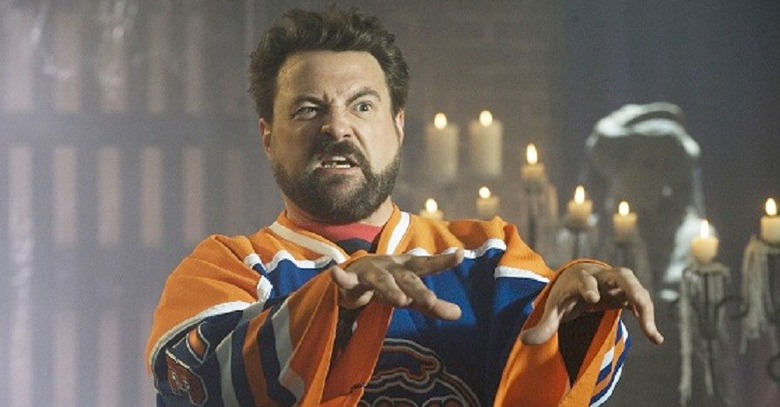 This weekend brings the premiere of Kevin Smith's latest movie, Yoga Hosers, at the Sundance Film Festival, the place where his career was launched. But news of Smith widening his work in television has also arrived this weekend, and it doesn't involve comic books or Jay and Silent Bob.
Kevin Smith has written, directed and starred in a new comedy series called Hollyweed that he shot on spec and he will begin shopping around a completed episode sometime in the near future. Find out more about the show after the jump!
Hollyweed follows two potheads, played by Smith and Donnell Rawlings (Chappelle's Show), who battle a neighboring cookie magnate played by Kristin Bauer van Straten (True Blood) and enlist the help of a charming porn star played by Frankie Shaw (Mr. Robot), to help them navigate the ups and downs of managing a small business in their quest for profits and the perfect bud. Sounds like a sitcom to me.
Otherwise, the show will also feature Adam Brody, Chloe Dworkin, Jason Mewes, Hina Abdullah, Ralph Garman and Pete Pietrangeli popping up from time to time, as well as Smith's daughter, Harley Quinn Smith, playing the daughter of Smith's character. Smith is actually pretty excited to have written a role like this for himself:
"When I wrote 'Clerks,' I wrote the role of Randal to play myself. But as we got close to shooting, I got scared and chickened out of trying to act with dialogue, opting to play Silent Bob instead. Two decades later, the universe, StarStream and FremantleMedia are giving me the chance to play a clerk with dialogue that I wrote. The fact that it's a dispensary instead of a convenience store makes it even better."
The reason Smith created Hollyweed on spec with the help of FremantleMedia North America and StarStream Media producing is because there were already a lot of other series in the works that take place in weed dispensaries. Chuck Lorre is working on one that takes place in Colorado, Amazon has one with Margaret Cho and NBC has another Colorado set weed project from Adam Scott and his wife Naomi Scott. So rather than developing a show somewhere, they wanted to have something to sell first.
Helping get the show off the ground was financing from weed friendly sponsors such as Weedmaps.com, a social media community for medicinal marijuana users; G-Pen (Grenco Science), a manufacturer of portable vaporizers; DNA Genetics, a pot seed company; ACME Elixirs, an organic cannabis oil company; and RAW, maker of RAW Natural Rolling Papers. It's not clear if they'll stick around to fund the series if it gets an order for more episodes, but it may help give some more freedom to choose a home for the project if that's the case.
Variety says it's not clear if Hollyweed will merely be sold as a 30-minute one-off or as the pilot for a new series. It likely depends on how interested networks or streaming services are in bringing more of Smith to television and if fans want a show like this from Smith.