Celebrate Your Ability To Buy 'Deadpool' Tickets Right Now With Some Very Cool New Art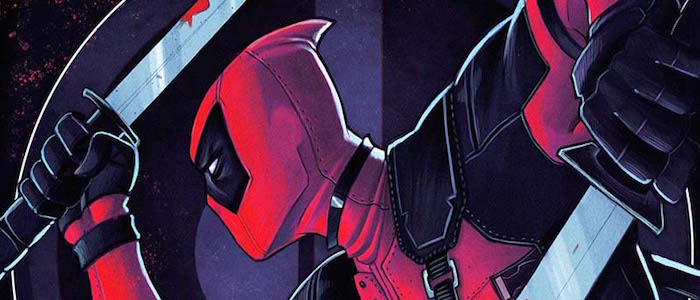 Tickets for the Deadpool movie have officially gone on sale and Fandango is celebrating in style. In addition to letting the Merc with a Mouth take over their site's homepage (which is now dubbed "Fandeadgo"), they've handed the reins of their Twitter feed over to this red-suited menace.
But most importantly, Fandango is using the release of this film to highlight the work of a few talented artists and will be unleashing more Deadpool fan art over the coming weeks. They've sent over a few exclusive samples, so prepare yourselves for edged weapons, Terminator parodies, and, of course, chimichangas.
Fandango has spent the past few years highlighting fan art created by talented illustrators from around the country. They recently compiled a stunning gallery of work inspired by Star Wars: The Force Awakens, but some of you may remember past galleries they have assembled. As big fans of original movie art here at /Film, this is a mission that earns our seal of approval.
So let's just dive into this batch of fresh art.
Going from left to right, the first piece is from Chrissie Zullo and it showcases Deadpool in a dynamic action pose. Jesse Hernandez chose to emphasize Deadpool's penchant for pop culture references, re-imagining the off-kilter superhero as one of cinema's most iconic killing machines. And bless Tracy Tubera for remembering what Deadpool is really all about: firearms and deep fried burritos. Finally, there's this stylized take by Orlando Arocena, which is one slick bit of business.
Deadpool is, of course, the cinematic debut of one the most popular characters in all of Marvel comics. Wade Wilson is a wisecracking machine of death whose greatest weapon is his big mouth. He's essentially Bugs Bunny with a katana – you knock him down and he just comes at you harder and more annoying than ever. Appropriately, his film is the rare comic book adaptation to earn an R-rating. Hell, he's even banned in China.
Early responses to the film have been very positive and Deadpool creator Liefeld was effusive in his praise for what director Tim Miller and star Ryan Reynolds have made:
"This is my second time seeing it and it was even better than the first time. That sounds like something Deadpool would say, but, here's the deal: twenty-five years worth of Deadpool. This movie comes out twenty-five years to the day we published him at Marvel and you couldn't get a better gift if you're a Deadpool fan and I have seen twenty-five years of stories come and go – and Rhett [Reese] and Paul [Wernick] will tell you – back in 2009 I freaked out when I read the screenplay because Deadpool has never ever been better than he was in that screenplay and when I saw this movie six weeks ago I was like, 'How much of this script will carry?' and what you just saw is the best version of Deadpool I have ever experienced in my life."
Deadpool opens in theaters on February 12, 2016.