'The BFG' Poster: A Big Friendly Giant And A "Human Bean" Walk Into A One-Sheet...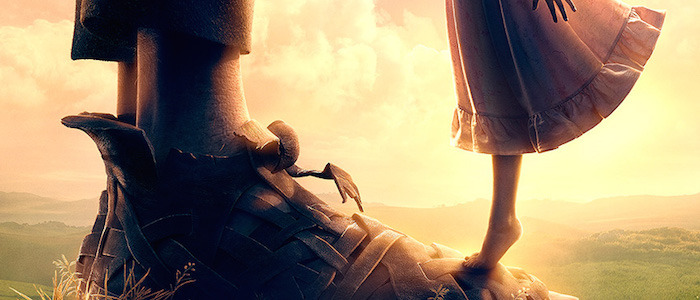 Only fools don't eagerly anticipate Steven Spielberg movies and only a total cynic wouldn't want to see one of the greatest filmmakers of all time adapt the work of the great Roald Dahl. So while it's currently flying a bit under the radar, you should probably start looking forward to the arrival of The BFG, Spielberg's first collaboration with Disney and his first live action family adventure movie since 1991's Hook.
A new poster for The BFG has arrived and it's lovely, teasing colorful imagery, a grand sense of scale, and name-dropping a Spielberg masterpiece that has more than once connection to this new movie.
The poster finds the young orphan Sophie (played by newcomer Ruby Barnhill) having a moment with the title character, the "Big Friendly Giant" played by Oscar-nominated Bridge of Spies star Mark Rylance. Although no one is directly mentioned by name, the text lets everyone know that this is the latest adaptation of Dahl's work and that the "human beans" (a reference to the strange speech patterns of the giants in Dahl's original book) who made E.T.: The Extra-Terrestrial were involved. And this doesn't just mean Spielberg – it also refers to screenwriter Melissa Mathison, who tragically passed away last November after coming out of a long retirement to pen to this script.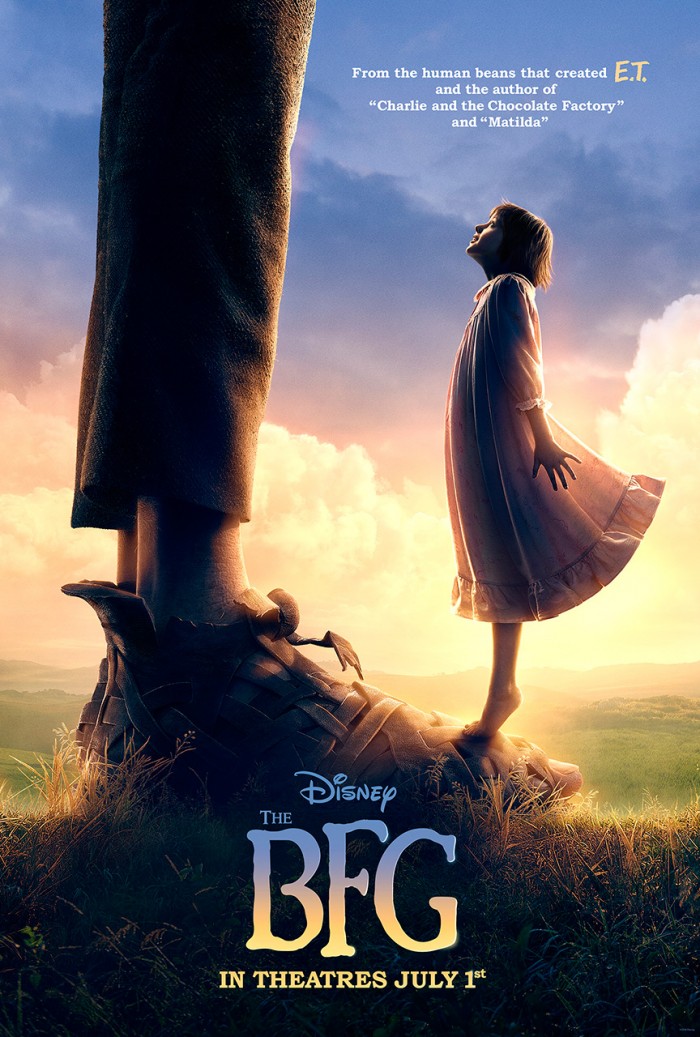 There's a lot to look forward to with The BFG. After the sober-minded and thoughtful Bridge of Spies, it's going to be fun watching Spielberg play around with lighter, more fantastical fare again. And we're all about seeing more of Rylance, a celebrated stage actor who has appeared in precious few films. Most importantly, we hope that The BFG can adequately capture the droll humor and whimsy of Dahl's work – previous adaptations of his books haven't quite captured his specific, magical tone.
And then there's the fact that Jermaine Clement and Bill Hader play evil kid-eating giants named Fleshlumpeater and Bloodbottler and that alone is worth the price of admission.
Just in case you missed it last month, here is the film's first moody, playful teaser trailer:
The BFG opens on July 1, 2016. Here is the official synopsis:
The BFG (Mark Rylance), while a giant himself, is a Big Friendly Giant and nothing like the other inhabitants of Giant Country. Standing 24-feet tall with enormous ears and a keen sense of smell, he is endearingly dim-witted and keeps to himself for the most part. Giants like Bloodbottler (Bill Hader) and Fleshlumpeater (Jemaine Clement) on the other hand, are twice as big and at least twice as scary and have been known to eat humans, while the BFG prefers Snozzcumber and Frobscottle. Upon her arrival in Giant Country, Sophie, a precocious 10-year-old girl from London, is initially frightened of the mysterious giant who has brought her to his cave, but soon comes to realize that the BFG is actually quite gentle and charming, and, having never met a giant before, has many questions. The BFG brings Sophie to Dream Country where he collects dreams and sends them to children, teaching her all about the magic and mystery of dreams.
Having both been on their own in the world up until now, their affection for one another quickly grows. But Sophie's presence in Giant Country has attracted the unwanted attention of the other giants, who have become increasingly more bothersome. Sophie and the BFG soon depart for London to see the Queen (Penelope Wilton) and warn her of the precarious giant situation, but they must first convince the Queen and her maid, Mary (Rebecca Hall), that giants do indeed exist. Together, they come up with a plan to get rid of the giants once and for all.