'Pride And Prejudice And Zombies' Clips: Elizabeth Bennet Kicking Ass And Taking Names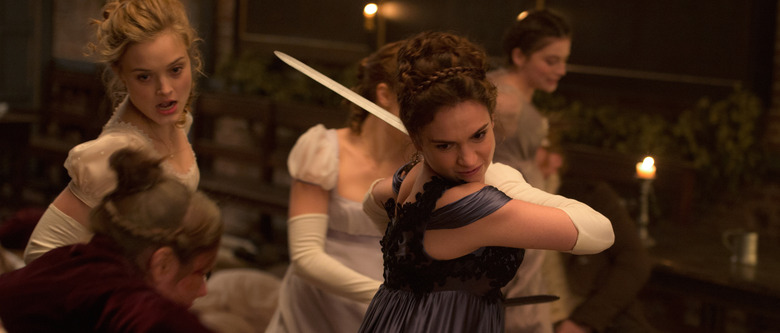 Before director David O. Russell made his major comeback, he was at one point attached to direct Pride and Prejudice and Zombies. Eventually the Joy director left the project, along with many others, as the film was stuck in development hell. It's taken years to get this adaptation of Seth Grahame-Smith's novel made, but it's finally reaching the big screen next month.
After the jump, watch some Pride and Prejudice and Zombies clips.
After Craig Gillespie (The Finest Hours) also departed from the project, Burr Steers stepped in to direct. It was speculated that Russell's script would remain, but Steers received sole credit. Steers has previously directed projects like Charlie St. Cloud and 17 Again, but he made his directorial debut with Igby Goes Down – a very, very good film. I haven't seen either one of his Zac Efron movies, but if the trailer for Pride and Prejudice and Zombies declared "From the Writer and Director of Igby Goes Down," my hopes for this film would've been significantly raised.
Here are two Pride and Prejudice and Zombies clips:
Would Jane Austen approve of this? I certainly hope so. From what's been said at Comic-Con and elsewhere, Pride and Prejudice and Zombies focuses heavily on Austen's 19th Century-set storyline, but it just so happens to involve zombies. What better way for Elizabeth Bennet (Lily James) and Mr. Darcy (Sam Riley) to pursue a courtship than by slaying infectious zombies together?
A movie like this really lives or dies by its tone. Based on these clips, all the actors are playing it straight, but even if one actor appears in on the joke, it sinks the ship. It's a good thing the project assembled a fine cast, which includes Lily James, Sam Riley, Matt Smith, Bella Heathcote, Jack Huston, Lena Headey, and Charles Dance. With Huston and Heathcote involved, this makes Pride and Prejudice and Zombies a little Not Fade Away reunion, meaning it's about time we all revisit Not Fade Away.
Here's the official synopsis:
PRIDE AND PREJUDICE AND ZOMBIES is a fresh twist on Jane Austen's widely celebrated novel. A mysterious plague has fallen upon 19th century England, the land is overrun with the undead and feisty heroine Elizabeth Bennet is a master of martial arts and weaponry. Casting aside personal and social prejudices, Elizabeth and Mr. Darcy must unite on the blood-soaked battlefield to rid the country of the zombie menace and discover their true love for one another.
Pride and Prejudice and Zombies opens in theaters February 5th.