'Pirates Of The Caribbean: Dead Men Tell No Tales' Sails Into That Old 'Star Wars: Episode 8' Release Date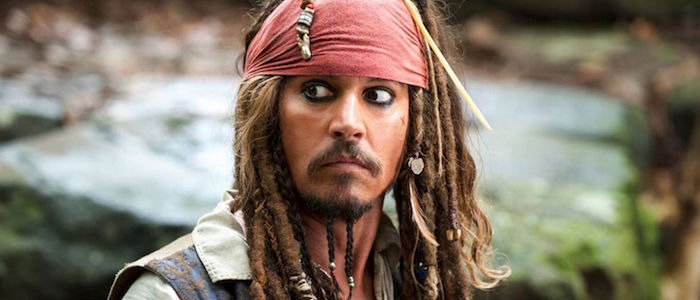 Ah, this is what it feels like when the big picture suddenly comes into focus. Moments after it was revealed that Star Wars: Episode 8 was making an unexpected leap to December 15, 2017, another movie shifted into its coveted Memorial Day release date. Yes, this is the work of the always crafty Captain Jack Sparrow, as the film in question is Pirates of the Caribbean: Dead Men Tell No Tales, the fifth entry in Disney's insanely profitable (if increasingly dire) franchise.
What? Did you think Disney was actually going to let someone else have that weekend?
So here's where all of the pieces fall: Pirates of the Caribbean: Dead Men Tell No Tales will now open on May 26, 2017, a bump up from its original July 7, 2017 release date. For nearly 40 years, Memorial Day was the domain of the Star Wars franchise, playing host to the first six movies in the series. Now that Star Wars: The Force Awakens has burnt down countless box office records with its December release, the message is clear. This franchise is jumping ship to Christmas. With that valuable real estate clear, Disney can hand that turf over to a movie series that could really use such a sweet release date.
We actually know precious little about Pirates of the Caribbean: Dead Men Tell No Tales. Other than a fairly boilerplate image released nearly a year ago, you wouldn't even know that the latest adventure of Jack Sparrow even existed. In fact, we've heard more about Johnny Depp's legal troubles after he smuggled his dogs onto the Australian set than the actual movie. Here is what we do know: the film will find Jack chasing down another ancient artifact of great power, Javier Bardem will play the supernatural pirate villain standing in his way, Brenton Thwaites will play the new young lead who gets to act surprised whenever Jack does something crazy, and Orlando Bloom will return in some capacity as Will Turner. Here's the official synopsis:
Thrust into an all-new adventure, a down-on-his-luck Captain Jack Sparrow finds the winds of ill-fortune blowing even more strongly when deadly ghost pirates led by his old nemesis, the terrifying Captain Salazar (Bardem), escape from the Devil's Triangle, determined to kill every pirate at sea...including him.  Captain Jack's only hope of survival lies in seeking out the legendary Trident of Poseidon, a powerful artifact that bestows upon its possessor total control over the seas.
You may not remember this, but 2003's Pirates of the Caribbean: The Curse of the Black Pearl is a damn fine movie and Depp's performance is a ton of fun. 2006's Pirates of the Caribbean: Dead Man's Chest is a little less fun and Depp's performance is a little less fine. And then 2007's Pirates of the Caribbean: At World's End was a total mess and 2011's Pirates of the Caribbean: On Stranger Tides was a complete nightmare of a movie that still managed to make ungodly amounts of money. In other words, this franchise has seen better days...but maybe a six year break, and fresh blood in the form of Kon-Tiki directors Joachim Rønning and Espen Sandberg, may be just what the doctor ordered.
If Pirates of the Caribbean: Dead Man Tell Now Tales is a return to form, then a May 26, 2017 release date would be a mighty fine place to show it off.