'Star Wars: Episode 8' Changes Release Date, Will Now Directly Challenge 'Avatar 2'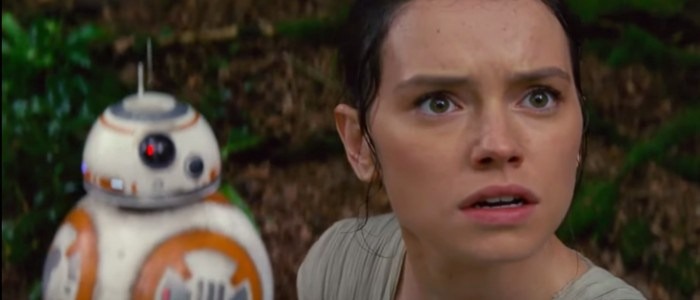 We knew there were rumors of a slight delay in the production of Star Wars: Episode 8, but we didn't see this coming: Rian Johnson's sequel has bailed on its original May 26, 2017 release date and will now blast into theaters on December 15, 2017. This is huge news for a number of reasons, but let's just get the big one out of the way first...
Unless one of them budges, Star Wars: Episode 8 will now directly confront James Cameron's Avatar 2 at the box office.
The news was broken by Exhibitor Relations, who revealed the change on their Twitter feed:
STAR WARS: EPISODE VIII jumps ship from 5/26/17 and will now launch on 12/15/17.

— Exhibitor Relations Co. (@ERCboxoffice) January 20, 2016
Episode 8's December 15, 2017 release date places it directly before Avatar 2, which is scheduled to open on December 25, 2017.
Right now, this looks like a gigantic game of science-fiction-sequel chicken being played out by two unmovable forces. In one corner, you have powerhouse producer Kathleen Kennedy and Lucasfilm, the forces who made Star Wars: The Force Awakens into the biggest movie in American box office history and a contender for the international crown. In the other corner, you have James Cameron, the maverick blockbuster filmmaker who has never not beaten the odds and whose Avatar still holds the worldwide box office record that Star Wars hasn't managed to snatch yet. There are two steadfast rules when it comes to keeping an eye on major movies: you don't bet against Star Wars and you don't bet against James Cameron. This showdown will prove fascinating.
There are a couple of things to consider here. Maybe the folks at Disney and Lucasfilm know something that we don't know. Maybe Avatar 2 won't make that date (these sequels have been under development for ages now) and they want to take advantage of the gap it will create when it exits. After all, Disney is currently investing millions of dollars into an Avatar-themed land at their Animal Kingdom park in Walt Disney World – it is in their best interest for Avatar 2 to be a big deal. It would be box office suicide for both of these movies to try to coexist during the same holiday month, right?
In any case, this shift officially shatters a Star Wars tradition. Since 1977, this series has owned Memorial Day, with The Force Awakens only opening in December due to behind-the-scenes developments that pushed production back. Then the film smashed all kinds of records over the winter holidays, which must have made this new month look awfully appealing. Combine this with the fact that Rogue One: A Star Wars Story, the first of several planned spin-off films, is arriving on December 16, 2016 and you have the start of a new tradition. It looks like Lucasfilm is officially trying to muscle in on your Christmas holiday and they're not going to let James Cameron stand in their way.
This news also arrives on the heels of rumors of Episode 8 undergoing some significant rewrites, with Johnson pulling focus from new characters to give more action to Rey, Finn and Poe Dameron. This move would accommodate those creative changes and place the new film in the position Disney so clearly desires.
And now, we wait. If no one moves, December 2017 is going to be a fascinating bloodbath. What wins when a tried, tested and beloved franchise faces down a relative newcomer that still has its hooks in millions of people around the world? We shall see.