Cool Stuff: Sideshow Collectibles Summons 'Beetlejuice'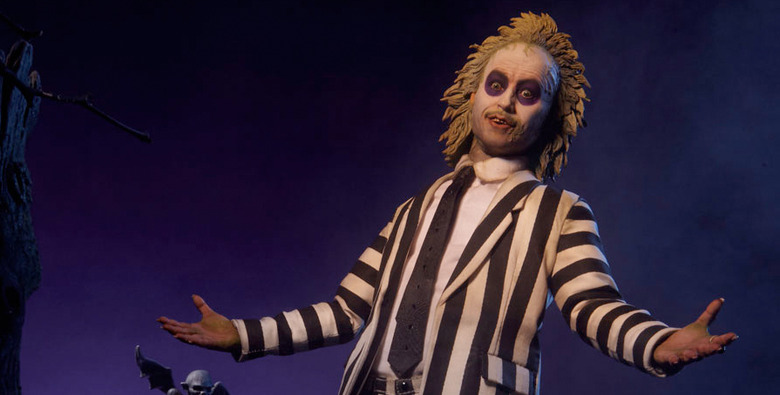 At a couple points in your life, you've probably said Beetlejuice to yourself three times, just to see what would happen. Sadly, it just doesn't work the way it does in Tim Burton's classic 1988 horror comedy. But now if you say Beetlejuice three times and you have some extra cash lying around, you can finally summon Beetlejuice into your house.
Sideshow Collectibles has just unveiled a new sixth scale Beetlejuice figure, along with the tombstone environment where Alec Baldwin and Geena Davis dug up the bio-exorcist played perfectly by Michael Keaton. Check out the Sideshow Collectibles Beetlejuice figure below!
Here are some gorgeous shots of the Beetlejuice figure from Sideshow Collectibles:
The ghost with the most comes with his trademark black-and-white suit thrown on a fully articulated, posable body. He comes with multiple hands and accessories so you can put him in your favorite pose. And if you pick up the Sideshow Exclusive Edition, he'll come with the Handbook for the Recently Deceased you see in that last picture.
However, if you want to have Beetlejuice standing next to his grave, you'll have to buy that separately:
The Beetlejuice figure will cost you $239.99 while the tombstone environment will cost you $124.99. But if you buy them together, you'll get $25 off your purchase. Both will be available for pre-order starting later this week on Thursday, January 21st.
Now I just hope they come out with sixth scale versions of Alec Baldwin and Geena Davis when they have those creepy faces to scare Lydia's family.