'Son Of Saul' Trailer: Prepare For One Of The Most Upsetting Movies You Will Ever Watch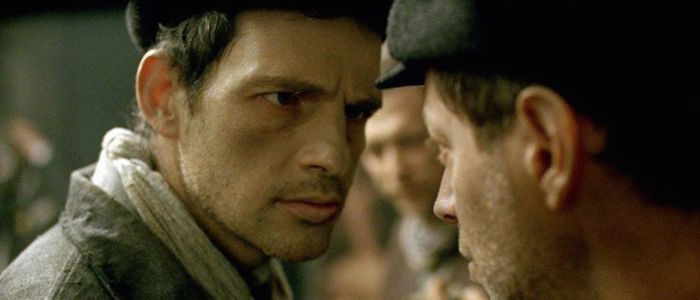 There's a strong chance you've heard about László Nemes' directorial debut, Son of Saul. This harrowing drama is the current frontrunner for Best Foreign Language Film at this year's Academy Awards. It took home the foreign film award at the Golden Globes last week. It even made my personal top 10 of 2015, which is surely the greatest honor of them all.
While you have heard about it, chances are strong that you haven't had a chance to actually see Son of Saul. It's not like brutal Hungarian Holocaust dramas are a common sight at your local multiplex. However, a new trailer for this incredible film has arrived, which should serve as a reminder to check out this movie as soon as you have a chance (and on the big screen, if you can make that happen).
The new Son of Saul trailer is light on plot, but heavy on critical praise and stunning imagery. Everything you need to know going into the movie is available right here: this movie looks utterly unique and it has collected its fair share of accolades.
If you do need to know more, the film's official synopsis will fill in all of the necessary gaps:
Saul Ausländer is a Hungarian member of the Sonderkommando, the group of Jewish prisoners isolated from the camp and forced to assist the Nazis in the machinery of large-scale extermination.
While working in one of the crematoriums, Saul discovers the body of a boy he takes for his son.
As the Sonderkommando plans a rebellion, Saul decides to carry out an impossible task: save the child's body from the flames, find a rabbi to recite the mourner's Kaddish and offer the boy a proper burial.
What the synopsis and the trailer doesn't show you is Géza Röhrig's shattering lead performance, which is remarkably understated. Röhrig spends much of the film wearing a stoic poker face, the kind of deadpan one adopts when even a single wrong glance can mean certain death. And yet his eyes speak volumes, which is especially vital since much of the film is shot in close-ups of his face. As odd as it may sound, there's an undeniable video game influence on display in how Nemes and his cinematographer Mátyás Erdély shoot this film. The camera sticks to Röhrig's Saul at all times, literally placing us in his POV as he navigates scenes of violence and terror. It's immersive enough to almost feel interactive. It's the kind of work that American filmmakers will soon start imitating, so take a good look right now.
Son of Saul entered limited release last month, but you can expect more opportunities to see it crop up as we wade deeper into Oscar season.