LOL: Vogue Asks Derek Zoolander 73 Questions And The Answers Are Magical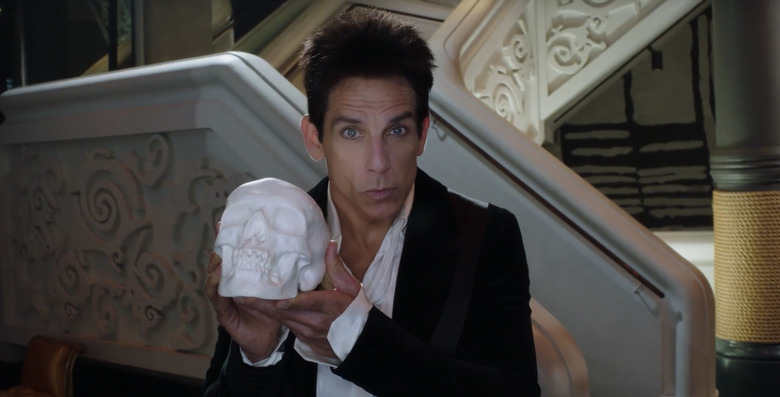 When some new TV spots and posters arrived last week, selling Zoolander No. 2 like it was a tantalizing fragrance you could pick up at your local department store, we also pointed out that Derek Zoolander (Ben Stiller) and Penelope Cruz had landed on the cover of Vogue. You can check out their photoshoot recreating some famous spreads from the fashion magazine right here, but this video we have today is even better.
Vogue has a video series called 73 Questions where they ask a given personality, you guessed it, 73 questions. And this time the inquisition has Derek Zoolander answering some hard-hitting questions about his favorite season, what's on his mind, what's his favorite country, and what happens to models when they retire. Zoolander has the perfect responses for all 73 Questions. Watch!
Here's 73 Questions with Derek Zoolander from Vogue:
This kind of marketing is great. I love that Derek Zoolander is played as a character who exists in the real world to allow for fun bits like this. Plus, this video itself is pretty impressive for being done in a single take while moving throughout Zoolander's strange apartment. Weirdly enough, he even acknowledges that he's reading off a teleprompter as a bit of a meta joke.
Honestly, there's a part of me that wishes there was also a mockumentary about Zoolander's life, but we probably get a decent enough taste of what that would be like from the above video. But there's a part of me that would be fascinated by the idea of Zoolander meeting Spinal Tap or Borat or something like that. But I suppose we should just be glad that Zoolander didn't die at the end of the first film as Adam McKay once convinced Ben Stiller should be the case.
Anyway, we're just a few weeks from seeing if Zoolander No. 2 will have been worth the wait. In the meantime, you should check out Gallery 1988's artwork from their Really, Really, Really, Ridiculously Good Looking Art Show right here. Plenty of pieces are available for purchase right now and will make your home that much more beautiful.
When the world's most beautiful musical celebrities are systematically assassinated with formerly famous male model Derek Zoolander's iconic "Blue Steel" look on their face, Interpol recruits Derek and his friend Hansel McDonald to infiltrate a new and different world of high fashion in order to put a stop to it. Meanwhile, Derek's rival Jacobim Mugatu is set free and is seeking revenge.
Zoolander 2 hits theaters on February 12.