Stan Lee Is Just Crazy Enough To Think A 'Star Wars' And 'Avengers' Crossover Could Happen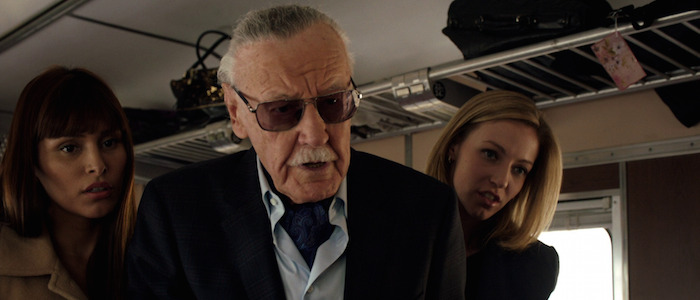 Stan Lee is one of popular culture's more fascinating icons, a man whose importance to various artistic mediums cannot be understated. In his wake lies a complex legacy, where his undeniably vital contributions continuously do battle with those who were left wounded by him (just ask Jack Kirby's estate). Without Lee, the Marvel comic book universe as we know it would not exist. Spider-Man, the X-Men, the Hulk, the Fantastic Four, Daredevil, and countless other characters wouldn't exist. He is a genius and an icon of the 20th century who will be discussed long after he's shuffled off his mortal coil.
However, Stan Lee also likes to talk and Stan Lee loves to talk about things that he has literally no involvement in whatsoever. After all, he hasn't been actively involved in the inner workings of Marvel in decades. He's more of a mascot now, a figurehead, Marvel's own Mickey Mouse. Thankfully, Lee's chatter tends to be entertaining, especially when he says crazy things about Disney merging the Avengers and Star Wars franchises to create some kind of uber-blockbuster.
In an interview with The Big Issue (via Uproxx), the 93-year old Lee spoke about the potential of a Star Wars and Marvel crossover. After all, both universes are currently owned by Disney, so it is theoretically possible. And Lee seems totally okay with this thoroughly outrageous concept:
If they feel that incorporating Star Wars with the Marvel characters will be very successful, they'll find a way to do it. Can you imagine Spider-Man saying, 'May the force be with you?' It may come to that!
But let's not dismiss Mr. Lee too quickly. After all, he does point out that the Avengers only came about after he threw a bunch of disparate characters together. So why not add the cast of Star Wars to the mix:
I created the Avengers by taking many of our characters and making a team out of them. We can have as many characters join the Avengers as we want to for future movies. That might be fun, all of a sudden Luke Skywalker is an Avenger!
If all of this sounds familiar, that's because Patton Oswalt foresaw this event a few years ago when he guest starred on Parks and Recreation. Asked to improvise a small town government filibuster, he rambled for nearly ten minutes about a Disney-orchestrated movie event that saw that Star Wars and Marvel universes merge together. If you haven't watched it, you should get on that:
Look, it's clear that Disney isn't going to merge these two franchises anytime soon. Both are too successful on their own and a crossover reeks of desperation. This is the kind of thing you'd expect to see in a few decades, when Marvel and Star Wars have officially worn out their welcome. At the same time, you can never accuse Stan Lee of not seeing future trends and paving the way for others to follow.
Feel free to craft your Marvel/Star Wars fan fiction in the comments below. We call dibs on a Boba Fett/Loki team-up movie, okay?