'Deadpool' Has Screened And Everyone Seems Pretty Warm On The Merc With A Mouth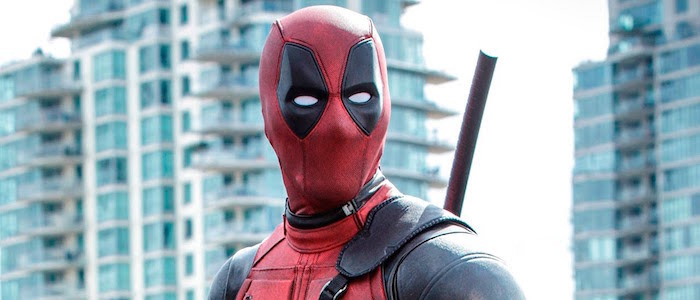 There's a reason it took so much time and effort for the Deadpool movie to come together – this character is a tough sell to anyone who doesn't drop too much money at their local comic book retailer every Wednesday. Although popular amongst the initiated, he's far from a household name and his oddball combination of goofy humor and extreme violence is a hard left turn from traditional cinematic super-heroics. We won't know for a few more weeks whether or not ordinary people will embrace an R-rated superhero movie starring a character who is essentially a murderous, red-suited Bugs Bunny who has already been banned in China.
But do know this: Deadpool has screened early in Los Angeles and New York City and the response from fans has been very positive so far. We know this because they took to Twitter to express their enthusiasm with exclamation points and emojis.
Fans gathered on both coasts thinking they were going to watch an extended preview of footage from 20th Century Fox's upcoming release, but they were actually treated to the entire movie. This kind of tactic is a work of genius – only serious Deadpool fans will show up to a footage presentation, so Deadpool managed to play to two crowds comprised entirely of those who were already excited to see the movie. The result: rapturous responses.
The early reactions on Twitter (which were first rounded up by Collider) have nothing but nice things to say about director Tim Miller's film, which stars Ryan Reynolds as a hard-to-kill and ugly-as-sin superhero who embarks on a mission of bloody revenge across the X-Men universe. Reynolds was present at the New York screening, while Miller, co-stars T.J. Miller and Brianna Hildebrand, Deadpool creator Rob Liefeld, writers Rhett Reese and Paul Wernick, producer Simon Kinberg, and Marvel mascot/living legend Stan Lee showed up at the L.A. screening.
Here are some of the responses to the film found on Twitter. Just grab some salt before you read on. These are mini-reviews from enthusiastic fans who were gifted a surprise screening. The hyperbole may be strong with some of these folks:
Just saw early screening of Deadpool. The movie is fucking amazing. Everything I was hoping for from the Merc with a Mouth! #deadpool

— Rachel H. (@judgebunnie) January 19, 2016
And like all marvel movies, make sure you wait for the tag at the end of the credits! Self aware and referential, perfect Deadpool.

— Rachel H. (@judgebunnie) January 19, 2016
Oh man, I really, really loved #Deadpool! Funny, action packed, and just a blast. As a fan, I'm hugely impressed and happy! @deadpoolmovie

— PJ Campbell (@pj_campbell) January 19, 2016
LITERALLY BEST MARVEL MOVIE. I was lowkey hella doubtful but by far best executed movie i've seen in a long time.

— Katya (@CatGirlCrusader) January 19, 2016
Just saw Deadpool with Stan Lee. 💁 pic.twitter.com/mlrgrSW5O6

— Austin Evans (@austinnotduncan) January 19, 2016
OMG @DEADPOOLMOVIE WAS SO GOOD I CANT EVEN FIT MY EXCITEMENT INTO 140 CHARACTERS 😮😮😮😮😮😮😮😮😮😮😮😮😮😱😱😱😱😱😱😱😱😱😱😱😱😅😅😅😅😅😅❤️❤️❤️❤️😍😍😍😍😍😍😍😘😘😘😘😘😘😘😘😘😘😘😘😘

— iJustine (@ijustine) January 19, 2016
Sure, some of those responses don't necessarily represent the most thoughtful film criticism ever put together, but excitement has got to count for something, right? In any case, Fox knows that this movie is a big risk and they know that future, riskier endeavors in their X-Men movie universe may only come together if Deadpool is a hit. In the battle for the hearts and minds and expectations of movie fans across the internet, this is a nice little victory for the Merc with a Mouth.
Deadpool opens on February 12, 2016.