VOTD: The Academy's 'The Force Awakens' Chat With J.J. Abrams, Harrison Ford & More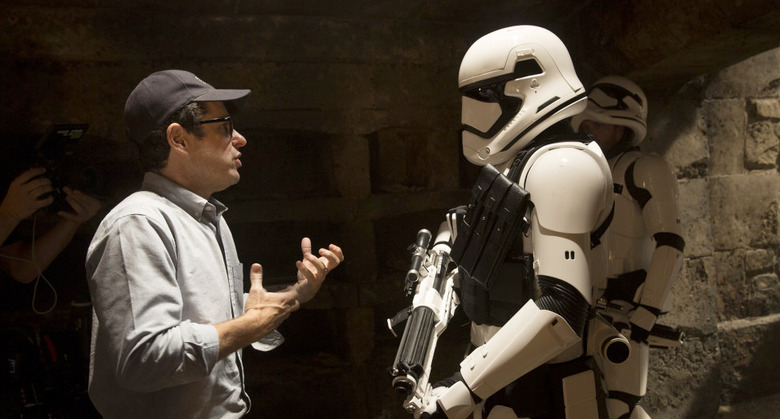 The hype and buzz around Star Wars: The Force Awakens is starting to die down along with the film's box office haul (it lost to The Revenant and Ride Along 2 last weekend), but that doesn't mean there isn't cool stuff to hear about the sci-fi blockbuster. In fact, just one day after the film hit theaters back in December, the Academy of Motion Picture Arts & Sciences had a conversation with some of the key filmmakers on the film, including director J.J. Abrams, producer Kathleen Kennedy, writer Lawrence Kasdan, star Harrison Ford and more. That conversation is finally available to watch online.
Here's the Star Wars: The Force Awakens panel from The Academy Conversations:
In addition to the aforementioned names, the panel also includes production designer Rick Carter, visual effects supervisor Roger Guyett and costume designer Michel Kaplan. Even though it's only a 15-minute talk, they provide some decent insight into their mindset when taking on such a Herculean task as making a new Star Wars movie.
Lawrence Kasdan talks about intentionally evoking the feeling people had when they saw the first Star Wars while Harrison Ford talks about how he genuinely had a great time every day that he was on set. That probably doesn't apply to the day a hydraulic door broke his leg, but you get what he's trying to say.
You can check out even more cool chats with the filmmakers and cast members from some of 2015's biggest movies, such as The Hateful Eight and Creed, at the Oscars YouTube page right here. And if you're looking for some more recent insight into the making of Star Wars: The Force Awakens, check out our interview with Neal Scanlan — creature & droid effects creative supervisor, creature shop concept designer, creature shop head — and SFX supervisor Chris Corbould.