'Suicide Squad' Trailer: The Worst Heroes Ever Rise To The Occasion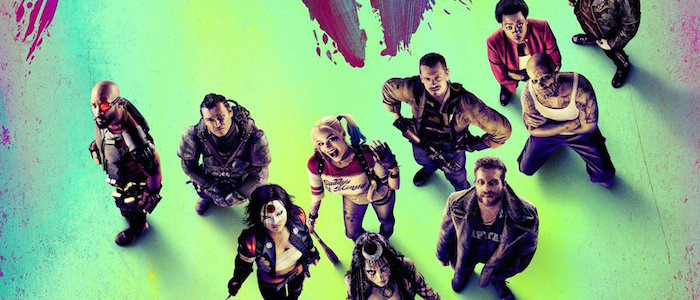 We'll say this much for the burgeoning DC movie universe – it's already looking a bit unpredictable. We still have no idea what to make of Batman v Superman: Dawn of Justice, a movie that appears to have the plots and characters of a dozen separate film jammed into one package, but we're certainly intrigued by Suicide Squad. Here is a comic book movie that, conceptually, feels like a gigantic left turn. How do you follow up a movie featuring Superman and Batman and Wonder Woman? How about an adaptation of a mostly unknown comic series about B-tier villains teaming up to take down a bigger threat? That's bold.
But enough of that. You're here because the first proper Suicide Squad trailer has arrived. You can watch that below.
The new trailer comes hot on the heels of that stylish new poster, which transforms the film's impressive ensemble into a collection of stylized skulls. Both that one-sheet and the new footage makes one thing clear: this isn't your typical comic book movie.
If you need to put faces to names, Will Smith is playing Deadshot, a master assassin who never misses. Margot Robbie is Harley Quinn, the deranged former flame of the Joker. Cara Delevingne is the troubled mage known as Enchantress. Bored under all of that make-up is Adewale Akinnuoye-Agbaje as Killer Croc, one of Batman's coolest villains. Jai Courtney is Captain Boomerang, who, uh, throws boomerangs. Leading this team of freaks is Joel Kinnaman's Rick Flagg and leading him is Viola Davis' Amanda Waller. And, of course, Jared Leto is in the mix as the Clown Prince of Crime himself, the Joker.
While hardcore DC fans appear to be on board with what Suicide Squad is selling, it's been an awfully bumpy road. The original reveal of Jared Leto's tattooed Joker is already the stuff of internet infamy, but that tempest in a teapot was quelled by the official release of the film's Comic-Con trailer, which everyone agreed was pretty darn cool. Since then, it's been awfully smooth sailing, even if the occasional wave of fan bewilderment has popped up here and there. If nothing else, director David Ayer seems to be cooking up something that is a distinctly different flavor than any other superhero movie – it looks like an Ayer joint through and through. This grungy slice of weirdness should make for a refreshing break from the Marvel Studios' movies, which are always cut from similar, Kevin Feige-approved cloth.
Suicide Squad opens on August 5, 2016.