Laurel And Hardy Live Again: BBC Films Taps Steve Coogan And John C. Reilly To Lead Biopic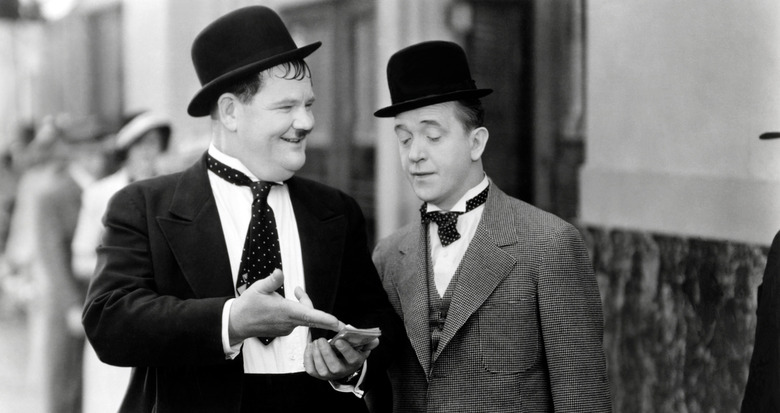 Nowadays, in addition to our entertainment on TV and in movie theaters, people get their comedy from internet videos featuring cats scared of cucumbers or YouTube stars talking directly into the camera who end up getting deals at Netflix. But decades ago, from 1927 to 1950, one of the most reliable sources of laughter were the films of comedy duo Laurel and Hardy. And now part of their story will be told in a new biopic at BBC Films.
Steve Coogan and John C. Reilly have been tapped to star in the Laurel and Hardy movie, respectively, in a film that focuses on the later part of their career when their time as the kings of comedy was behind them. Find out more below.
The film is called Stan & Ollie, named after the titular duo of Stan Laurel (pictured right) and Oliver Hardy, and it's described as an "emotional tribute to two of the funniest men in movie history." The film will find Laurel and Hardy embarking on their tour of the United Kingdom, putting on shows in variety halls in 1953. Here's the official synopsis of the story from ScreenDaily:
The story centers on Laurel & Hardy, the world's favorite comedy double act, who set out on a variety hall tour of Britain in 1953. Diminished by age and with their golden era as the kings of Hollywood comedy now behind them, they face an uncertain future.
As they set out, crisscrossing the country, attendances are disappointingly low. But they've always been able to make each other laugh and as the charm and beauty of their performances shines through their audiences laugh too, and they re-connect with legions of adoring fans, old and new.
The tour becomes a hit, but Laurel & Hardy can't quite shake the spectre of Stan and Ollie's past; and long buried ghosts, coupled with Oliver's failing health, start to threaten their precious partnership. A portrait of their creative marriage begins to unfold as the duo, aware that they may be approaching their swan song, try to rediscover just how much they mean to each other.
Laurel and Hardy is one of the most iconic duos to ever grace the screen with 32 short silent films, 40 short sound films and 23 full-length feature films in their career as a duo. Both were respectable actors before they teamed up, but it was their collaboration that netted them both a place in the history of cinema. Here's a taste of their antics from the past:
Jeff Pope, who worked with Coogan as co-write on Philomena, will be scripting the film with Filth helmer Jon S. Baird behind the camera. This meshing of talent in front of and behind the camera guarantees that we'll get a film that is not only funny, but also dramatic, giving the two comedy stars their due diligence as real people beyond their slapstick antics on the screen. Pope has a lot of respect for Laurel and Hardy, and he knows this will be no easy task:
When I watch their movies, in my head it is forever a Saturday morning and I am six years old watching the TV at home utterly spellbound. I am aware of the huge responsibility of bringing their characters to life, but I have not treated the boys with kid gloves or looked at them through rose coloured specs. They are living and breathing characters, with flaws and shortcomings. The research into this story threw up so many details and facts that I had no idea about. But everything I have done has come from a place of love and more than anything else I hope this shines through.
Coogan and Reilly seem like the perfect team to bring Laurel and Hardy to life on screen, both with a strong background in comedy and drama. If this goes well, maybe we'll get an Abbott and Costello biopic sometime down the road as well.