VOTD: BB-8 Helps Industrial Light & Magic Accept Genius Award At Critics Choice Awards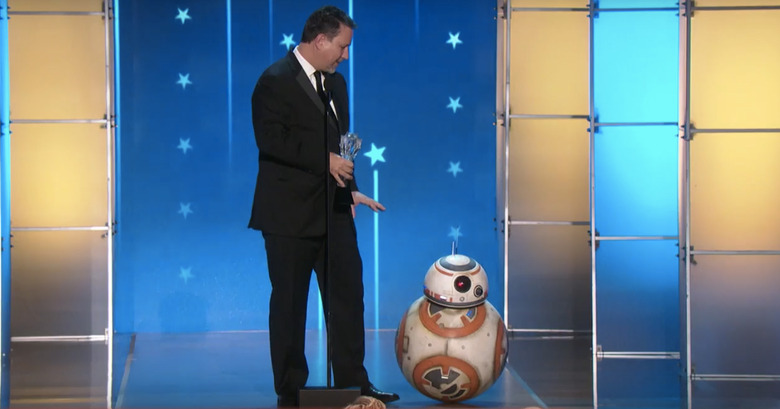 Last night, the Critics Choice Awards were televised live for the first time ever. While the event wasn't quite as star-studded as the Golden Globes or the Oscars, the festivities were hosted by comedian and Cloverfield star T.J. Miller with some of his trademark wackiness, everyone seemed to be having a good time, and Mad Max: Fury Road took home a bunch of awards. But one special award was handed out to Industrial Light & Magic, and a special guest from Star Wars: The Force Awakens was on hand to help out.
The adorable BB-8 helped ILM's chief creative officer John Knoll accept the Genius Award for everyone who has helped bring some of the most unbelievable creatures, settings and sights to life on the big screen. Check out the BB-8 Critics Choice Awards appearance after the jump!
Here's the speech from John Knoll, which gets adorably interrupted by BB-8:
J.J. Abrams was on hand to say some kind words about ILM and all they work they've done, not just for his films, but for the motion picture industry in general. A little montage of some of the work they've done accompanied the Genius Award presentation, but that's not officially available online. But if one was so inclined, they could probably find it on YouTube.
Star Wars: The Force Awakens didn't receive any other awards from critics last night, but the movie should just be happy it ended up getting a nomination with the field of other candidates since it was added at the last minute after critics had gotten a chance to see the movie. That created a bit of controversy with some since this happened after the deadline, and it seemed like a ploy just to get more eyes on the awards.
Anyway, BB-8 wasn't the only Star Wars cuteness that took the stage last night. Jacob Tremblay won the award for Best Young Actor/Actress for his stirring performance in Room, and he gave the most delightful acceptance speech with a nice little nod to his love for Star Wars:
In case you can't watch the whole video, Tremblay ends his acceptance speech with the line, "I know where to put this: right on the shelf beside my Millennium Falcon." The audience could barely handle how cute this kid was, and someone needs to get him a role in Star Wars: Episode VIII immediately.