HBO Shuts Down 'Westworld' Production, Possibly To Deal With Robots Running Amuck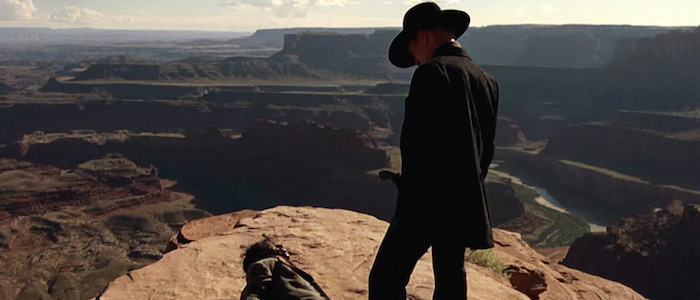 HBO has temporarily halted production on its long-gestating television adaptation of Westworld, claiming that executive producers Jonathan Nolan and Lisa Joy need more time to fine tune the final four scripts for the show's first season. If you read between the lines, that's obviously B.S. It's clear to anyone who really thinks about it that the network is currently dealing with a robot uprising and that they've had to lock down the sets until they know how to deal with the cowboy androids currently racking up a body count of helpless production assistants and interns.
But go ahead and believe what you want. HBO is still confident that their ambitious science fiction series will air in 2016.
Variety initially reported this news, citing an unnamed source, but HBO soon released an official statement on the matter:
As we head into the final phase of production on Westworld, we've made the decision to take a brief hiatus in order to get ahead of the writing.
This is the latest speed bump for a series that has encountered its fair share of behind-the-scenes difficulties. HBO ordered a pilot in 2013 and greenlit the first season in 2014, hoping to premiere Nolan and Joy's series in 2015. Since production was supposed to wrap up in November and will now resume in March, its fairly obvious why that window was missed. However, the network remains confident that the series will premiere this year, although they have yet to name a premiere date.
Don't let this news diminish your expectations. At least not yet. After all, HBO has often pressed pause on its shows to work out the kinks and the results have usually been worth the wait. After all, the original Game of Thrones pilot was completely scrapped, partially recast and reshot. And look how that ended up.
HBO describes Westworld as "a dark odyssey about the dawn of artificial consciousness and the future of sin." Based on the 1973 film from director Michael Crichton (yes, that Michael Crichton), the series will presumably begin with the same central concept – an immersive theme park inhabited by robots who eventually run amuck – before spinning off in its own direction. Crichton would later perfect his "technologically advanced amusement park goes wrong" formula with Jurassic Park, so we probably shouldn't expect the series to follow in those familiar footsteps. It's a little familiar at this point.
However, Nolan has had nothing but nice things to say about Crichton and his original film:
What you feel in the film is there's this larger world that he barely has time to explore. It leaves you breathless. Westworld goes from one f–king massive idea to the next. At one point in there, he references why the robots are misbehaving. He describes the concept of the computer virus. When they were shooting the film it was the same year, or the year before, the appearance of the first actual computer virus. This is why Crichton was so brilliant. He knew so much about the technologies that were about to emerge, spent so much time thinking about how they would actually work.
However, outside of a batch of images and a mysterious, beautiful, and totally vague teaser, we know next-to-nothing about the series. All we can gleam is that this won't be a straightforward killer robot show. It looks more complex than that. More ambitious. That so many talented actors are playing robots on the series suggests that we'll be seeing much of the action from their POV as they learn the truth about their reality and that sounds pretty, pretty cool.
Westworld stars Anthony Hopkins, Ed Harris, Jeffrey Wright, Evan Rachel Wood, James Marsden, and Thandie Newton. Barring disaster, expect the series to premiere later this year.