LOL: 'Saturday Night Live' Puts Adam Driver As Kylo Ren On 'Undercover Boss'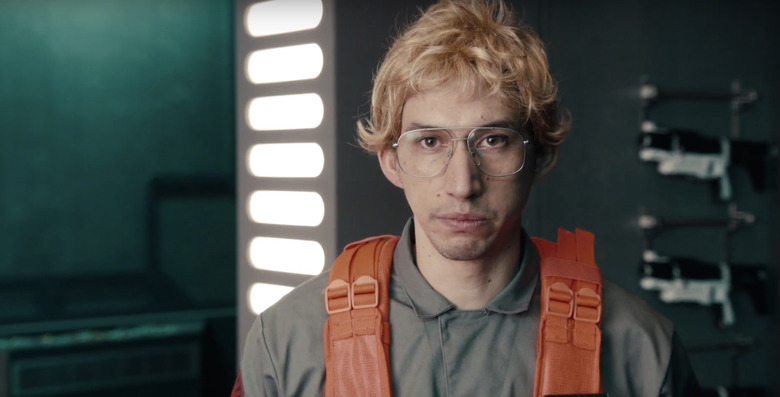 If you've seen Star Wars: The Force Awakens, then you know that Kylo Ren (Adam Driver) can have a bit of a temper when things don't go his way. There's already an Emo Kylo Ren account on Twitter and an animated short featuring the First Order commander freaking out during everyday situations. Now Kylo Ren wants to see what the employees at Starkiller Base really think of his management skills and attitude by disguising himself as a radar technician named Matt on the CBS reality series Undercover Boss in a new sketch from Saturday Night Live, which was hosted by Driver himself last night.
Watch the Saturday Night Live Kylo Ren sketch after the jump!
Here's the sketch straight from the SNL YouTube page:
Even though my bias will show a bit here because I'm a huge Star Wars fan, this sketch is just about the best thing Saturday Night Live has done all year, with the exception of maybe the Santa Baby short with Ryan Gosling back in December.
What's great about this sketch is that not only does it make a mockery of Kylo Ren in a clever way, but it's also a pretty perfect parody of Undercover Boss, right down to the tender moment Kylo shares with one of the First Order officers played by Taran Killam. Of course, he ends up killing him in the end, after he previously killed his Stormtrooper son. The Force works in mysterious ways, I guess.
Another great, more subtle moment comes when Bobby Moynihan, who probably has it in his contract to be in every Star Wars sketch on SNL, as a Stormtrooper asks what exactly has Darth Vader started? That's actually not a bad question, since we don't know the specifics of what Kylo Ren is trying to achieve other than killing the last Jedi. Presumably he thinks that will bring balance to The Force as it was predicted Anakin Skywalker would do, but with all the Jedi dead, that doesn't sound like balance to me. But we're getting into super nerdy territory at this point.
Between this and the action figure sketch from late last year, Saturday Night Live has been offering up some solid Star Wars comedy. Here's hoping we can get some more sometime in the future, perhaps with Daisy Ridley or John Boyega being brought on to host SNL next time.