Christian Bale Leaves Michael Mann's 'Enzo Ferrari' Due To Weight Gain Concerns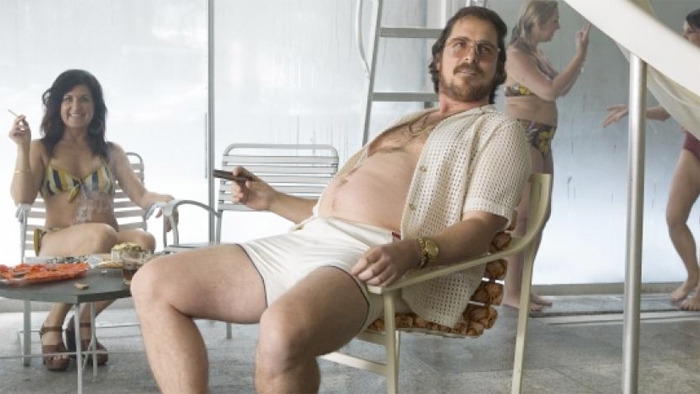 If you've seen Christian Bale in films like The Machinist and American Hustle, then you know that the actor puts his whole body into any given performance. However, it appears the weight gain Bale was going to take on in order to star in Enzo Ferrari, a biopic about the titular race car driver and car maker from director Michael Mann, has caused the actor to drop out of the production. Find out more about Christian Bale leaving Enzo Ferrari after the jump.
Bale is famous for his physical transformations on film, previously dropping down to 121 pounds for The Machinist, only to gain 109 pounds in just six months in order to star in Batman Begins. But 230 pounds was too big for the shape Christopher Nolan wanted Bale to be in, so he dropped another 40 pounds. Beyond that, Bale also got quite out of shape for his role in American Hustle, as seen above.
Even though Christian Bale had already began the weight gain process he thought necessary in order to play the role of Ferrari, the actor became worried that he wouldn't be able to safely gain the right amount weight by the time production starts this spring. And despite his success with dramatic weight change in a short time before, surely that's not healthy for him to do so often. Deadline says he has now dropped out of the project and Mann is quickly trying to find a replacement for the role so that production doesn't have to be pushed back.
At this time, no names have been mentioned, but it would be fantastic to see an actor like Oscar Isaac take on this role. He doesn't look a lot like Ferrari, but he's a lot closer in appearance than it seems Bale would have been, even if he did gain the weight. Here's a picture of Ferrari for you to make up your own mind:
Anyway, the film takes place in 1957 and and is said to tell the "personal, intimate story of a passionate man and his sprawling world, at times hilarious and at the next moment devastating, as he faces a brutal challenge to his survival." Troy Kennedy-Martin (The Italian Job, Edge of Darkness) wrote the script with an update from David Rayfiel (The Firm) and Michael Mann, based on Brock Yates book Enzo Ferrari, The Man, The Cars, The Races. If you want to know a little more about what to expect, here's the official description of the book:
To his legion of admirers, Italian auto titan Enzo Ferrari (1898-1988) was a genius who personally created marvelous cars of advanced design. But as Car and Driver columnist Yates points out in this captivating, demythologizing biography, none of Ferrari's racing cars "was a glittering example of daring technology," and he had almost no hand in the making of the later road cars that bore his name. Revealed as a hot-tempered megalomaniac given to loud belching and countless amorous conquests, Ferrari fathered an illegitimate child and led a shadowy second life as a respite from the "simmering hatred" of his marriage. He portrayed himself as a loyal "motorized knight-errant," defending Italy's national honor, but in Yates's esimate he was interested solely in winning races and sometimes pushed his drivers to dangerous extremes. Yates deftly records the carnage of major races, business wheeling and dealing, and the political dimensions of motor racing from the pre-WW II Rome-Berlin Axis to today's ribbon-waving nationalism.
As soon as a replacement for Enzo Ferrari is found, we'll be sure to let you know.