Watch Two Lengthy Interviews With The 'Star Wars: The Force Awakens' VFX Geniuses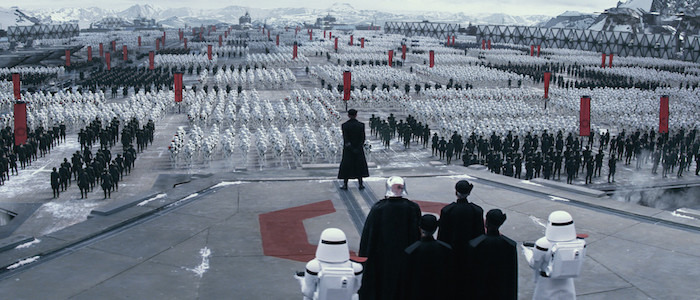 It's been a pretty decent month for visual effects maestros Roger Guyett, Patrick Tubach, Neal Scanlan and Chris Corbould. You know, they only pulled off some seriously impressive practical and digital effects for Star Wars: The Force Awakens, which is only one the most spectacular successes in box office history. And just a few days ago, their work was nominated for an Academy Award. You know, just ordinary stuff. No biggie.
Like any set of freshly minted Oscar nominees, these four gentlemen have been making the interview rounds, chatting about their hard work and basking in the warm, golden glow of recognition from their film industry peers. If you have some time to kill (and it's the Friday before a holiday weekend, so of course you do), Guyett, Tubacj, Scanlan and Corbould sat down for two lengthy video interviews to discuss how they accomplished the impossible and the fantastic.
Both interviews were conducted by David Poland for the DP/30 YouTube channel and they're fascinating. And since each of them run 30 minutes each, everyone is able to cover some real ground and get a fun dialogue rolling.
First up is the interview with Roger Guyett and Patrick Tubach, the ILM visual effects supervisors who oversaw the digital effects of Star Wars: The Force Awakens. This is Guyett's fourth Oscar nomination (following Harry Potter and the Prisoner of Azkaban, Star Trek, and Star Trek Into Darkness) and Tubach's second (following Star Trek Into Darkness). Our own Peter Sciretta recently interviewed these two as well and Guyett told him how many special effects shots are in The Force Awakens:
Okay, so there's 2100 odd visual effects shots in the movie. And obviously it's a massive undertaking. But I think what we're trying to do is just do this kind of slight of hand where it's, you know, how you go about doing it, you know, that's interesting on a technical level, but the most interesting thing is that you wanna make a great movie. And for people to believe that all these things are truly happening. And the foundation of some of that clearly is if you can actually shoot some of it in camera and then build from that or maybe you shoot all of it in camera. But for sure, you know, go to these places, go to the locations and have that tangible quality of being at that place, whether it's in the desert or the woods of Puzzlewood [PH] and all these things. But yes, part of our job is to do this massive visual effects movie but make it look as though somehow or another it wasn't that, that wasn't the, you know, there was some other level of reality to it all. But you were, that all of these events were somehow unfolding.
And now, here's the video interview.
The second interview focuses on Neal Scanlan and Chris Corbould, the creature design supervisor and on-set special effects supervisor. Scanlan previously took home an Oscar for his work in Babe and Courbould won a statuette of his own for Inception. In their interview with Peter Sciretta, Scanlan spoke about the practical effects in The Force Awakens that everyone thinks are digital:
Well there's certainly from mine and then I'll let Chris have a quick, get involved. I know that like for instance the Luggabeast, which is the big, blue beast from the scene where BB-8 is trapped. I know that the very large beast that's at the watering hole that nudges Finn out the way, I know that the large red robot that's walking outside of Maz's castle have been quoted to me as CGI characters and they're all fully practical. So it's both a compliment and to me and a compliment to everybody, the whole visual effects team, that people are not really quite sure which is which and what is what.
Corbould chimed in with a quietly incredible accomplishment of his own:
I think a very, very small thing I think a lot of people thought was CG was Rey's bread in that little bowl, which we did completely practically.
And now, here's that video interview:
Star Wars: The Force Awakens is nominated for five Academy Awards: Best Visual Effects, Best Editing, Best Score, Best Sound Editing, and Best Sound Mixing. It is currently in theaters and you know this because you've seen it a dozen times.