'Batman V Superman' Clip: The Man Of Steel Is A Total Jerk To The Dark Knight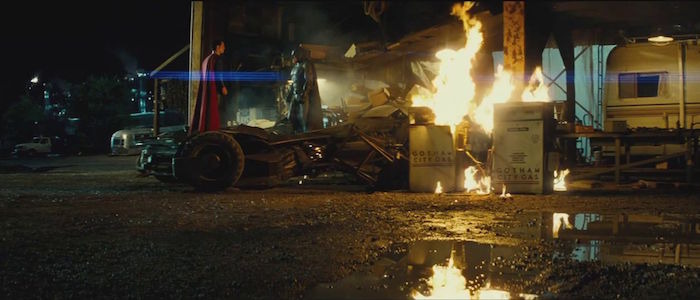 Ever since the first teaser for Batman v Superman: Dawn of Justice, we've been treated to Ben Affleck's Batman kindly asking Henry Cavill's Superman if he bleeds. This bizarre exchange has been the subject of countless raised eyebrows and more than a few stifled in-theater chortles. You can say a great many things about the trailers for Zack Snyder's superhero epic, but everyone seems to be in agreement that this is one odd line of dialogue upon which to hang so much of your marketing.
Now, thanks to a newly released clip from the film, we get to see that line in context. Does it sound better when performed in a proper scene? Does Superman have a response to it? Does it feel any less creepy?
The short answers: no, no, and no.
The clip was revealed by Snyder himself when he stopped by Conan and you can watch it below. Thanks to the various trailers, we've already seen much of this footage in bits and pieces, so it's pretty satisfying to actually see this entire Batman v Superman clip play out:
Can we safely assume that this is Batman and Superman's first face-to-face confrontation in the movie? It sure feels that way. The big question now is why Supes seems to hate Bats sooo much. We know that the war between these two heroes is ignited by some patented Lex Luthor meddling, but this is some serious jerk behavior on the part of the Big Blue Boy Scout. Just look at how disgusted he is by Gotham's veteran vigilante! You'd think Batman ran over Krypto with the Batmobile or something. These two seem to really hate each other, with their not-so-thinly-veiled threats and inquires about bleeding and so on.
I'm personally looking forward to the grand finale where these two are forced to work together and become best friends to save the day from a greater threat (as seen in the latest trailer). Honestly, watching these two get along sounds far more exciting than watching them be a**holes to one another. But that's just a  personal preference – I've always enjoyed the "World's Finest" concept more than Frank Miller finding every possible excuse to crap all over Superman. From the looks of things, Snyder and co. have different opinions and that's totally okay.
Here's the official synopsis for the film:
Fearing the actions of a god-like Super Hero left unchecked, Gotham City's own formidable, forceful vigilante takes on Metropolis's most revered, modern-day savior, while the world wrestles with what sort of hero it really needs. And with Batman and Superman at war with one another, a new threat quickly arises, putting mankind in greater danger than it's ever known before.
Batman v Superman: Dawn of Justice will pulverize a theater near you and snap the usher's neck on March 25, 2016.