Sequels Live, Die, Live Again: George Miller Will Make More 'Mad Max' Movies After All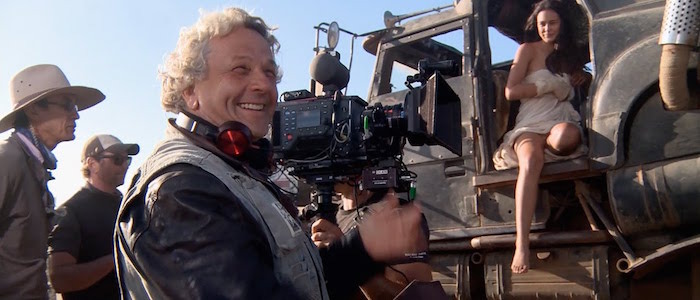 Let's just cut to the chase: the internet can be a big, stupid echo chamber where the wrong information travels like like flames through a dry forest. Or, in this case, like flames across a Warboy convoy soaked in precious guzzoline. Director George Miller has been talking about a making a fifth film in his iconic post-apocalyptic action franchise since before Mad Max: Fury Road came out. And when everyone realized that Fury Road was nothing short of a masterpiece, he started chatting about potential sequels in every single interview.
So there was something fishy about him suddenly saying that he was done making Mad Max movies. And now we know the reason for that particular odor: he was misquoted.
Two days ago, Miller participated in a red carpet interview where he supposedly said "I won't do those anymore," referring to more Mad Max movies. However, just four days earlier, he had just spoken about his desire to make another Max Rockatansky adventure – as long as he could make a smaller, easier movie before returning to the Wasteland.
This morning, Mad Max: Fury Road was nominated for ten Academy Awards, including a Best Director nod for Miller. Speaking with The Wrap shortly after receiving the news, Miller revealed this not-so-surprising news regarding the interview in question:
That was a completely garbled interview. I was in New York and it was so noisy and the journalist was asking me questions on a red carpet at the National Board of Review. She completely got the wrong fragments of information that were just not true. I said no, [another 'Mad Max' movie] will not be next, and she took that to mean I never wanted to make another 'Mad Max.' It won't necessarily be next, but I have two more stories.
In other words, noisy red carpets are prrrobably not the best place to conduct interviews if you want to get clear answers.
Anyway, Miller has a lot to deal with before he can even think about making Mad Max 5. In addition to the Oscars, he's also up for a DGA Award, which often predicts which filmmaker will walk home with the ultimate prize. The Best Director race is stacked this year, but Miller has two weapons in this battle. First, he's a beloved industry veteran who needs to get his due after decades of great work. Second, Mad Max: Fury Road actually is the best directed film of 2015. Duh.