Star Wars Bits: Leia Coming 'Star Wars Rebels,' John Boyega Teases 'Episode 8,' The Return Of Jabba The Hutt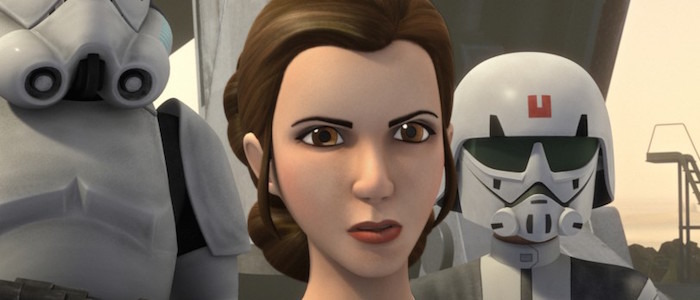 Today's edition of Star Wars Bits is jam-packed with galactic-sized goodness, so we don't even time for a proper introduction. We don't! Honest! We really just need to dive into the details as fast as possible and not waste time at the top here. Cool? Cool. Okay, here's what you'll find contained within:
Princess Leia arrives on the next episode of Star Wars Rebels.
John Boyega teases a dark future for Finn.
J.J. Abrams has advice for the young Han Solo actor.
A glimpse of a Rogue One: A Star Wars Story X-Wing.
Jabba the Hutt may return in a future Star Wars movie.
A Kickstarter-funded Star Wars documentary has found a distributor.
Benicio del Toro chats about Star Wars: Episode 8 and his villainous role.
A fascinating interview with the man who played Jar Jar Binks.
Take a look at every type of lightsaber out there.
It's about time! The next episode of Star Wars Rebels will feature Princess Leia, making her debut appearance on the animated show. They got Lando Calrissian on this thing before they secured the presence of the most badass royal rebel in the universe? How'd that happen? Anyway, the news broke via TV Insider, who received this quote from showrunner Dave Filoni:
"We thought we had an opportunity to show her learning to be a leader, experimenting with the personality that becomes the stronger more resolute character you see in A New Hope," Filoni says. "One of the complex challenges of depicting Leia in Rebels is that we have to remind the audience that at this point she is part of the Empire. She doesn't believe in the Empire, but she is acting the part, almost a double agent."
This young Leia will be played by Julie Dolan, who also voices the character in the Star Wars: Uprising mobile game. Above is a quick look at her episode, which will premiere on January 20th.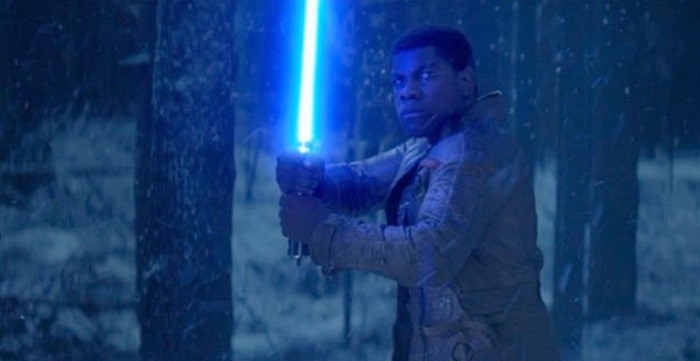 Vogue recently sat down with Star Wars: The Force Awakens star John Boyega, who got things rolling in the best way possible – by finally yelling major plot points of the movie in public:
Yes, at last! Han Solo dies, OK? He dies. Phew. It feels good. But now, we just starting work on Star Wars VIII, the next film, so I'm back to keeping secrets again.
And he's serious about the "keeping secrets" thing. With cameras set to roll soon on Rian Johnson's Star Wars: Episode 8, this is all Boyega could say about the film's screenplay:
It's great. Much darker, but we're very excited.
In this case, darker would be appropriate. If this film follows the template established by The Empire Strikes Back in the original trilogy, it will be the murky middle chapter where everything goes wrong for everyone. Although he couldn't say much out of fear of death, Boyega did reveal that the next movie will test him physically:
My part in the next film will be much more physical so I might be in the gym a bit more.
Consider the amount of fighting and running he endured in The Force Awakens – it sounds like Finn is in for a pretty rough time.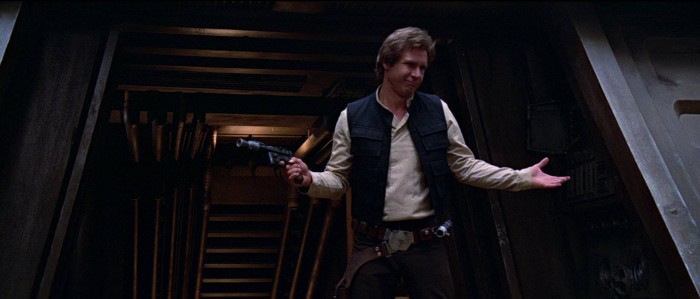 Variety, who recently broke that story about the current actor shortlist for the young Han Solo, caught up with Star Wars: The Force Awakens director J.J. Abrams and asked him if he had an opinion on the matter. His response is classic Abrams:
Nope. I wish I had something to say, but I don't. I haven't turned my attention to that.
Thanks for that, Mr. Mystery Box! But we kid because we love and we love him even more after he offered this bit of advice for the actor who has to pick up Harrison Ford's mantle:
Watch Raiders of the Lost Ark. It'll all be right there.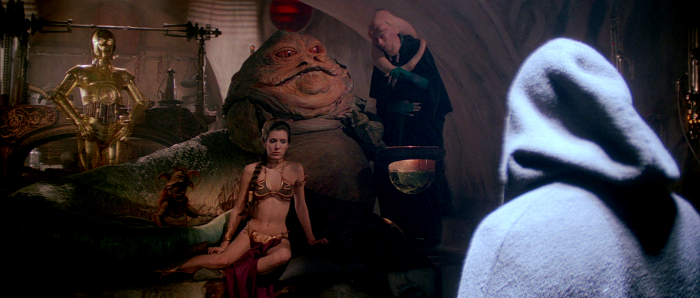 Special effects wizards Neal Scanlan and Chris Corbould, the lead creature designer and special effects supervisor on Star Wars: The Force Awakens respectively, recently spoke at a British Academy of Film and Television Arts even and revealed that a certain iconic villain may be returning to the big screen. Scanlan, whose next project is Rogue One: A Star Wars Story, suggested the potential resurrection of a certain slimy crime boss:
There is a huge amount of secrecy around all of the films and we never really know exactly what the characters are until way way down the line. We have heard rumours of all different characters coming back and I had heard Jabba The Hutt, but to be honest I cannot confirm that one way or the other, It is certainly not on the cards quite yet.
This wouldn't surprise us at all. Although Jabba is dead and blown to pieces in the new movies, he could easily show up in various spin-offs... especially that upcoming young Han Solo movie.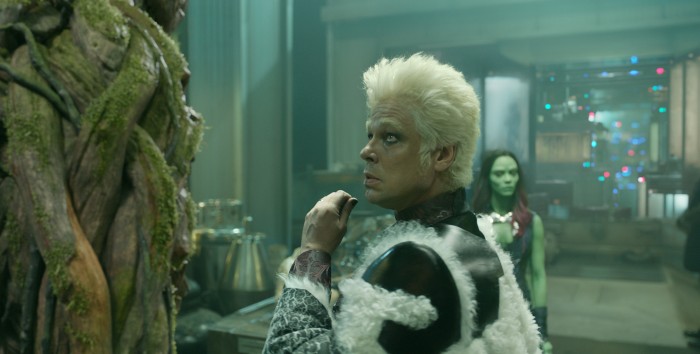 The folks at Hitfix caught up with the great Benicio del Toro, who will playing some kind of mystery character in Star Wars: Episode 8, and grilled him about the production. After revealing that he's set to begin filming this spring, he revealed that he's excited to be working with Rian Johnson, who specifically sought him out for the character:
I'm looking forward to working with Rian Johnson too, who was the one that reached out to me and had the idea of me playing the character that I'm gonna play. So that's kinda nice.
And yes, it's starting to settle in that he's about to appear in a Star Wars movie:
It's more surreal now, I'll tell you that. I mean, after the success... not only at the box office, but the success of the quality of [Episode VII]. I really enjoyed the film... so it's kind of nerve-wracking now, but I'm really happy to be part of it.
Finally, he confirmed (in the loosest sense possible) that he'll be a bad guy in the movie, citing the fact that everyone out there already knows that it's the case:
You know, I'm not supposed to say, but that's what's out there, so I'm not gonna try and fight it.
Can you imagine del Toro sharing the screen with Adam Driver's Kylo Ren? Now that's a duo that we're looking forward to seeing.
The YouTube show, These Are the Actors You're Looking For, tracks down and interviews people have appeared in the Star Wars saga. Their latest episode is, by its very nature, soul-shattering – they spoke with Ahmed Best, the poor guy who played Jar Jar Binks in the prequels. You can watch the whole interview above, but this bit (via io9) paints one tragic picture. On the set for the film, Best and George Lucas were convinced they were breaking new technological ground and creating something special:
I was to be the template for this, so I was kinda working with George to pioneer this new character form of acting and storytelling. On set we were all just so focused on the challenge of it and having so much fun that the post-Star Wars stuff was a surprise. Even though you play characters, you put a lot of your own personality into it, you get emotionally and personally invested in the work that you do, it's your work and you take pride in it. So when your work is criticized negatively, you feel a hit.
You've got to feel bad for the guy. The only person who's had it worse has got to be Jake Lloyd.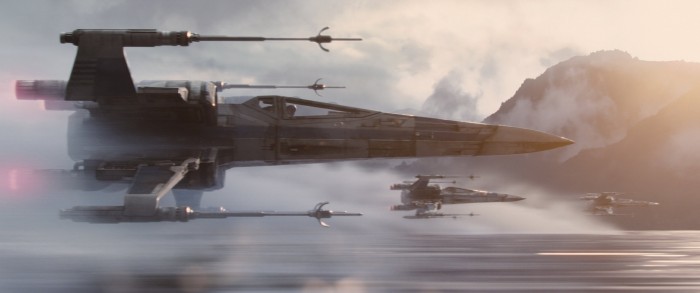 TMZ has obtained photos of an X-Wing on the set of Rogue One: A Star Wars Story. They look exactly how you'd expect them to look: a battered Rebel spacecraft sitting in a garage, waiting to be wheeled out sometime in the future. There is one interesting feature here though and that's the black paint job, which separates this craft from its original trilogy brethren while providing a direct connection to the more varied and colorful X-Wings of The Force Awakens.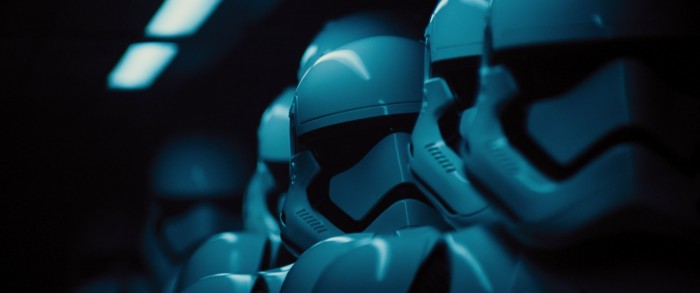 Elstree 1976, an unauthorized documentary exploring the minor actors and extras who have appeared in the Star Wars saga, has found a distributor in FilmRise. Not bad for a scruffy, Kickstarter-funded doc that didn't have the backing of a major studio! Here's how The Hollywood Reporter describes the film:
Having made its world premiere in October at the London Film Festival, Elstree 1976 explores the lives of the actors and extras behind the franchise, from a first trilogy villain to the actor whose character was completely cut from the final film. The documentary delves into the eccentric community the actors have formed and how the Star Wars franchise continues to impact their lives. Elstree refers to the village in England that houses the studio where the original Star Wars trilogy was produced.
Considering the sheer number of men and women who still make the Comic-Con rounds after making brief appearances in this movie, this could be absolutely fascinating.
The always informative and entertaining Star Wars Minute YouTube channel has dedicated their latest episode to running down every single lightsaber design we've seen so far. You know what to do.