LOL: Jimmy Kimmel Rescues 'The X-Files' From The '90s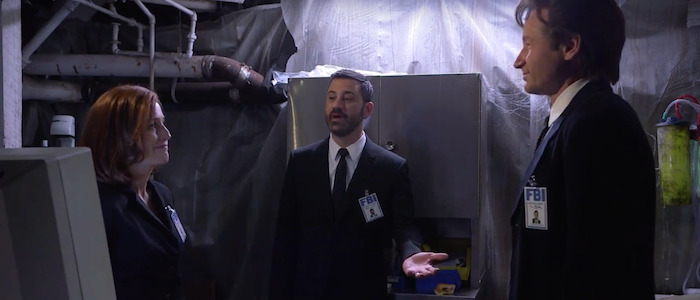 My excitement for the upcoming revival of The X-Files found itself tempered yesterday as a new batch of early reviews arrived. To call the early response to the limited series' first episode negative would be an understatement. The disappointment was palpable. It hung in the air like an alien fog that you could collect in a jar and bottle in a government agency, only for it to break out and wreak havoc in the middle of the season when everyone is taking a break from the overarching mythology episodes
So faithful-but-not-blind X-Files fans need a laugh today and bless Jimmy Kimmel for trying to give us one with this amusing parody, which finds him teaming up David Duchovny and Gillian Anderson for a new case. Watch it for yourself below.
The sketch premiered on Jimmy Kimmel Live and actually getting both original stars back as FBI Agents Fox Mulder and Dana Scully makes all the difference in the world. Watching these two return these characters in any capacity is a joy and they're totally in on the joke, speaking in that intentionally flat tone that defined both characters in the '90s.
And this sketch is entirely about the '90s, following Mulder and Scully as they make a startling discovery, only to learn from a slightly obnoxious fellow agent (Kimmel) that their investigative methods are decades out of date. Hopefully you're ready for some jokes about large cell phones and AOL dial-up noises, because this sketch is full of 'em.
It is weird that the sketch acts like Mulder and Scully didn't spend the back stretch of the series in a romantic relationship, but we can forgive the selective memory of the writers in this case. That comes from the time when everyone who wasn't a diehard had pretty much given up the show, leaving only the lonely and the dedicated to see things through to the end.
Our overall verdict on this sketch: it's pretty good! Not nearly as good as that time Duchovny and Anderson guest starred as Mulder and Scully on The Simpsons, but pretty good!
The X-Files will return as a six-episode limited series, beginning with a two-night premiere on January 24 and 25. The episodes will be a combination of "mythology" episodes (continuing the ongoing story of government conspiracies and aliens and so on) and "monster of the week" episodes (where Mulder and Scully face down one-time supernatural threats). Original series creator Chris Carter will helm half of the episodes, with original series veterans James Wong, Glen Morgan and Darin Morgan each returning for one hour each. Hopefully, this whole thing didn't just peak with a Jimmy Kimmel bit.