'50 Shades Of Grey' And 'Pixels' Lead The 2016 Razzie Nominations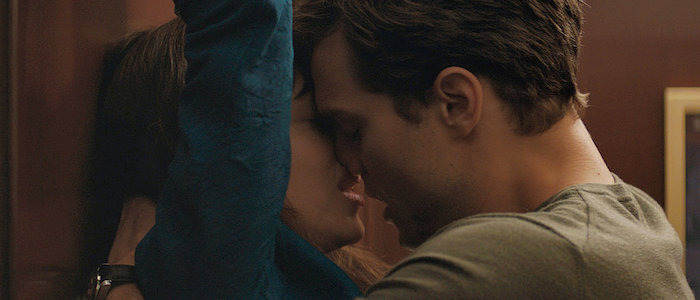 The 2016
nominations are here and, as always, they're patently ridiculous and squander a fun premise so they can pick on obvious and occasionally undeserving targets while ignoring the movies that actually deserve your scorn.
But let's back up for a moment. The 2016 "Golden Raspberry" nominations, which "celebrate" the worst movies of the year and act as a sort of anti-Oscars, have been revealed.
,
, and
lead the pack. You can check out the full list of nominees below.
50 Shades of Grey was the big "winner" this year, scoring six nominations for Worst Picture, Worst Actor, Worst Actress, Worst Onscreen Combo, Worst Screenplay and Worst Director. Pixels and Fantastic Four followed closely behind with five nominations apiece, sharing nods for Worst Picture, Worst Director, and Worst Screenplay. Other contenders include The Cobbler, Paul Blart: Mall Cop 2, Jupiter Ascending, Mortdecai, and Seventh Son.
And this is the part where anyone who actually watched most of these movies sighs and finds a smooth, not-too-hard surface to bang their head against. Although most of the nominees for Worst Picture are indisputably bad movies, most of these are far from the worst movies of the year. How does Jupiter Ascending, a movie bursting with imagination and originality even when it doesn't quite click, rank here when the derivative and poorly made Hitman: Agent 47 is nowhere to be found? Why is Pixels, a bad movie for sure, not sharing this space with Chappie, a sci-fi comedy that is actually far worse? And then there's the leader of the pack, 50 Shades of Grey. It's not a good movie by any stretch of the imagination, but its greatest sin is being a little too bland and a little too boring. Anyone who actually watched it knows that it is far from the worst movie of the year. It just has a target painted on its back.
As usual, the Razzies are more about picking on movie stars and being hipper-than-thou than they are about singling out truly awful movies. If that was their real mission, The Human Centipede 3: Final Sequence and Terminator: Genisys would reign supreme across these nominations. As always, these nominations are more lame than anything else.
Except for Fantastic Four. They got that one right. What a genuinely perplexing disaster that was. Here is the complete list of nominees:
WORST PICTURE
Fantastic Four
Fifty Shades of Grey
Jupiter Ascending
Paul Blart: Mall Cop 2
Pixels
WORST ACTOR
Johnny Depp, Mortdecai
Jamie Dornan, Fifty Shades of Grey
Kevin James, Paul Blart Mall Cop 2
Adam Sandler, The Cobbler and Pixels
Channing Tatum, Jupiter Ascending
WORST ACTRESS
Katherine Heigl, Home Sweet Hell
Dakota Johnson, Fifty Shades of Grey
Mila Kunis, Jupiter Ascending
Jennifer Lopez, The Boy Next Door
Gwyneth Paltrow, Mortdecai
WORST SUPPORTING ACTOR
Chevy Chase, Hot Tub Time Machine 2 and Vacation
Josh Gad, Pixels and The Wedding Ringer
Kevin James, Pixels
Jason Lee, Alvin & The Chipmunks: Road Chip
Eddie Redmayne, Jupiter Ascending
WORST SUPPORTING ACTRESS
Kaley Cuoco-Sweeting, Alvin & The Chipmunks: Road Chip and The Wedding Ringer
Rooney Mara, Pan
Michelle Monaghan, Pixels
Julianne Moore, Seventh Son
Amanda Seyfried, Love the Coopers and Pan
WORST REMAKE/RIP-OFF/SEQUEL
Alvin & The Chipmunks: Road Chip
Fantastic Four
Hot Tub Time Machine 2
Human Centipede 3 (Final Sequence)
Paul Blart Mall Cop 2
WORST SCREEN COMBO
All Four "Fantastics," Fantastic Four
Johnny Depp and His Glued-On Moustache, Mortdecai
Jamie Dornan and Dakota Johnson, Fifty Shades of Grey
Kevin James and EITHER His Segue OR His Glued-On Moustache, Paul Blart Mall Cop 2
Adam Sandler and Any Pair of Shoes, The Cobbler
WORST DIRECTOR
Andy Fickman, Paul Blart Mall Cop 2
Tom Six, Human Centipede 3 (Final Sequence)
Sam Taylor-Johnson, Fifty Shades of Grey
Josh Trank, Fantastic Four
Andy and Lana Wachowski, Jupiter Ascending
WORST SCREENPLAY
Fantastic Four (screenplay by Simon Kinberg, Jeremy Slater and Josh Trank, Based on the Marvel comic book by Stan Lee and Jack Kirby)
Fifty Shades of Grey (screenplay by Kelly Marcel, Based on the Novel by E.L. James)
Jupiter Ascending (written by Andy and Lana Wachowski)
Paul Blart Mall Cop 2 (screenplay by Kevin James & Nick Bakay)
Pixels (screenplay by Tim Herlihy and Timothy Dowling, Story by Herlihy, Based on a Work by Patrick Jean)
RAZZIE REDEEMER AWARD
Elizabeth Banks (RAZZIE "Winner" for MOVIE 47, Multiple Hit Movies This Year)
M. Night Shyamalan (Perennial RAZZIE nominee & "winner," director of The Visit)
Will Smith (For following up After Earth with Concussion)
Sylvester Stallone (All-Time RAZZIE Champ, award contender for Creed)