Cool Stuff: Dave Perillo's Colorful 'Pulp Fiction' Print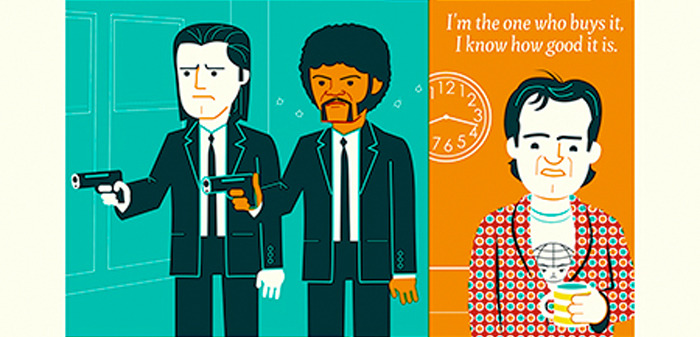 When it comes to pop culture artists, one of our favorites is undoubtedly Dave Perillo. His unique illustrations and signature square layouts always pop, and the artist even had his own Gallery 1988 show back in 2014. And with The Hateful Eight in theaters now, there's no better time for the artist to debut a new print inspired by one of the films directed by Quentin Tarantino. Perillo's latest print pays tribute to Pulp Fiction, and you can get your hands on it right now.
Here's Dave Perillo's Pulp Fiction print from Upper Deck Gallery (via Firewire Blog):
The one on the left is the regular version with an edition of 250 that will cost you $59.99. The one on the right with the more subtle color palette is the variant with an edition of 100 that will cost you $99.99. Both measure 12" x 36" and are printed on heavy card stock. Here's what Perillo had to say about his creation:
I was super excited for the opportunity to work on this project for the Upper Deck Gallery, especially since Pulp Fiction is one of my all-time favorite movies. It is such a fantastic story filled with so many unique characters. I love how the movie has a retro quality to it without really specifying when it takes place. My goal was to translate that into the print, hopefully doing it justice.
Both of the posters are on sale right now while supplies last, so if you want this one for you wall, head over to Upper Deck Gallery to purchase it immediately.