'Robin Hood: Origins' Adds Jamie Foxx As A "Battle-Hardened" Little John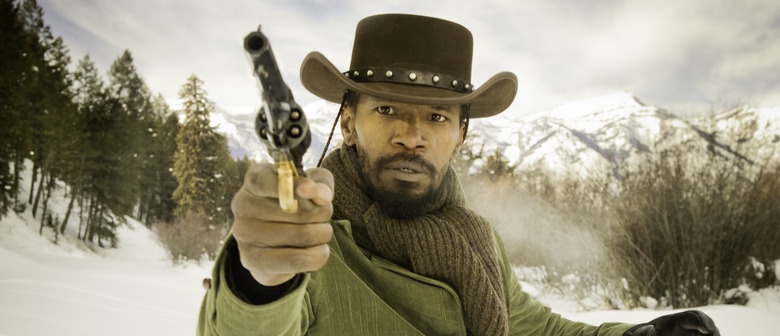 Jamie Foxx, last seen ferrying Quevenzhané Wallis around town in the Annie reboot, is preparing to take on another classic character. He'll play the Little John to Taron Egerton's Robin Hood in the upcoming Robin Hood: Origins, which as you've probably gleaned from the title is the "gritty origin story in the vein of The Dark Knight" version of the classic English folk tale. 
THR broke news of the Jamie Foxx Robin Hood casting. Besides Foxx and Egerton, Robin Hood: Origins will also star The Knick breakout Eve Hewson as Maid Marian. Otto Bathurst (Peaky Blinders) is directing from a script by Joby Harold, who just got done gritty-rebooting the King Arthur legend for director Guy Ritchie and star Charlie Hunnam. Leonardo DiCaprio's Appian Way is producing Robin Hood: Origins.
In this telling of the story, our hero is soldier who returns home from the Crusades, only to find his beloved Sherwood Forest has been overrun by corruption and evil. He puts together a band of outlaws to fight back, becoming the hero Sherwood Forest deserves and/or needs. In the best known versions of the legend, Robin Hood uses his sweet archery skills to steal from the rich and give to the poor.
Little John is Robin Hood's right-hand man, who typically fights with a staff. Deadline adds that this Little John will be a Crusades veteran, like Robin Hood, but one who fought on the opposite side. Hardened by battle and tired of war, he initially distrusts Robin but eventually becomes his loyal lieutenant.
Foxx had no films out in 2015 but will be back onscreen sometime this year with Sleepless Night, a remake of the 2011 French thriller of the same title. In addition, he's about to begin shooting Edgar Wright's Baby Driver, in which he plays a crime boss who forces a getaway driver played by Ansel Elgort to work for him. Robin Hood: Origins is expected to shoot sometime this year (likely this summer, after Egerton finishes Kingsman 2) for release in 2017.