VOTD: Ricky Gervais' 2016 Golden Globes Opening Monologue Makes The Room Awkward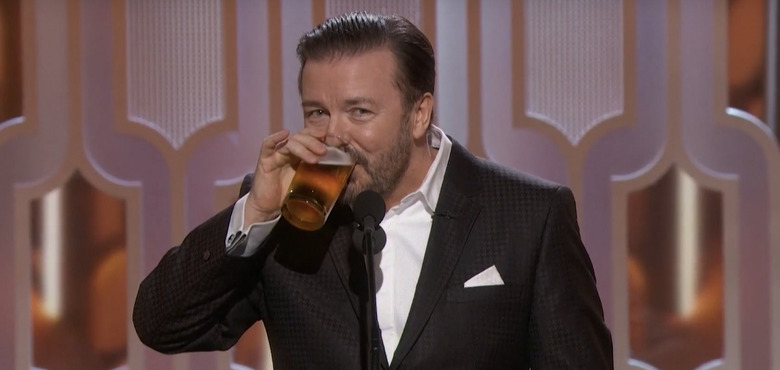 Whenever you have Ricky Gervais hosting the Golden Globes, you just know you're going to get some divisive comedy. The stand-up comedian and creator of The Office, Extras and Derek doesn't hold back when he rips into Hollywood and its celebrities, and his monologue opening the 73rd Golden Globes was no exception. Jennifer Lawrence, Roman Polanski, The Martian and the Hollywood Foreign Press Association were all skewered in his opening monologue, and you can watch it in full, complete with the f-bomb that actually made it on air.
Here's the Ricky Gervais 2016 Golden Globes monologue from NBC:
While Gervais has some material that isn't the best, he still has some great quips here. However, a decent amount of the celebrity audience didn't seem too eager to laugh much at a lot of what Gervais had to say, even when it was something good. Maybe the room wasn't drunk enough at the beginning of the show, or maybe some of these celebs didn't want to get caught laughing at some controversial material.
And you might think Gervais is being too mean about the Golden Globes and those excited about winning them, but there is a reason that Harvey Weinstein laughed really hard at Gervais' jab about studios buying Golden Globes, followed by Matt Damon and Brad Pitt laughing at how hard the producer was laughing at that joke. It's true. All of it.
Some people just don't like a guy as smarmy and confident about it as Gervais, but I think that's part of what makes his comedy work. Again, not every joke Gervais fired off last night was good, but he certainly wasn't awful. In fact, one of the best moments of the night was his introduction of Matt Damon as the only person Ben Affleck has remained faithful to. Yeah, that was a sick burn, but it was absolutely hilarious.