'The Path' Trailer: Aaron Paul Can't Live A Life Of Lies Anymore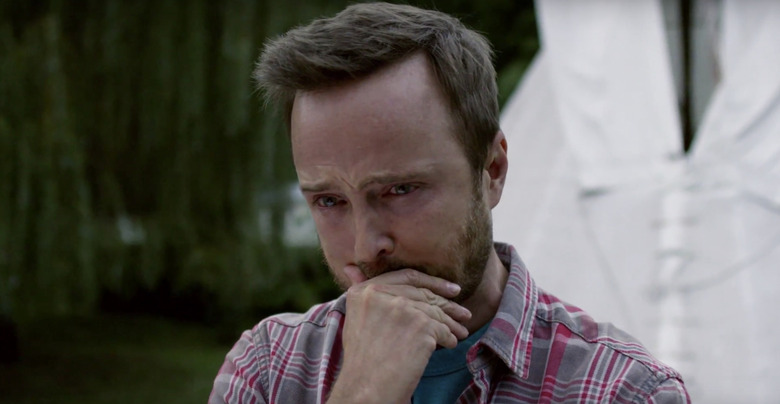 Cults seem to be all the rage on television right now. Whether they're a catalyst for a show like The Unbreakable Kimmy Schmidt or a driving force of the story as in The Leftovers, strange organizations of people just looking for something to believe in have gotten plenty of attention. And now one more is on the way from Hulu.
The Path is a new original series on the streaming service that follows a family at the center of a controversial faith-based movement struggling with relationships, marriage and power. In the first The Path trailer, Breaking Bad star Aaron Paul seems to begin to question the beliefs in his cult, and that could be a problem for his family, especially his wife (Michelle Monaghan), who is a devoted follower of their trusted leader (Hugh Dancy of NBC's Hannibal) and his teachings.
Here's The Path trailer from Hulu:
Though some might think this series is about scientology, series writer and executive producer Jessica Goldberg stresses that they invented a a new faith so as not to hold the story back. Speaking at the Television Critics Association press tour (via THR), she says:
"It wouldn't allow us the same sort of storytelling opportunities if we put it into something that already existed. Our goal is to look at both sides of religion. Where it brings comfort and then also where it when you against the grain of the faith, that does provide cynicism. ... There's also great comfort to be taken in having a frame for your life and I think that is something a lot of us are seeking."
This isn't Paul's first brush with religion TV since he also starred in HBO's Big Love for a time, but this looks like something different entirely.  The question will be whether or not it can bring something new to the table after cults have been covered so extensively by film and television over the years.
The Path follows a family at the center of a controversial cult movement as they struggle with relationships, faith, and power. Each episode takes an in-depth look at the gravitational pull of belief and what it means to choose between the life we live and the life we want.
The series comes to Hulu from Universal Television and Jason Katims' True Jack Productions and was created by Jessica Goldberg, who will write and executive-produce the series along with Katims and Michelle Lee of True Jack Productions. The 10-episode series stars Aaron Paul, Michelle Monaghan, Hugh Dancy, and Rockmond Dunbar.
Hulu exclusively premieres the series on March 30th.