Russo Bros. Wanted A Charismatic But Insecure Spider-Man For 'Captain America: Civil War'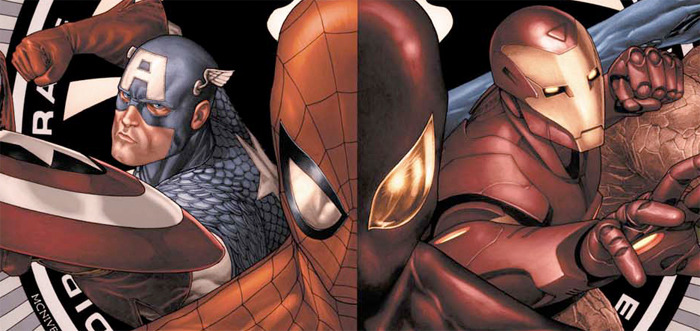 In case you didn't pay attention to Superhero Bits yesterday, there's a chance we might get a first look at the new Spider-Man in Captain America: Civil War sometime next week. Over at Merchoid.com, some official Civil War merchandise debuted, and one of the items is a "premium Spider-Man hoodie." But the site doesn't have an image of it yet, and they say that they can't reveal it until January 15th. Since the other hoodie at the site is a Captain America costume hoodie, we're thinking the Spider-Man one could be the same.
As we wait to see whether or not we'll get a sneak peek at the new Spider-Man in Civil War, directors Anthony & Joe Russo recently sat down for an interview ahead of their appearance at Wizard World New Orleans and talked about their approach to the wallcrawler, including how he's different from the previous iterations. Find out what they had to say below.
Speaking with ComicBook.com, the Russo brothers wouldn't confirm whether we would see Spider-Man on any merchandise or trailers before the movie hit theaters, but they did talk about their take on Spidey. Joe kicked things off by saying:
"He was my favorite character growing up, so the opportunity to bring Spider-Man to the screen is a dream come true. It's something that I spent a lot of time thinking about as a kid. We had thought back to the things that excited us about him as a character when we were younger, and one of the most important components of that was that he's a high schooler burdened with incredible powers and responsibility. That really differentiates him from every other character in the Marvel universe as opposed to other superheroes. For us, it was extremely important that we cast somebody very close to the age of a high school student. The previous films had adults playing a high schooler. We wanted more of an authenticity to the casting. We were very specific about that. We wanted an energy and charisma from the character, an energy, but also an insecurity that would make him fun to watch in contrast to the confident superheroes."
I really like the idea of a Spider-Man who isn't all that confident in his abilities yet, especially when he has to team up with a bunch of superheroes who have been doing this kind of thing for years now. And this quality is also meant to add a bit of an "everyman appeal of the character,"which is something that Joe didn't think was present in the Sam Raimi or Marc Webb versions:
"...the other films that portrayed where he lived is more... they honored the comic books in terms of the choices. But you go look at the home that Tobey Maguire lived in in Raimi's Spider-Man was... those were very expensive homes. We wanted to relate it to the reality...
A character growing up with his aunt in New York, a single income family... Where would they live? What would that look like? Where could they afford to live? We asked ourselves all those questions," continued Joe Russo. "We try to take a very logical and realistic and naturalistic approach to the character. Again, in combination those are all of the things that we try to do, and of course, to bring our own touches, too."
This sounds like the perfect way to bring a new Spider-Man into the mix of superheroes who have mostly led privileged lifestyles, with the exception of Steve Rogers before he enlisted in the army. Perhaps his perspective on things as an everyman will help some of our heroes see a different side of the argument that sparks the conflict in question.
Hopefully we'll find out more about Spider-Man soon, and stay tuned to see if we get a first look at the new Spidey suit next week. Our fingers are crossed on one hand while we try to sling web with the other. Sorry, that sounded really dirty.
Captain America: Civil War arrives on May 6th.