'Mad Max: Fury Road' Is The Best Reviewed Movie Of 2015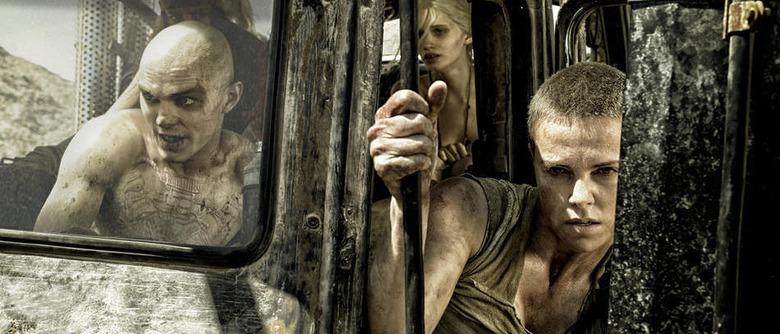 Mad Max: Fury Road basically dominated our top 10 lists for 2015, and we at /Film were hardly alone in loving it. The National Board of Review deemed it the best film of the year, and filmmakers as different as Quentin Tarantino and John Waters named it one of their favorites, too. It's even earned nominations from the SAG, the PGA, the BAFTAs, and the Golden Globes — a rare feat for a blockbuster action sequel. Even so, all the critical adoration in the world can't guarantee Mad Max: Fury Road a shot in the Best Picture Oscar race. At this point, it's still far from a shoo-in for the category, and (let's be real) stands almost no chance of taking home the prize itself.
All this praise can, however, win Mad Max: Fury Road the Golden Tomato Award for the best reviewed movie of 2015. As you've probably deduced from the name, these award are given out by the review aggregator Rotten Tomatoes. Besides Mad Max, Inside Out and Room have also emerged as some of the most highly praised films of the year, while Master of None and Better Call Saul were two of the best loved titles on the TV side. After the jump, find out what the other best reviewed movies of 2015 are, and see George Miller and Pete Docter's (adorable) official responses to their big win. 
Rotten Tomatoes unveiled the list of Golden Tomato Awards. The winners, listed below, are based on an adjusted Tomatometer score that accounts for the variation in the number of reviews for each film. Like any awards system, it's an imperfect one, but it's an interesting look at which films were most loved by a wide swath of critics at the time they opened. In contrast, while there are plenty of critics' associations that hand out awards each year, most of those are voted on by a small group of reviewers near the end of the year. To find out which titles came in second through tenth in each category, head over to the website.
Miller, who directed Mad Max: Fury Road, said in a statement: "It's always gratifying to have a positive critical response. It is, after all, how we learn about our work. And now here's a Golden Tomato! How cool!" How cool, indeed. Who'd have guessed, at the start of 2015, that Miller's mysterious, years-in-the-making Mad Max sequel would turn out to be one of the very finest films of the year?
Docter offered a response as well: "I read somewhere that eating tomatoes has been linked to heart health. Getting this one sure warmed mine. On behalf of the cast and crew of 'Inside Out,' thank you!" Ha, ha, ha. Just the kind of cute wordplay we'd expect from the guy who directed Inside Out.
Best Reviewed Movies and TV Shows of 2015
Best Wide Release: Mad Max: Fury Road
Best Limited Release: Room
Best New TV Show: Better Call Saul
Best Returning TV Show: Fargo
Best Reviewed Movies of 2015 - Regional
Tomatazos Award (Best Film – Mexico): Güeros
Best Film – UK: Shaun the Sheep
Best Film – Australia: Mad Max: Fury Road
Best Reviewed Movies of 2015 By Genre
Best Action Movie: Mission: Impossible – Rogue Nation
Best Animated Movie: Inside Out
Best Comedy: What We Do in the Shadows
Best Comic Book / Graphic Novel Adaptation: The Diary of a Teenage Girl
Best Documentary: Amy
Best Drama: Brooklyn
Best Foreign Language Movie: Timbuktu
Best Horror Movie: It Follows
Best Kids / Family Movie: Paddington
Best Musical / Music Film: Love & Mercy
Best Romance: Carol
Best Sci-Fi / Fantasy: Mad Max: Fury Road
Best Thriller: Sicario
Best Reviewed TV Shows of 2015
Best Drama: Better Call Saul
Best Comedy: Master of None
Best Sci-Fi / Fantasy / Horror: Doctor Who
Best TV Movie / Miniseries: Fargo
Best Documentary Series: Making a Murderer