'The Walking Dead' Will Continue Until The End Of Time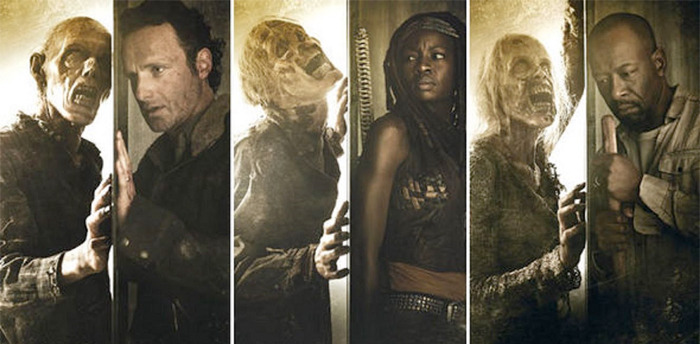 Unfortunately for zombie lovers out there, The Walking Dead won't be back this year until February 14th. That should make for one bloody Valentine's Day, especially since series creator Robert Kirkman has promised there will be a lot of death when the show comes back from the midseason break. And for those of you who just can't get enough of the comic book adaptation, there doesn't seem to be any end to the show in sight.
AMC executives appearing at the Television Critics Association panels this week said that they aren't even thinking about the end of the series and are focused on keeping it alive as long as the comics "are firing on all cylinders." Find out more below!
Vulture has the interview with Joel Stillerman, president of original programming and development at AMC and Charlie Collier, president of the network, where they both echo each other's sentiments about the ending of the show, or lack thereof. Stillerman was first to give his take on the seemingly never-ending future of The Walking Dead:
The answer to how long the show will go on in some way is directly correlated with the health of the storytelling in the comics. Those comics are firing on all cylinders. [Robert Kirkman] still writes every line of dialogue in those books, and is as engaged as he was when I think he was sitting around in Kentucky writing the first issue. That is very much part of the DNA of the show. He sort of felt like, in real life, this goes on for a very long time. We're along for that ride.
So as long as Kirkman keeps churning out the continuing story of our survivors, the show will march onward. And Collier agrees wholeheartedly, adding that there hasn't even been any discussions or thoughts about The Walking Dead ending anytime soon:
I will tell you we are not actively talking about the end of 'The Walking Dead.' We're talking about how to keep this No. 1 show on television feeling as fresh as it does in season six. As a brand, we're very sensitive to making sure that every aspect of it feels fresh and original, and that it's not treated in any way that's derivative or taken for granted. Our planning is current and future-focused, and it is not focused on the end at this time.
That makes perfect sense. As long as there's source material to keep the story going, and as long as audiences keep watching in record numbers, there's no reason to think about ending the show. That'd be like thinking about how you're going to kill that cow you have in your backyard when it's just churning out millions of dollars in cash.
We know there's some big things in store for The Walking Dead, especially with the arrival of fan favorite villain Negan on the way. Jeffrey Dean Morgan will be playing the ruthless bad guy, and he's definitely going to shake things up very soon. So just hold on one more month, and prepare to see some characters die when the show returns. Will they mostly be the citizens of Alexandria that you don't really care about, or will some of the signature character be going down this time? We'll find out soon enough.