Emma Stone May Play That Vampire Bat, That Inhuman Beast Cruella De Vil For Disney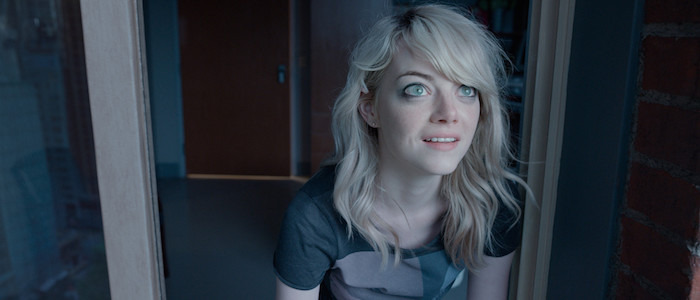 Last year, screenwriter Kelly Marcel was given the unenviable task of writing a live-action movie centered around Cruella de Vil, the nastiest and most inherently unlikable character in the Disney animated canon. Other baddies may have larger plots (like seizing control of entire kingdoms), but the villainess from 101 Dalmatians wants to abduct and murder puppies so she can make coats. Compared to the buffoonish Gaston or the power-hungry Evil Queen, she is literally Satan.
Now, Disney is currently looking to cast overwhelmingly lovable Emma Stone as a young Cruella in the appropriately titled Cruella. That's certainly step one in finding some way to make a cruel dog killer a viable lead character in a tentpole movie. Read on about the Emma Stone Cruella de Vil casting below.
This news comes to us from The Hollywood Reporter, who say that the Oscar-nominated star of Birdman, Easy A, and The Amazing Spider-Man is in "early negotiations" to take on this role. This is the stage where anything can happen, but it's hard to imagine a rising star like Stone resisting a role like this. After all, Maleficent was a huge hit and the majority of that movie's effectiveness radiated from Angelina Jolie getting the chance to run wild with an iconic character. Everybody loves Stone, but she's not a movie star yet. This is the kind of project that could change that.
Everything about Cruella reflects Disney's current course when it comes to making live-action movies. Like Alice in Wonderland, Maleficent, and Cinderella, it's a live-action riff on an already-beloved movie with a built-in audience. And like Maleficent, it plays into the fact that Disney villain merchandise sells like crazy. There's a reason for the recent uptick in villain-themed entertainment at Disney theme parks.
Still, Cruella is a far tougher sell than Maleficent. After all, it's easier to make a vengeful sorceress relatable. The real challenge is making us care about a woman who wants to wear puppies. Do we need to remind you of her theme song?
This vampire bat, this inhuman beast
She ought to be locked up and never released
The world was such a wholesome place until
Cruella, Cruella De Vil
When Glenn Close played a live action version of Cruella de Vil in the 1996 live action remake of 101 Dalmatians, she wisely chose to essentially act as a live-action cartoon character. How do you make this person even remotely relatable? And how do you make an origin story where a young woman slowly transforms into this anything other than horrifying:
Then again, Marcel (who previously wrote Saving Mr. Banks for Disney) has faced uphill battles before. After all, she was the one tasked with adapting Fifty Shades of Grey. She has battle scars. She's seen it all. This may be cakewalk compared to that. The mere casting of Stone suggests that this will be a Cruella we haven't seen before. So let's wait and see what everyone has cooked up.
Cruella doesn't have a director or a release date, but Disney is hoping to get it before cameras later this year.