Everything Steven Soderbergh Watched And Read In 2015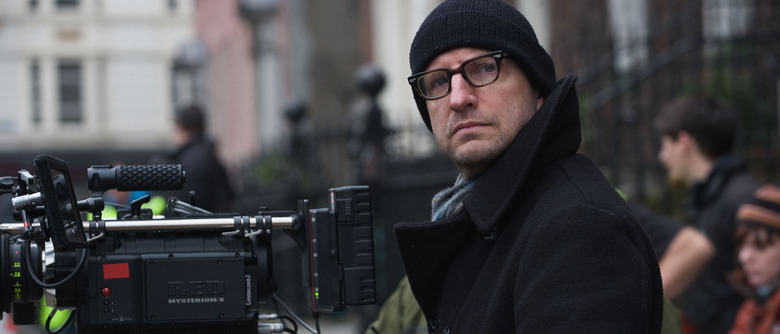 For the past couple of years, director Steven Soderbergh (Traffic) has been keeping track of everything he watches and reads in a year. Considering he was recently working on season two of Cinemax's The Knick, it's kind of astonishing how much entertainment he consumed this year.
Find out what Steven Soderbergh watched and read in 2015 after the jump.
Soderbergh actually notes below when he started principal photography on The Knick, and yet he still found the time for the shows he watches. The director posts these lists, amongst his re-edits and swag, on his website, Extension 765, and this list just really makes me wish he'd make a Letterboxd account, because who wouldn't follow that account?
Here's everything Steven Soderbergh watched and read in 2014:
01/01 MAGIC MIKE XXL01/02 Signature Kill, David Levien, LEVIATHAN ('14)01/03 AMERICAN GREED (2), Fighting For Life, S. Josephine Baker01/05 INTERSTELLAR, AMERICAN GREED (2)01/06 THE BIG SLEEP ('46), CITIZEN KANE, UTOPIA (2)01/07 THE RETURN OF W. DE RIJK01/10 UTOPIA, STARDUST MEMORIES01/11 FORCE MAJEUR, GIRLS01/13 LAWRENCE OF ARABIA, UTOPIA (2)01/14 DA SWEET BLOOD OF JESUS, UTOPIA01/16 KINGPIN01/17 Group f.64, Mary Street Alinder, WILD TALES, JIMI: ALL IS BY MY SIDE01/18 THE DAY OF THE JACKAL, CLAPPING FOR THE WRONG THING*01/19 GIRLS, AMERICAN GREED (2), VANITY FAIR CONFIDENTIAL01/20 MAGIC MIKE XXL01/21 UTOPIA, 194101/22 UTOPIA (2)01/23 FROM RUSSIA WITH LOVE01/24 THE LADY FROM SHANGHAI01/25 GIRLS01/26 VANITY FAIR CONFIDENTIAL01/27 DISAPPEARED, ART AND CRAFT01/28 THE AMERICANS01/29 LOUIS C.K. LIVE AT THE COMEDY STORE01/30 CHEF, DATELINE01/31 48 HRS MYSTERY, DUEL02/02 Begin principal photography on THE KNICK, VANITY FAIR CONFIDENTIAL02/03 DATELINE ON ID, ON THE CASE WITH PAULA ZAHN02/04 THE AMERICANS02/05 THE JINX (2)02/06 DATELINE02/07 L'PETIT QUINQUIN, 48 HRS MYSTERY: SATURDAY NIGHT EDITION02/08 DATELINE: SUNDAY EDITION, GIRLS, BETTER CALL SAUL02/09 VANITY FAIR CONFIDENTIAL, BETTER CALL SAUL02/11 THE AMERICANS02/13 MODESTY BLAISE, DATELINE02/14 THE HUNT FOR RED OCTOBER, 48 HRS MYSTERY02/17 WITNESSED: THE ASSASSINATION OF MALCOLM X, AMERICAN GREED02/18 THE AMERICANS02/21 48 HRS MYSTERY, DATELINE: SATURDAY EDITION02/22 MAGIC MIKE XXL02/23 THE JINX, BETTER CALL SAUL02/24 GIRLS, VANITY FAIR CONFIDENTIAL02/25 THE AMERICANS02/27 HOUSE OF CARDS (3)02/28 HOUSE OF CARDS (2), DATELINE03/02 BILLIONS, GIRLS, BETTER CALL SAUL03/05 The Price of the Ticket, James Baldwin03/06 THE AMERICANS, VANITY FAIR CONFIDENTIAL03/07 FIFTY SHADES OF GREY, 48 HRS MYSTERY03/08 THE JINX, GIRLS, Satin Island, Tom McCarthy03/10 VANITY FAIR CONFIDENTIAL, BETTER CALL SAUL03/11 THE AMERICANS03/12 HOUSE OF CARDS (2)03/14 AVENUES03/15 THE JINX03/16 BETTER CALL SAUL03/17 VANITY FAIR CONFIDENTIAL03/19 TRIPLE NINE, TWISTED03/21 DATELINE, THE CONFORMIST03/22 GIRLS, DATELINE03/23 BETTER CALL SAUL03/24 VANITY FAIR CONFIDENTIAL03/25 THE AMERICANS03/26 DATELINE03/27 BLUE RUIN03/28 WORLD FIGURE SKATING CHAMPIONSHIP, ZODIAC03/29 GOING CLEAR: SCIENTOLOGY AND THE PRISON OF BELIEF03/30 BETTER CALL SAUL, VANITY FAIR CONFIDENTIAL03/31 DISAPPEARED04/01 THE AMERICANS, THE COMEDY CENTRAL ROAST OF JUSTIN BIEBER04/02 DATELINE04/03 WELCOME TO NEW YORK, DATELINE, NIGHT OF THE LIVING DEAD ('68)04/04 MISSING*, KUHANI*, 48 HRS MYSTERY04/05 MAD MEN04/06 BETTER CALL SAUL04/07 AMERICAN GREED, VANITY FAIR CONFIDENTIAL04/08 THE AMERICANS04/09 LOUIE, DATELINE04/10 VIDEOSYNCRACY04/11 48 HRS MYSTERY04/12 SILICON VALLEY, VEEP, MAD MEN04/14 NORTH BY NORTHWEST04/15 THE AMERICANS, CHIMES AT MIDNIGHT04/16 LOUIE04/18 48 HRS MYSTERY04/19 DATELINE, THE HAUNTING OF DIANE FARR, SILICON VALLEY, VEEP, MAD MEN04/12 INSIDE AMY SCHUMER, AMERICAN GREED04/23 W1A04/24 20/20: DIANE SAWYER INTERVIEWS CAITLYN JENNER04/26 SILICON VALLEY, VEEP, MAD MEN04/29 INSIDE AMY SCHUMER, VIDEOSYNCRACY04/30 W1A05/02 DATELINE, MAYWEATHER VS. PACQUIAO05/03 THREE DAYS OF THE CONDOR, SILICON VALLEY, VEEP, MAD MEN05/06 48 HRS ON ID05/07 W1A05/09 DATELINE, THE SERVANT05/10 SILICON VALLEY, VEEP, MAD MEN05/11 THOUGHT CRIMES: THE CASE OF THE CANNIBAL COP05/12 INSIDE AMY SCHUMER05/14 DATELINE, W1A05/15 EX MACHINA, DATELINE05/18 MAD MEN, SILICON VALLEY, VEEP05/19 48 HRS MYSTERY, TOO MUCH JOHNSON05/24 MAD MAX: FURY ROAD, SILICON VALLEY, VEEP05/25 THE DIRTY DOZEN05/26 THE KNICK (2)05/27 THE KNICK (3)05/28 48 HRS ON ID, DATELINE, THE KNICK (2)05/29 THE KNICK, DATELINE05/30 THE KNICK (3), 48 HRS MYSTERY05/31 SILICON VALLEY, VEEP06/02 48 HRS MYSTERY06/04 My Struggle: Book Four, Karl Ove Gnausgaard, SEXY BEAST, VALLEY OF THE DOLLS06/05 Confessions of Zeno, Italo Svevo06/06 The Getaway Car, Donald E. Westlake, THE HOT ROCK06/07 Thieves of State, Sarah Chayes, SILICON VALLEY, VEEP06/08 Dead Wake, Erik Larson06/12 City of the Sun, David Levien (2)06/13 48 HRS MYSTERY, DAYS OF THUNDER06/14 THE SOFT SKIN, SILICON VALLEY, VEEP06/18 DEUTCHLAND '83, DATELINE06/19 THE GAME06/20 A DEADLY ADOPTION06/21 JAWS06/22 DISAPPEARED06/24 INSIDE AMY SCHUMER, DEUTCHLAND '8306/26 DATELINE06/27 EX MACHINA, MINORITY REPORT07/03 ALL ABOUT EVE07/04 When to Rob a Bank, Steven D. Levitt and Stephen J. Dubner07/05 SUNSET BOULEVARD, AMERICAN GREED07/07 THE GIRLFRIEND EXPERIENCE (3)07/08 THE GIRLFRIEND EXPERIENCE (8)07/09 THE GIRLFRIEND EXPERIENCE (2), ELVIS COSTELLO: MYSTERY DANCE07/13 THE BIG CLOCK07/17 ALL THE PRESIDENT'S MEN, THE EMPIRE STRIKES BACK07/18 U2 at Madison Square Garden, 48 HRS MYSTERY07/19 My Brilliant Friend, Elena Ferrante07/20 RED OAKS (2)07/21 RED OAKS (2), ALL THE PRESIDENT'S MEN07/24 RYAN'S DAUGHTER07/25 48 HRS ON ID, KNIFE IN THE WATER07/26 I AM CAIT, DATELINE ON ID07/29 The Story of a New Name, Elena Ferrante07/30 DATELINE: THURSDAY NIGHT MYSTERY08/02 Those Who Leave and Those Who Stay, Elena Ferrante, Between Me and the World, Ta-Nehisi Coates, THE CONFORMIST08/03 RED OAKS, WEST TEXAS INVESTORS CLUB08/05 SHADOW OF A DOUBT08/07 AMERICAN GREED, Imbibe, David Wondrich08/08 What Every Body is Saying, Joe Navarro with Martin Karlins, M.D., CASTING BY08/09 VANISHED WITH BETH HOLLOWAY, GOODNIGHT, MOMMY08/11 IN THE LOOP08/12 What Black People Should Do Now, Ralph Wiley, MR. ROBOT08/15 FRENZY08/17 GOD'S POCKET08/18 Book of Numbers, Joshua Cohen, KILLER INSTINCT WITH CHRIS HANSEN, L'AVVENTURA08/20 MR. ROBOT08/21 THE QUILLER MEMORANDUM, RED OAKS08/22 MAD MAX: FURY ROAD, 48 HRS MYSTERY08/23 SHANGHAI EXPRESS, BLUNT TALK, THE FRENCH LIEUTENTANT'S WOMAN08/24 HARPER, ARE YOU STILL A F*****?*, DOUBLE TALK*, ONCE IN A BLUE MOON*08/25 RED OAKS (2), ODD MAN OUT08/27 THE FREE STATE OF JONES, DATELINE THURSDAY NIGHT MYSTERY08/28 NARCOS (2), DATELINE08/30 PETULIA, The Empty Chair, Bruce Wagner08/31 ANATOMY OF A MURDER09/01 SWEET SMELL OF SUCCESS, CATCH-2209/03 MR. ROBOT09/05 The Story of the Lost Child, Elena Ferrante, STEVE JOBS: THE MAN IN THE MACHINE, MAN ON WIRE09/06 QUEEN OF EARTH09/10 Why Black People Tend to Shout, Ralph Wiley, AMERICAN GREED09/11 DATELINE09/12 INVASION OF THE BODY SNATCHERS ('78), 48 HRS MYSTERY09/13 Purity, Jonathan Franzen09/16 THE VERDICT09/21 The Complete Idiot's Guide to NASCAR, Brian Tarcy, PAPER MOON, ATLANTA, AN ENEMY OF THE PEOPLE09/26 DATELINE10/02 Quicksand, Steve Toltz10/03 THE MARTIAN, DATELINE10/06 Begin principal photography on MOSAIC (phase one)10/10 Songs Without Words, Ann Packer10/18 BRIDGE OF SPIES10/24 STEVE JOBS, PULP FICTION11/01 Submission, Michele Houellbecq11/07 SPECTRE, 99 HOMES, THE VISIT ('15)11/17 AMY SCHUMER: LIVE AT THE APOLLO, AMY11/18 I Met Someone, Bruce Wagner, GETTING ON11/20 DATELINE11/21 THE REVENANT, TANGERINE, 48 HRS MYSTERY11/22 Unfaithful Music and Disappearing Ink, Elvis Costello11/24 BEASTS OF NO NATION11/25 ROOM, GETTING ON11/26 THE DAY OF THE JACKAL11/28 JAMES BALDWIN: THE PRICE OF THE TICKET11/29 "Old Times", Harold Pinter, GETTING ON11/30 TRUTH12/01 THE BIG SHORT12/02 SON OF SAUL12/03 "A Confederacy of Dunces", John Kennedy Toole/Jeffrey Hatcher12/04 DATELINE, BY THE SEA, HUNTING HITLER12/05 PALE FLOWER, A VERY MURRAY CHRISTMAS, IN A LONELY PLACE12/06 Islam and the Future of Tolerance, Sam Harris and Maajid Nawaz, GETTING ON12/07 U2: INNOCENCE+EXPERIEMCE, GETTING ON12/08 THE HATEFUL EIGHT (70MM), CAROL12/10 PROPHET'S PREY, SPOTLIGHT12/11 ANOMALISA, HUNTING HITLER12/12 THE LAST PANTHERS (2), 48 HRS MYSTERY, The Soul of the Marionette, John Gray, ALDO VS MCGREGOR12/13 45 YEARS12/16 LISTEN TO ME MARLON, CREED, THE PARALLAX VIEW12/17 HUNTING HITLER, TRANSPARENT (5)12/18 MAKING A MURDERER (9)12/19 A LIFE OF OHARU, The Silence of Animals, John Gray, MAKING A MURDERER12/20 THE HATEFUL EIGHT (standard def DVD)12/22 TRANSPARENT (5), ALL THE PRESIDENT'S MEN12/23 OUR MAN IN HAVANA12/24 BLADE RUNNER ("the final cut"), THE RACK PACK12/25 DOUBLE INDEMNITY, SCROOGE ('70), WONDER BOYS12/26 THE INHERITANCE ('62), MURDER ON THE ORIENT EXPRESS, FINDERS KEEPERS ('15)12/27 Money: An Unauthorized Biography, Felix Martin, EXPERIMENTER12/28 HOUSE OF GAMES12/29 AND THEN THERE WERE NONE, The Mark and the Void, Paul Murray12/30 AND THEN THERE WERE NONE (2)12/31 "The Mousetrap", Agatha Christie, DEAD OF NIGHT ('45)VINYL
SEVEN STEPS TO HEAVEN Miles Davis
SKETCHES OF SPAIN Miles Davis
BACK TO BLACK Amy Winehouse
LET'S STAY TOGETHER Al Green
GAUCHO Steely Dan
ARMED FORCES Elvis Costello
LEISURE Blur
TAKING LIBERTIES Elvis Costello
IMPERIAL BEDROOM Elvis Costello
CHEMICAL CHORDS Stereolab
AJA Steely Dan
ILLMATIC Nas
PHYSICAL GRAFFITI Led Zeppelin
PEOPLE, HELL, AND ANGELS Jimi Hendrix
TRUST Elvis Costello
ARMED FORCES Elvis Costello