'Baskets' Trailer: Zach Galifianakis Is A Sad Rodeo Clown In FX's New Comedy Series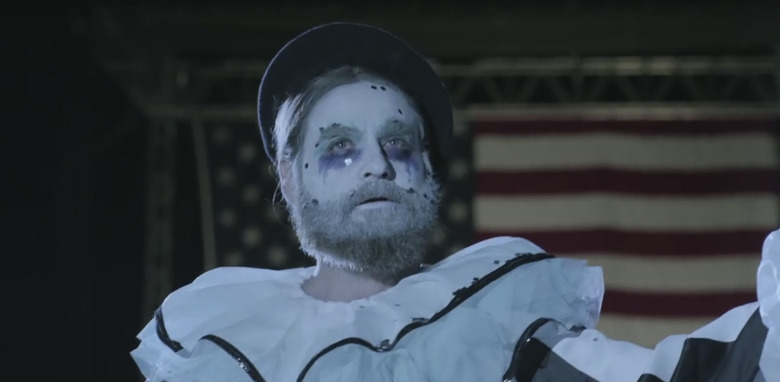 When two comedians like Louis C.K. and Zach Galifianakis team up for a new comedy series, you pay attention. And that's exactly why you should watch the trailer for FX's new comedy series Baskets.
In the series premiering later this month, Galifianakis plays a clown who flunked out of a prestigious clown school in Paris and ends up working a dead end job as a rodeo clown back home. But what's interesting is that the series isn't played up to be a goofy kind of comedy, and it has a vibe of something like Louie meets Man Seeking Woman.
Watch the Baskets trailer after the jump!
Louis C.K. is the creator and executive producer of the series, and it looks to have the kind of odd humor that makes Galifianakis' stand-up so great. More importantly, it looks like the kind of oustanding work that the comedian did before he got his big break with The Hangover, a franchise that got ran into the ground and couldn't be helped by his unique comedy style. He even brings his twin brother schtick into the equation for the series, which was one of my favorite bits from his Live at the Purple Onion special.
FX really has an eye for making unique comedy series for television that are on par with HBO's quality programming but with a little more of an auteur's eye. If Louie is a TV series that feels like Woody Allen on the small screen, then Baskets almost seems like a Fellini TV series. There might be just as much authentic drama in here as there is good comedy, and that's not easy to accomplish.
In addition to Galifianakis playing two roles, the cast also includes Louie Anderson, Martha Kelly, Sabina Sciubba, and Ernest Adams. And the show seems to be in good hands with Portlandia and The Kroll Show co-creator, writer, executive producer and director Jonathan Krisel as the showrunner.
Chip Baskets (Zach Galifianakis) wants to follow his dream of being a French clown—however, reality keeps interfering. Saddled with financial difficulties and facing an impenetrable language barrier, he moves back home to Bakersfield with high hopes. There, he is forced to confront his past while working as a rodeo clown and competing with his siblings for his mother's approval and affection.
The series premieres on FX on January 21st.