The /Film Top 15 Of 2015: Which Movies Reign Supreme For The Entire Staff?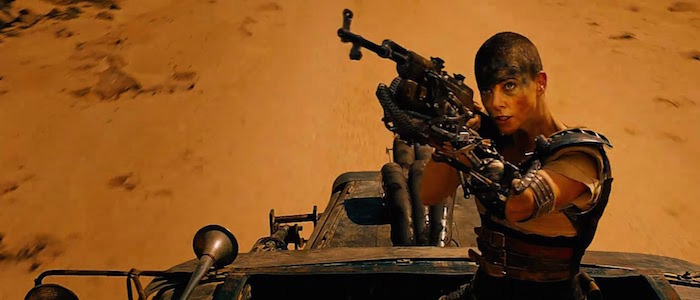 The /Film team has spent the first week of 2016 saying goodbye to 2015 in the best way possible – by assembling our personal top 10 films of the year lists. Each of these lists represents one writer's specific viewpoint, celebrating the movies that matter the most to them. These lists are, by their very nature, deeply personal.
But what would a year-end list representing the entire site as a whole look like? Could we take these personal lists and merge them into one uber-list that reflects our combined tastes?
That's what we set out to discover. Blood was spilled. Tears were shed. Numbers were crunched. But we did it. This is the official, mathematically proven /Film Top 15 Films of 2015.
We deliberately kept the process for building this master list extremely simple. Each writer (meaning Angie Han, Ethan Anderton, Jack Giroux, and myself, Jacob Hall) submitted their top 15 list. Their choice for number one was awarded 15 points, their choice for number two was awarded 14 points, and so on, with the film in the final slot earning 1 point. This allowed for some pretty interesting rankings, as a film totally beloved by one or two writers stood a chance against a film mildly liked by three or four.
What follows is essentially a look at how the sausage gets made, except that this is a case where the sausage is made up of opinions about movies and not assorted animal meats. It's not always pretty and it's not always exciting, but this is how it went down. If you'd like, you can skip straight to the end and check out the final assembled list. We won't judge you.
With a combined total of 34 films represented across four different top 15 lists, a whole bunch of movies had to axed. Here are are the films that didn't make the final cut, along with the number of points they received.
How to Dance in Ohio: 1 point
Kurt Cobain: Montage of Heck: 1 point
Magic Mike XXL: 2 points
The Mend: 2 points
The Duke of Burgundy: 3 points
Me and Earl and the Dying Girl: 3 points
Jupiter Ascending: 4 points
Room: 4 points
Mississippi Grind: 5 points
Cinderella: 6 points
Sleeping With Other People: 6 points
Son of Saul: 6 points
Crimson Peak: 8 points
Mistress America: 8 points
Bridge of Spies: 9 points
Carol: 9 points
Creed: 10 points
It Follows: 10 points
The Look of Silence: 13 points
And now, we move onto the main event: /Film's final and official best of the year list. As noted in the various descriptions, the order of films that tied on points was decided by a separate vote.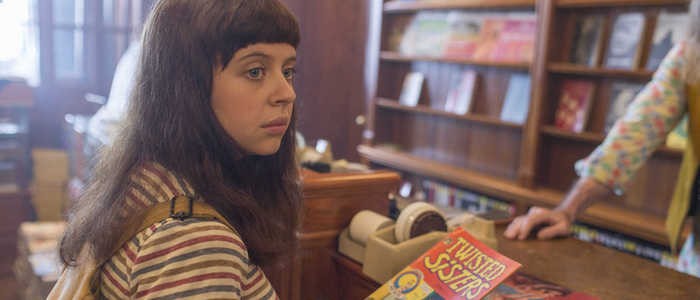 15. Diary of a Teenage Girl
15 points
Although it only ended up on one of our top 10 lists, Diary of a Teenage Girl snuck into the overall /Film list because it just-so-happened to be the number one film on that list, giving it just enough points to elbow its way in. After seeing Jack Giroux's passionate response to Marielle Heller's film, the rest of the team was appropriately shamed for not finding room for it.
"This directorial debut left me in tears at the Sundance Film astival. The immensely talented Marielle Heller has made an honest and vibrant coming-of-age tale. Between the beautiful hand-drawn animation, the enlightening and clever narration, and Bel Powley's versatile performance, this is an incredibly intimate subjective picture." -Jack Giroux
14. Star Wars: The Force Awakens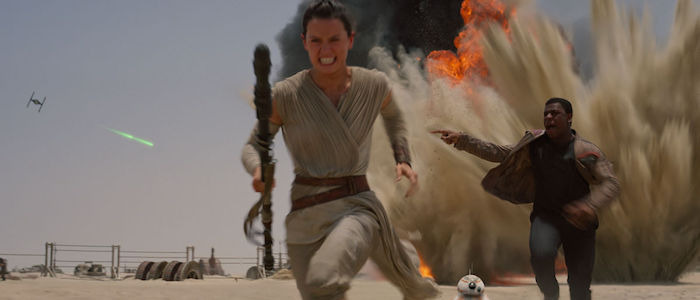 15 points
It's certainly no secret that the site and our readership loves Star Wars, which means we're fully prepared for this relatively low ranking to be most controversial thing to come out of this whole endeavor. With the exception of Ethan Anderton, who ranked The Force Awakens very high on his personal list, the team decided that J.J. Abrams' film is very good, but not quite good enough to crack the top 10.
"No movie this year came with as much pressure to deliver as Star Wars: The Force Awakens. That it actually lived up to the hype is a minor miracle. Sure, we can quibble over some of the details, but it's great where it counts." -Angie Han
"It wasn't my favorite movie of the year, but it was probably the most fun I've had at a movie theaters in a long time. I laughed, I cried, and I got excited like a little kid. The Force Awakens isn't Best Picture-worthy or anything like that, but it's the perfect place for Star Wars to begin again." -Ethan Anderton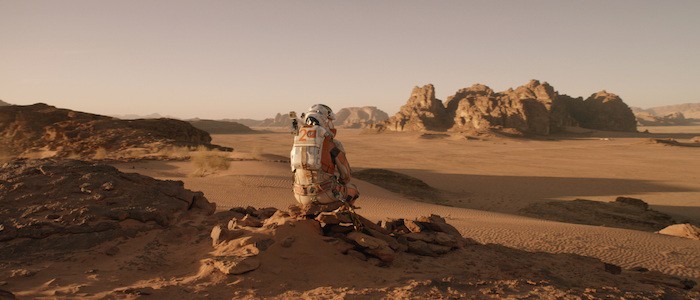 13. The Martian
15 points
Just about everyone likes The Martian, which lingered in the bottom five or six spots on most of the ballots. While it only cracked one top ten, the film had enough support to slip on the master list, edging out the mighty Star Wars is a close tie-breaking vote.
"The story of a single astronaut (Matt Damon at his most endearingly Matt Damon-y) stranded hundreds of miles from home becomes a paean to the resilience of the human spirit, and a pep rally for the importance of science." -AH
"Scott, Godard, and Damon make you root for Mark Watney's survival, and partially because he's so damn charming. What could have easily been two hours of misery is instead one of the year's finest feel-good movies." -JG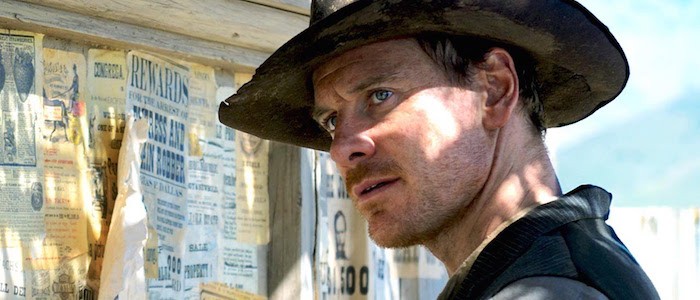 12. Slow West
17 points
The first of several dark horses that came from out of nowhere to find footing in the /Film lists, John Maclean's oddball western was liked well enough by the right number of voters to give it a solid foothold in the overall top 15. This was not the last time I muttered "Huh, I didn't see that coming" while compiling this list.
"This would make for a terrific double feature with Jim Jarmusch's Dead Man. Like Jarmusch's unconventional western, writer-director John Maclean's directorial debut is wacky and melancholic. The last 20 minutes of this perfectly paced 85-minute movie hit you like a ton of bricks." -JG
"Some movies romanticize the Wild West as a mythical land of possibility, where heroes duke it out with villains. Others zero in on the unrelenting brutality of the environment, and the steeliness of the people who live there. Slow West unfolds at the crossroads, following a young man (Kodi Smit-McPhee) whose idealized visions — of love, of courage, of the New World — are continually punctured by unwelcome truths." -AH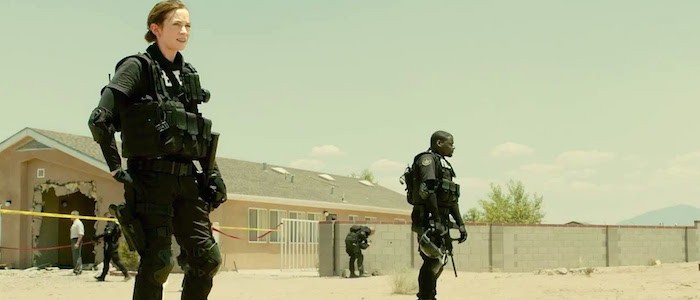 11. Sicario
18 points
Sicario came this close to breaking into the top 10, with only another close tie-breaker vote snatching that honor from its grasp. Still, Denis Villeneuve's tense drug war thriller effectively flew under the radar, snatching this spot like some kind of black-ops assassin. 
"The sparse exposition, the moral ambiguity, and the three excellent performances make for an unforgettable experience. Sicario is almost more of a horror movie than it is a thriller. Even a shot of a wristband sends a chill down your spine." -JG
"Benicio del Toro steals the show with just some silent glances, but Blunt is still a force to be reckoned with, making this one knockout of a thriller." -EA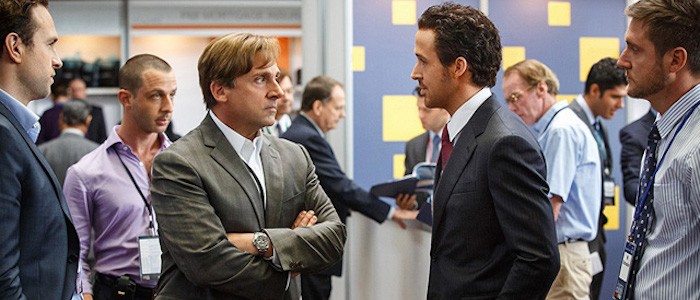 10. The Big Short
18 points
Adam McKay's terrifying and hilarious examination of the U.S. financial crisis battled its way through a tie-breaker to get this point. Despite only receiving strong support from two ballots, the film was well-liked enough to gain support when those final votes were cast. Hey, no one said making sausages and top 15 lists was the most dynamic thing in the world.
"You may not always fully comprehend every bit of information, but that doesn't matter, because you always understand what it all means to the characters — a cast of loners and oddballs that, for the most part, hate how right they are." -JG
"It's not exactly a tale of heroes fighting for the American people, but an illustration of the broken financial and government system that we somehow trust everyday. Presented in a satirical way to make the "boring" stuff easier to swallow, there's no excuse for not being angry after watching this look at a scar on America that may never heal." -EA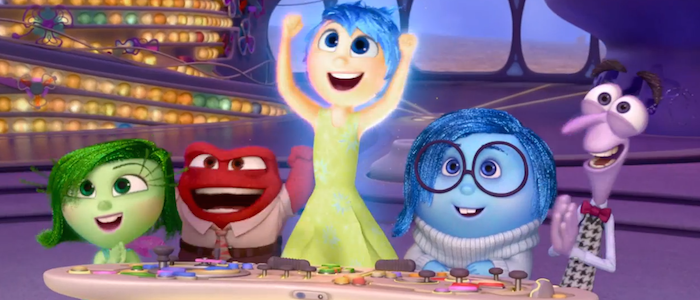 9. Inside Out
18 points
Despite its frontrunner status at the Academy Awards and more widespread critical acclaim than any Pixar movie in years, Inside Out had a bit of an uphill battle getting into the /Film top 10. Still, when it came down to those precious tie-breaker votes, it's hard to say no to the movie that shatters your emotions into a million pieces before kneeling over and helping you pick up all of the shards.
"Inside Out presents a simple but no less significant presentation of how our feelings affect our everyday lives. Lively, beautiful and moving in more ways than one, this is a film that we can all connect to on some level, brought to life effortlessly by the perfect voice cast. It's hard not to love a movie that makes you cry over an imaginary friend." -EA
"Inside Out has jokes for days, but it is the emotional catharsis of the final act, where the pain that accompanies letting go of childhood is internally dramatized, that makes it a masterpiece." -Jacob Hall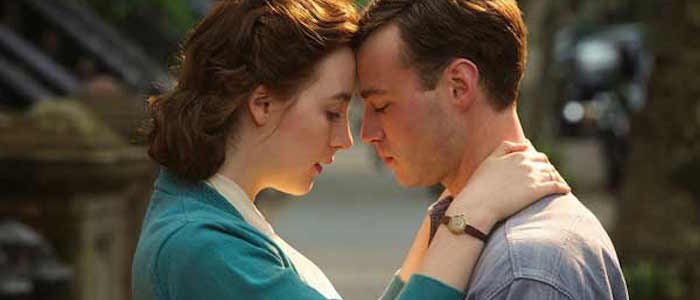 8. Brooklyn
22 points
In a top 10 almost entirely dominated my miserable assholes, hateful murders, selfish jerks, and horrifying conspiracies, the warm, gentle and just plain lovely Brooklyn is a nice breath of fresh air. It's the kind of movie that smiles and shrugs when it realizes it was beaten out by the bloodiest movie on the entire list by one measly point.
"Brooklyn snuck up on me this year. Like its protagonist, it's deceptively simple and unassuming; also like its protagonist, it turns out to have a warmth and an intelligence that are hard to shake. Eilis' immigrant tale feels all the more universal for being so specific, all the more significant for being so ordinary, and all the more romantic for being so steadfastly clear-eyed." -AH
"Perhaps what's so satisfying about Brooklyn is how simple it is. In many ways it's a quaint story that you already know, but that doesn't keep it from feeling fresh and just plain wonderful." -EA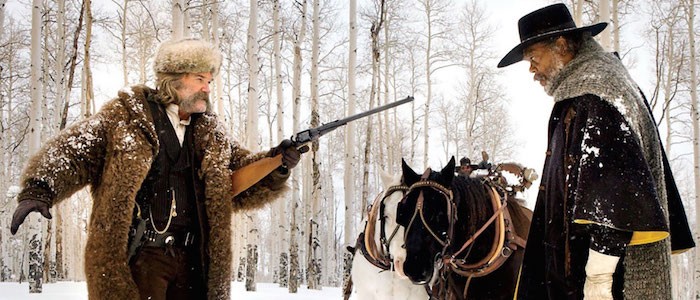 7. The Hateful Eight
23 points
Quentin Tarantino's The Hateful Eight has proven divisive among regular moviegoers of all stripes, so it's not surprising that it only made it onto half of the /Film ballots. However, those who did support it placed it in their top fives, giving it enough points to land comfortably at this spot.
"This is a mean movie, a bucket of icy water in the face after the catharsis of Django. The Hateful Eight takes its time, and indulges in its own tangents. It doesn't like you and it doesn't care if you like it. That's aggressive and brave and suicidal and ridiculous and, well, that's Tarantino." -JH
"Here's a Quentin Tarantino film that'll grow richer with time. At first, I knew The Hateful Eight was great fun, but it took a few more viewings to realize it's a genuinely great movie. Once you know the film's second half, details before the intermission take on new meaning." -JG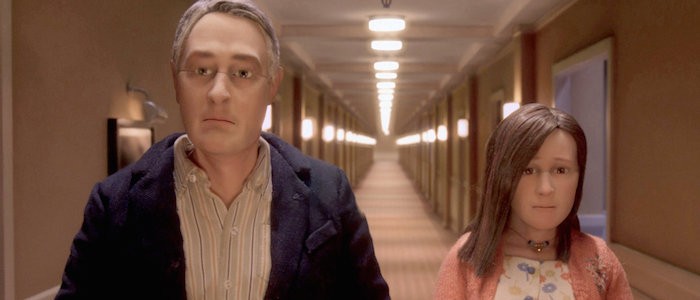 6. Anomalisa
26 points
Despite appearing on three of our top 15 lists, Charlie Kaufman and Duke Johnson's melancholy and grimly funny stop-motion drama was not a sure-thing for this top 10. After all, it placed first, seventh and fourteenth on those ballots, which is far from a critical consensus. And yet there was enough love (particularly from yours truly) to it to keep in the game. If this combined list is truly about what movies we all dislike the least, then Anomalisa was never going to be top five material.
"Whatever it is, Anomalisa cuts to the darkest, most despairing truths of human existence: for some people, happiness is fleeting, loneliness is a way of life, and all you can do is desperately hold onto those little moments that shake you out of complacency. Anomalisa, which brings these complex people to life with wicked black comedy and uncomfortable nuance, is almost too real. Not bad for an animated movie." -JH
"Anomalisa isn't a cheery movie by any means, but its bleak outlook paradoxically make this cold world feel a little bit warmer. After all, it means you're not the only one hurting." -AH
"Run through the ups and downs of love and happiness in a way that only Charlie Kaufman can deliver. At first it seems weird that this kind of movie is stop-motion animated, but as you begin to realize the presentation of all but two of the characters is meant to be exactly the same, the core of the story becomes clear." -EA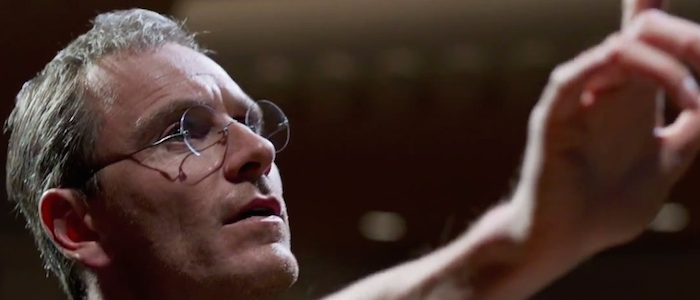 5. Steve Jobs
29 points
The Danny Boyle-directed, Aaron Sorkin-scripted Steve Jobs is the first movie on the /Film top 15 to appear on every individual top 15, giving it serious edge when the points were tallied. Although the highest it ranked on any personal list was spot number six, the fact that everyone liked this movie enough to give it points allowed it to effortlessly shoot into the top five.
"...this biopic takes a new approach by painting a brutally honest, albeit exaggerated and inflated, portrait of the technological innovator with just three different events spread out over a few decades. Michael Fassbender looks nothing like Steve Jobs, but you forget that quickly with his masterful delivery of Aaron Sorkin's signature snappy dialogue." -EA
"Admittedly, sometimes the narrative is a little too convenient — which Sorkin pokes some fun at in the third act — but it's hardly a problem. Steve Jobs is an invigorating portrait of ambition, fatherhood, and missing the big picture." -JG
"Rather than mythologize a man who hardly needs further mythologizing, Danny Boyle and Aaron Sorkin go in the complete opposite direction, laying bare the bleeding, beating heart behind Apple's clean white curves." -AH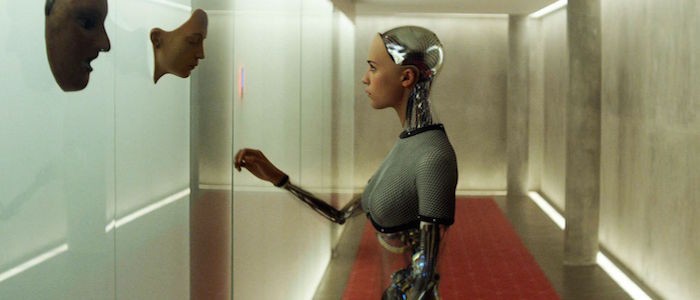 4. Ex Machina
30 points
When it came time to tally numbers for the top five, two films tied for third place: Ex Machina and Spotlight, forcing us to choose between a creepy and intense science fiction thriller and a respectable, quietly riveting procedural. When the first round of tie-breaking votes resulted in another tie, the group decision was made to place Ex Machina in fourth place. The decision was a tough one, but seeing a film as thrilling and unique as Alex Garland's directorial debut in the top five left everyone feeling good about the decision.
"As a sci-fi thriller, Ex Machina is absorbing and frightening stuff. As a sly commentary on how men in the tech industry treats and views women, it is nothing short of a genre masterpiece." -JH
"What would really happen if some alcoholic super genius bro created A.I.? It wouldn't be a pretty picture, and that's certainly the case in Garland's cynical (or honest) sci-fi thriller." -JG
"It starts out as a fairy tale for the digital age, evolves into a cautionary tale for the artificial intelligence age, and then finally reveals itself as an origin myth for the future." -AH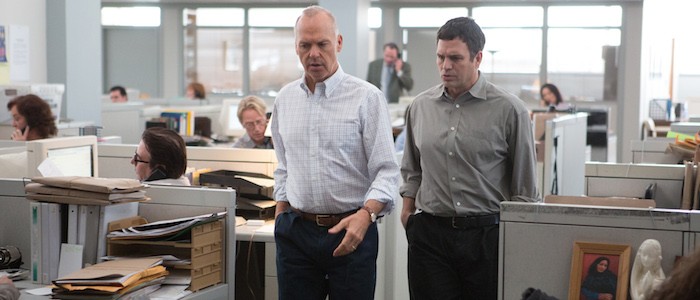 3. Spotlight
30 points
Much like how it quietly took over the larger awards conversation and emerged as an early Oscar frontrunner, Tom McCarthy's Spotlight slipped its way into our top three and no one had any arguments to make against it. After a brief discussion, it edged out Ex Machina in the tie-breaker because of higher individual rankings on several personal lists. Number-crunching and inside baseball aside, Spotlight is a terrific movie and more than worthy of being ranked this high.
"In the case of Spotlight, director Tom McCarthy doesn't turn the whistleblowers of the Catholic sex scandal into a story of clear-cut heroes ... Spotlight left me with a bad taste in my mouth and a pit in my stomach, but this is a story that needed to be told and should never be forgotten." -EA
"Director Tom McCarthy paints a picture of the bystanders who, unwilling or unable to notice the unpleasantness within their community, allow a vile disease to fester — and the bystanders who were finally forced, kicking and screaming in some cases, to wake up and do something about it. Spotlight may be a movie about the Church, but it's not a story about God. It's a story about human nature, in all its imperfection." -AH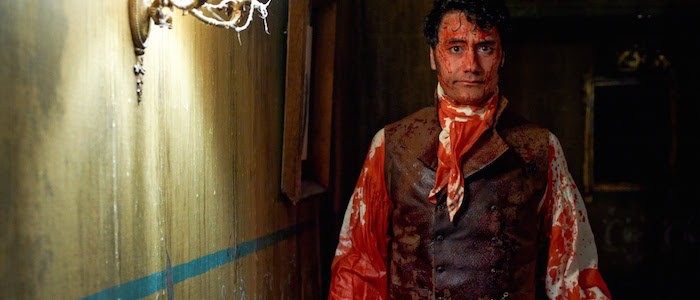 2. What We Do in the Shadows
37 points
None of us saw this one coming. We didn't conspire to place this hilarious and big-hearted vampire comedy onto each of our personal top 15 lists, but it happened. This small faux documentary from New Zealand about a group of undead bloodsuckers sharing a house in Wellington is /Film's second favorite movie of the year. Some of this is due to everyone liking it to some extent, even if they didn't like it as much as films they rank higher. The rest of it is due to What We Do in the Shadows being the funniest movie of 2015 and the best horror comedy since Shaun of the Dead.
"The result is a movie that deserves to be spoken of in the same breath as Shaun of the Dead, a movie that's as sweet as it is funny as it is bloody. You may not know it yet, but this is your new favorite movie." -JH
"Taika Waititi and Jemaine Clement do for vampires what This Is Spinal Tap or Clement's own Flight of the Conchords did for rock stars, puncturing their aura of glamour to get to the hilariously mundane "reality" underneath." -AH
"This vampire world feels more rich and developed than any of the myriad vampire stories that have come to the big screen since Twilight, and it's also downright hilarious. It's like Shaun of the Dead meets The Office, with a script that is just as tight, funny and inspired as the former." -EA
"If you tallied up all the jokes in What We Do in the Shadows and then counted how many of them are flat-out great, Taika Wititi and Jemaine Clement would end up with an insanely high batting average. It's rare for a comedy with this many jokes to have so few gags fall flat." -JG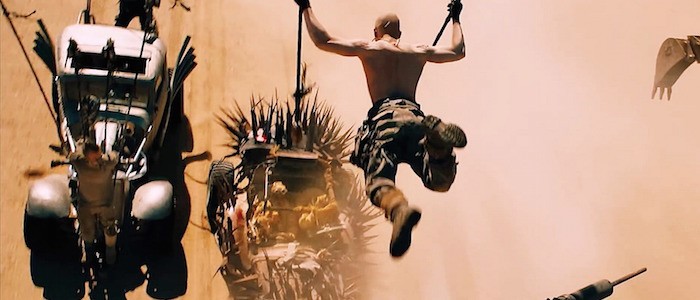 1. Mad Max: Fury Road
57 points
George Miller's magnum opus placed first or second on every list – no other movie stood a chance. How often is the best movie of the year also the most fun? How often is one of the most complex movies of the year so simple and straightforward in its execution? How often are gigantic, action-packed blockbusters this weird and unique and willing to trust their audience? Hot damn, this movie is a masterpiece.
"I'm almost tired of talking about how dazzled I was by Mad Max: Fury Road, but here goes: In a year that delivered genetically enhanced dinosaurs, an A-list star dangling off a moving airplane, and our first trip to a galaxy far, far away in a decade, Mad Max: Fury Road was still the most thrilling experience at the movies this year." -AH
"The fact that you absorb the necessary facts at 70mph while engines roar and chainsaws whir and tornadoes tear convoys asunder is a miracle. That Max and Furiosa change and their relationship subtlety evolves through the carnage is a testament to Miller's skills as a storyteller." -JH
"The film doesn't need any subplots to keep the pace going, as the non-stop chase is all the fuel this fire needs to burn. Witness." -EA
"Its clean, bold plot points breeze by almost unnoticed, thanks to minimal dialogue, while the visceral momentum of its nonstop chase propels the audience towards a cathartic conclusion." -JG
***
To see the individual ballots, click over to the next page.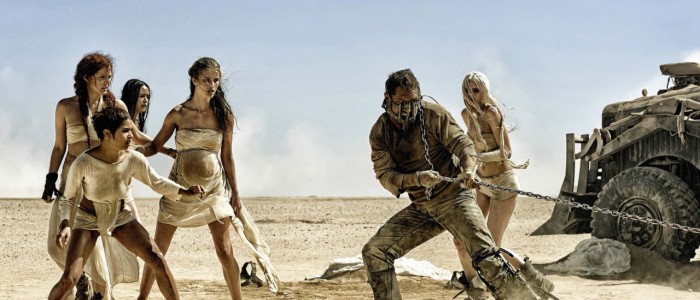 /Film's Top 15
15. Diary of a Teenage Girl
14. Star Wars: The Force Awakens
13. The Martian
12. Slow West
11. Sicario
10. The Big Short
9. Inside Out
8. Brooklyn
7. The Hateful Eight
6. Anomalisa
5. Steve Jobs
4. Ex Machina
3. Spotlight
2. What We Do in the Shadows
1. Mad Max: Fury Road
Ethan Anderton's Top 15
15. How to Dance in Ohio
14. Anomalisa
13. Me and Earl and the Dying Girl
12. Room
11. Sicario
10. Sleeping With Other People
9. Creed
8. Brooklyn
7. What We Do in the Shadows
6. Steve Jobs
5. Inside Out
4. The Big Short
3. Star Wars: The Force Awakens
2. Mad Max: Fury Road
1. Spotlight
Jack Giroux's Top 15
15. Kurt Cobain: Montage of Heck
14. The Mend
13. The Martian
12. What We Do in the Shadows
11. Mississippi Grind
10. The Big Short
9. Slow West
8. Mistress America
7. Bridge of Spies
6. Steve Jobs
5. Ex Machina
4. The Hateful Eight
3. Sicario
2. Mad Max: Fury Road
1. The Diary of a Teenage Girl
Jacob Hall's Top 15
15. Magic Mike XXL
14. Spotlight
13. The Duke of Burgundy
12. Steve Jobs
11. The Martian
10. Son of Saul
9. Inside Out
8. Ex Machina
7. Carol
6. It Follows
5. The Hateful Eight
4. What We Do in the Shadows
3. The Look of Silence
2. Mad Max: Fury Road
1. Anomalisa
Angie Han's Top 15
15. Magic Mike XXL
14. Star Wars: The Force Awakens
13. Creed
12. Jupiter Ascending
11. Steve Jobs
10. Cinderella
9. The Martian
8. Crimson Peak
7. Anomalisa
6. Slow West
5. Ex Machina
4. What We Do in the Shadows
3. Spotlight
2. Brooklyn
1. Mad Max: Fury Road