New Photos From Ricky Gervais' Netflix Movie 'Special Correspondents', Arriving In April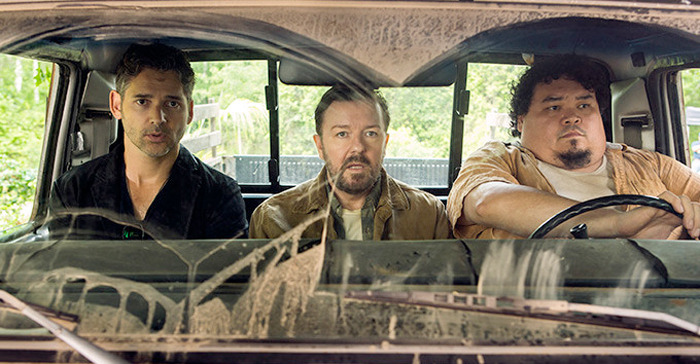 Last spring, Netflix picked up a new comedy feature from comedian Ricky Gervais, the creator of The Office, Extras and the Netflix series Derek. Now it's hitting the streaming service this year. Special Correspondents is written and directed by Gervais, who also stars in the film with Eric Bana and Vera Farmiga, and some new photos from the film have arrived along with an official release date for the comedy. Get the details below!
Here are the new photos from Ricky Gervais Special Correspondents:
For those who are hearing about this project for the first time, the story follows a struggling New York-based radio journalist (Bana), whose arrogance and decadent lifestyle have hindered his career. With his job on the line, he fakes front-line war reports from the comfort of his hideout above a Spanish restaurant in Queens. We haven't seen Bana do any comedy since Funny People in 2009, in which he was surprisingly good, so it'll be nice to see him getting some laughs again.
The rest of the cast includes Kelly Macdonald, Kevin Pollak, America Ferrera, Raúl Castillo, and Benjamin Bratt, so it's not filled with the usual funny faces we see in work from Gervais, though I wouldn't be surprised if there are some cameos here and there. Still, this kind of talent in a comedy feature from Gervais should be interesting, especially knowing what he did with the underrated Invention of Lying.
Gervais will have quite a big year. In addition to the premiere of Special Correspondents on Netflix, he's also hosting the Golden Globes on January 10th, live on NBC. His monologue and jokes are always a bit divisive, mostly because of his blunt and fearless comedy style, but I'm always happy when he shows up at these drawn-out award ceremonies.
Also, don't forget that Gervais is still working on The Office spin-off Life on the Road, a feature comedy that will follow his character David Brent, chasing his rock star dreams with his band "Foregone Conclusion" while holding down a day job as a traveling salesman for a cleaning products company. No word on when that will be finished though.
As for Special Correspondents, that will premiere exclusively to all Netflix subscribers on April 29th this spring. We're bound to get a trailer for the movie sometime in the next couple months, so stay tuned for more.