The Full 'The Jungle Book' Poster Triptych Has Been Revealed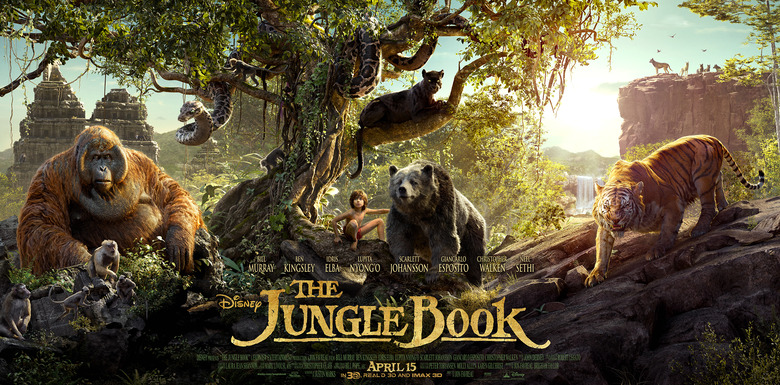 New 'The Jungle Book' Poster Brings All the Beasts to the Yard
Ugh. That headline. I am so sorry.
Disney has released a new poster for The Jungle Book, Jon Favreau's upcoming adventure movie that is, depending on how you look at it, another adaptation of Rudyard Kipling's celebrated book or the next entry in the studio's "very expensive live-action remake of a film from their animated canon" division. Between this, Alice in Wonderland, Maleficent, and Cinderella, Disney officially has the raw components for one very strange Blu-ray box set.
Anyway, this poster is the first of three that will be released over the coming days, with each of the one-sheets forming one large tryptic when laid next to one another. You can check it out after the jump.
The massive ensemble cast of The Jungle Book is lucky that they're getting three of these things. Otherwise, it's unclear how they would all fit on one poster. This first one is devoted to King Louie the orangutan (Christopher Walken) and Kaa the boa constrictor (Scarlett Johansson). Future posters will presumably spotlight Shere Kahn (Idris Elba), Baloo (Bill Murray), Bagheera (Ben Kingsley), and Raksha (Lupita Nyong'o). Oh, and the actual main character of this movie, Mowgli (Neel Sethi) will have to show up at some point, too.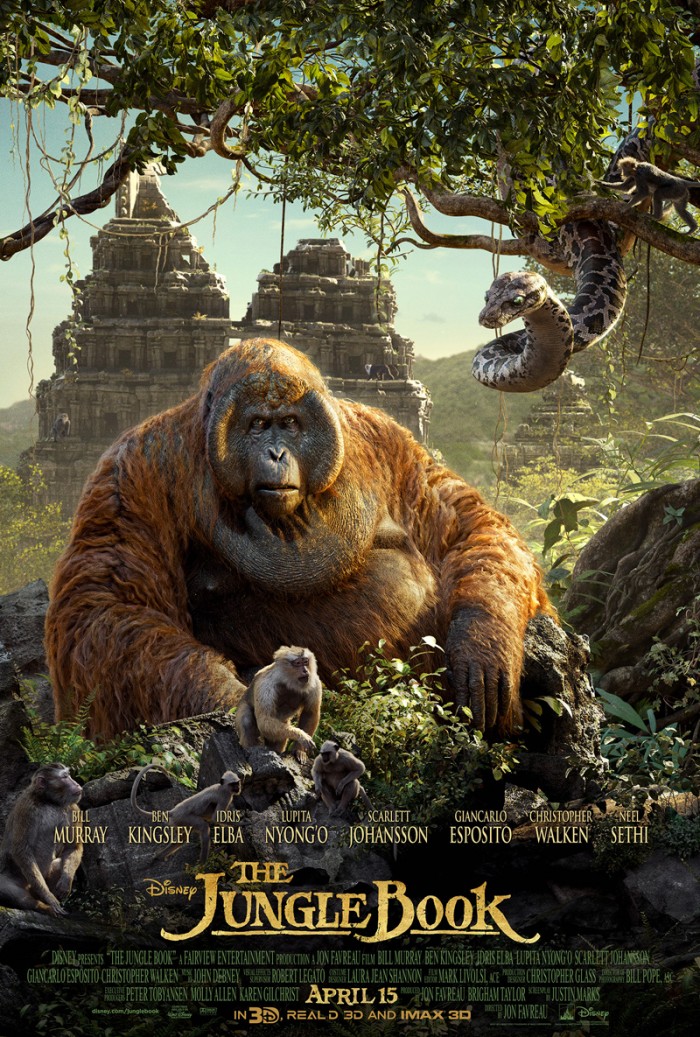 What are we to make of The Jungle Book at this point? The first trailer was a teaser in the most literal sense, treating us to evocative imagery while barely touching on story or character. With a new trailer just around the corner, we will soon be treated to a better look at these characters in action and get to hear how this truly strange cast sounds in action. Can you imagine Christopher Walken voicing a large ape with kingly aspirations? It almost sounds like a gag. Then again, Idris Elba voicing a vengeful tiger is all kinds of perfect and we can totally see Lupita Nyong'o playing a motherly wolf.
However, if there's one thing to remember, it's to never, ever underestimate the powers of Jon Favreau as a director. Here's the guy who got the Will Ferrell train rolling with Elf, creating a new holiday classic in the process. Here's the guy who kickstarted the Marvel cinematic universe with Iron Man, which must go down as one of the biggest moments in recent pop culture history. Here's the guy who responded to the failure of Cowboys and Aliens by making Chef, a small and sweet film that's about as charming as cinema can get. If he has a vision for The Jungle Book, it'll be worthy of your time.
Here's the official synopsis for The Jungle Book:
The Jungle Book offers an all-new, live-action/CGI epic adventure about Mowgli (Neel Sethi), a man-cub who's been raised by a family of wolves. But Mowgli finds he is no longer welcome in the jungle when fearsome tiger Shere Khan (Idris Elba), who bears the scars of Man, promises to eliminate what he sees as a threat. Urged to abandon the only home he's ever known, Mowgli embarks on a captivating journey of self-discovery, guided by panther-turned-stern mentor Bagheera (Ben Kingsley), and the free-spirited bear Baloo (Bill Murray) . Along the way, Mowgli encounters jungle creatures who don't exactly have his best interests at heart, including Kaa (Scarlett Johansson), a python who's seductive voice and gaze hypnotizes the man-cub, and the smooth-talking King Louie (Christopher Walken), who tries to coerce Mowgli into giving up the secret to the elusive and deadly red flower: fire.
The Jungle Book opens on April 15, 2016.