One More 'Teenage Mutant Ninja Turtles 2' Villain Has Been Confirmed By Michael Bay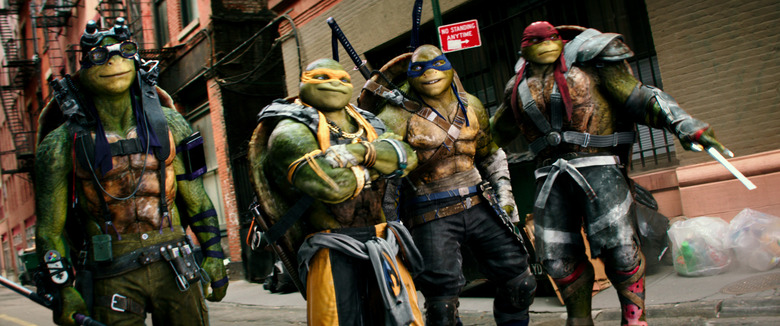 If you thought Teenage Mutant Ninja Turtles 2 was already crowded with our four heroes in a half-shell, their reporter pal April (Megan Fox), vigilante Casey Jones (Stephen Amell), supervillain Shredder (now played by Brian Tee), scientist Baxter Stockman (Tyler Perry) and the arrival of Rocksteady (WWE's Sheamus) and Bebop (Gary Anthony Williams), you may not like this latest update.
Michael Bay has confirmed that one more villain from the TMNT universe will make their big screen debut in Teenage Mutant Ninja Turtles: Out of the Shadows, and it's one that some fans have wanted to see for awhile.
For a recent, lengthy Rolling Stone profile on Michael Bay, the magazine observed the director at work. Bay is once again taking on producing duties for the blockbuster sequel arriving this summer. And in describing what he's working on, he confirmed a certain Teenage Mutant Ninja Turtles 2 villain for the movie. Here's the excerpt from the profile:
"They start with Ninja Turtles animation. Pablo Helman, a visual-effects supervisor who worked on the Star Wars prequels, appears onscreen and shows Bay the latest version of Krang, a new-to-the-movies villain who is, essentially, a disembodied brain inside a giant robot. 'So we've eliminated the tentacles,' Helman explains. 'Is it too monster-ish?'
'He could have some tentacles,' says Bay. 'I just don't want them coming out of the side. He looks like a stupid octopus.'"
We don't know what final design Bay is looking at for Krang, but some concept art from the first movie, which originally was going to include the villain, leaked online last year. We can't post it, but you can find it with very little Google searching if you were so inclined.
As the article says, Krang is basically a big brain that sits inside of a robot that he controls. Here's the design of the character from the animated series:
You can probably expect his body suit to not look like some kind of melting wrestler in the movie, and the suit will likely have some technological upgrades, not unlike Shredder from the first Teenage Mutant Ninja Turtles.
The use of Krang would also imply that the Ninja Turtles may finally have a big screen encounter with Dimension X, something else that hasn't been on the big screen before. Krang is a banished warlord from Dimension X who teams up with Shredder and craft nefarious plans that have to be thwarted by the turtles.
He's also known for traveling around in a giant mobile fortress called the Technodrome, which can open a portal between Earth and Dimension X, and we may have gotten a tease of that happening in the first trailer for the sequel. The turtles can be seen jumping around on flying pieces of something in the middle of NYC, and I think that's the Technodrome coming together.
Anyway, this movie seems like it's going to be chock full of fan service that actually doesn't please any of the fans of the original comic book or animated series. It's mostly young kids who love this franchise now anyway, so I suppose that's fine. But it would be nice to have something that kid and adult fans alike can enjoy. Oh, well. Grown up fans can always just go watch the first two movies from the '90s instead.
Teenage Mutant Ninja Turtles: Out of the Shadows arrives on June 3rd. If you want to know more about the sequel, you can check out our visit from the set right here.