'Rogue One: A Star Wars Story' Tightens Its Grip And New Details Slip Through Its Fingers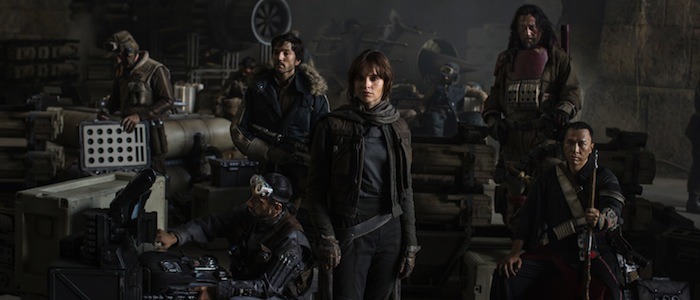 There will come a day when Star Wars fans are totally sick of hearing details concerning Rogue One: A Star Wars Story. On that day, fans will close their eyes and plug their ears to avoid that 27th TV spot. They will block certain keywords on social media to avoid egregious spoilers. They will break out the same moves they developed during the final weeks leading up to the release of Star Wars: The Force Awakens to dodge the marketing that threatens to leave them jaded and frustrated before the movie even hits theaters.
But today is not that day. Today is a day of crawling under the rumor mill with a trowel and scraping anything and everything that we can. Today is a day of sorting through tiny rumors and the most minor of possible spoilers to learn anything about Gareth Edwards' new movie, which will be the first in a few series of Star Wars spin-offs that will co-exist alongside the main episodes. So let's hit the jump and dive into the scant Rogue One details that are hovering around today.
In a recent poll, Fandango users (possibly still high from inhaling The Force Awakens three or more times in a week) voted Rogue One their most antiquated movie of 2016, beating out fellow heavy-hitters like Finding Dory and Batman v Superman: Dawn of Justice. That's not bad for a movie that hasn't released a single trailer and has only given us one cast picture to abuse as a header image from the past few months.
Here's what we know for sure about Rogue One: Felicity Jones stars as Rebel Alliance soldier who, along with a team of various other rebels, embarks on a suicide mission to steal the plans to the first Death Star from the Empire (which will, you know, kick off everything we see in the original trilogy). Edwards, of Monsters and Godzilla fame, is directing from a screenplay by Gary Whitta, Chris Weitz, and possibly Christopher McQuarrie. The supporting cast is a who's who of talented folks, including Ben Mendelsohn, Mads Mikkelsen, Donnie Yen, Diego Luna, Alan Tudyk, Forest Whitaker, and Riz Ahmed.
Anything beyond that is speculation and rumor, so let's treat everything as rumor until we see something official. We're all just here to have fun, right?
So let's start with the biggest piece of tiny news. The frequently reliable Making Star Wars claims to have uncovered the name of Felicity Jones' character in Rogue One. And it is... cue a drumroll, please... Lyra Erso. Here's how they reached that conclusion: stuntwoman Gabriele Fritz is listed on various casting sites as being the double for "Lyra Erso" on various casting sites. Since Fritz has the right look and build to double for Jones, it is entirely likely that this is her character's name. Then again, it's entirely likely that she's doubling for another actress altogether. And then it's also entirely likely that Lyra Erso is a codename, invented to put hungry fans on the wrong track.
Still, I can't help but hope this name is real for one reason and one reason only: it is an entirely new surname, which means we're getting a brand new heroine without a familial tie to the Skywalker or Solo clans. The Star Wars universe is big enough to encompass countless protagonists from infinite backgrounds. Let those families dominate the main episodes and let some new blood spearhead the spin-offs.
So let's go ahead and toss Lyra Erso on the list of unconfirmed names alongside Ahmed's Bodhi Rook and Mikkelsen's Galen. We should start hearing official confirmation on these identities soon enough.
In slightly more obscure news, Star Wars Underworld is reporting that a few minor actors have started listing their roles on various casting sites. It seems that Bern Collaco is playing a stormtrooper, Angus Cook is some kind of mechanic mechanic, and Nabilah Karim is a samurai. That last one is especially interesting. George Lucas wore his affinity for the films of Akira Kurosawa on his sleeve when he developed and shot the original Star Wars. Could Edwards be taking things to the next level? What, exactly, is the Star Wars equivalent of a samurai and what makes them different from a Jedi knight?
One actor whose character in the film remains a gigantic question mark is Ben Mendelsohn. Despite early rumors that he would be playing the main villain of the film, Mendelsohn has proven himself quite wily in the press, dodging questions with an agility that would make J.J. Abrams proud. Speaking with Deadline, he answered all of the usual questions about what Star Wars means to him before getting grilled about what to expect from Rogue One:
I wouldn't want to spoil anything for anyone on those levels. That's always the same, whether it be Bloodline or Star Wars or Neighbors, for that matter, which is an Australian soap. I wouldn't tell. But you can expect something pretty special, I'd like to think. I was in the audience for number seven and it was delightful. It exceeded my wildest hopes and dreams for what it might be. It's a beautiful film. So we've got something to reach for and that's a good thing.
That is one helluva deflection, Mr. Mendelsohn. Lucasfilm has taught you well.
Rogue One: A Star Wars Story has finished filming and will be released on December 16, 2016. Start placing your bets on when that first trailer will show up.