Get A First Look At Judd Apatow's Netflix Series 'Love', Premiering In February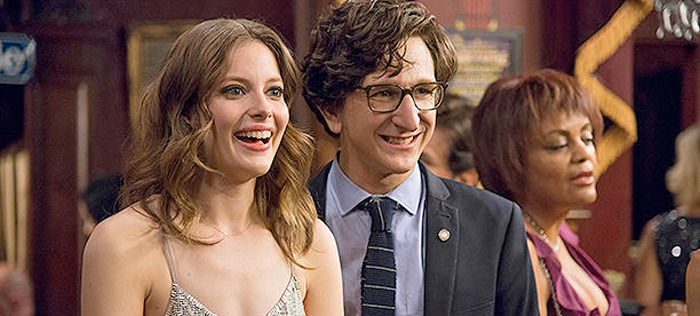 After directing Trainwreck starring and written by Amy Schumer last year, Judd Apatow doesn't have a comedy feature coming up just yet. But that's mostly because he's been busy with his new Netflix series Love, which has just been given a premiere date next month along with a teaser and a couple of first-look photos. Find out more about the new series below!
Here's the teaser for Judd Apatow's Love from Netflix:
There's no footage from the show, but it does tease the blunt and funny tone that Apatow brings to all of his comedy work, and it reveals all 10 of the half-hour episodes for the first season will arrive on February 19th, the week after Valentine's Day. And this is just the beginning since the initial order for the show included a second season that will have 12 episodes.
As the premiere date gets closer, we'll get a better look at the show with some footage, but until then, a couple photos featuring stars Paul Rust (I Love You, Beth Cooper) and Gillian Jacobs (Community) have arrived at EW:
If this is the first you're hearing of the series, the show is said to follow Gus (Rust), a people-pleasing nice guy who moves into a trendy apartment complex bustling with college kids following the departure of his cheating girlfriend. A chance encounter leads him to Mickey (Jacobs), a wild child who hates her job in satellite radio and recently ended a relationship of her own. Together, they open each other's eyes to opposite slices of life and may figure out this whole "love" thing.
Apatow created and wrote the series in addition to executive producing with Rust, Brent Forrester (The Office, The Simpsons), Dean Holland (Parks and Recreation) and Lesley Arfin (Brooklyn Nine-Nine). Rust and Arfin also helped write the show, so this is quite the tightly run comedy ship.
This isn't the only TV series Apatow has cooking either. Just last fall we learned that former TBS late night host and comedian Pete Holmes was going to star in a semi-autobiographical series that Apatow was going to executive produce for HBO. We're not sure when that show is going to come together for a cable premiere, but all these shows could slow down how son we see Apatow get behind the camera for a feature film again.