POTD: New Look At Olivia Munn As Psylocke In 'X-Men: Apocalypse' Set Photo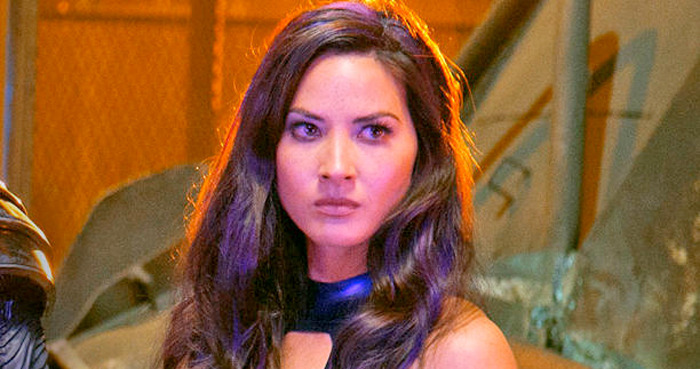 Now that it's officially 2016, we're just a little bit closer to X-Men: Apocalypse, the next installment of the Marvel comics franchise from 20th Century Fox. Before 2015 was over we got the first teaser trailer, showing off some of the new/old mutants and the destruction that will be coming from the iconic villain Apocalypse, played by Star Wars: The Force Awakens star Oscar Isaac. However, beyond one quick shot in the trailer and a couple first look photos, we haven't seen much of Olivia Munn as Psylocke. But today, we get one more look at the character thanks to a behind the scenes photo.
Here's a photo Olivia Munn shared on Instagram from the X-Men: Apocalypse set:
To say hello to 2016, I'm gonna say GOODBYE TO 2015 with my Top 5 Favorite Memories of 2015 (that I can think of)... #4 Getting to play #Psylocke in #xmenapocalypse. She's a telekinetic telepath who chooses to kill with a sword because she wants to do it up close and intimate and killing from afar just seems too easy and no fun. ????
That outfit still doesn't seem very practical, but it's one of the few costume designs in the X-Men films inspired directly by the comic books. Psylocke is one of the new mutants who will be popping up in X-Men: Apocalypse, and she's the one of the few who hasn't been prominently featured in other X-Men movies before.
Otherwise we have newcomers Alexandra Shipp as Storm, Sophie Turner as Jean Grey, Ben Hardy as Angel, Tye Sheridan as Cyclops and Kodi Smit-McPhee as Nightcrawler. The only other new mutant that we know of is Lana Condor as Jubilee, who can be seen in the teaser trailer about as briefly as Psylocke.
Even though we haven't seen Munn showing off her powers in the movie yet, the cover from Entertainment Weekly did have her wielding a signature sword along with a hand charged with telekinetic energy. Plus, Munn has also been seen doing some weapon training for X-Men, showing that she can wield a sword and triangular psychic knife pretty effectively.
She'll definitely be a force to be reckoned with as one of Apocalypse's four horseman along with Storm and Angel, but as we've seen in recent concept art, it will likely be Magneto who shows the most power when he's being controlled by the titular villain. Stay tuned for more on X-Men: Apocalypse soon.
Since the dawn of civilization, he was worshiped as a god. Apocalypse, the first and most powerful mutant from Marvel's X-Men universe, amassed the powers of many other mutants, becoming immortal and invincible. Upon awakening after thousands of years, he is disillusioned with the world as he finds it and recruits a team of powerful mutants, including a disheartened Magneto (Michael Fassbender), to cleanse mankind and create a new world order, over which he will reign. As the fate of the Earth hangs in the balance, Raven (Jennifer Lawrence) with the help of Professor

X (James McAvoy) must lead a team of young X-Men to stop their greatest nemesis and save mankind from complete destruction.
X-Men: Apocalypse arrives on May 27th.